Caesars Sportsbook Launches in Maine on Mobile and Desktop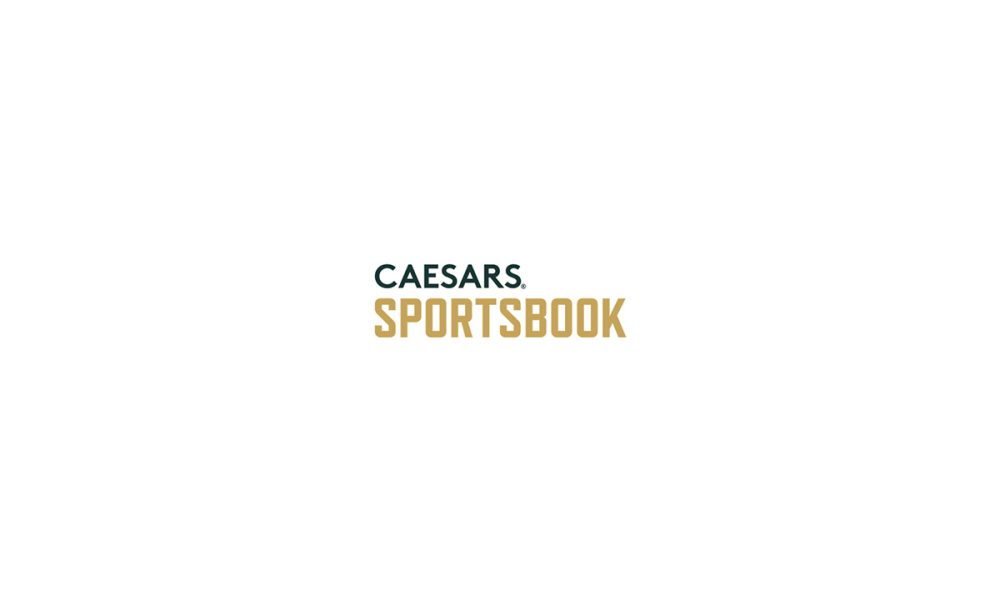 Sports wagering is live in Maine, and Caesars Entertainment Inc. announced that its flagship sports wagering platform, Caesars Sportsbook, is accepting sports wagers on mobile and desktop in the Pine Tree State. Caesars Sportsbook launches through Caesars' historic partnership with three of the Wabanaki Nations: the Houlton Band of Maliseet Indians, the Mi'kmaq Nation and the Penobscot Nation, furthering Caesars Entertainment's longtime commitment to supporting Indian gaming.
"Maine sports fans deserve an elevated sports wagering experience that matches the pedigree of sports fandom in New England. The launch of Caesars Sportsbook delivers on that pedigree with a platform built for the modern sports fan 21 and older with exciting ways to wager responsibly on the sports they love. We'd like to thank Gov. Janet Mills and the Maine Legislature for making this launch possible, as well as the Maine Gambling Control Unit for all they have done throughout this process," Eric Hession, President of Caesars Digital, said.
"Penobscot Nation is excited to partner with Caesars Sportsbook, the Mi'kmaq Nation and the Houlton Band of Maliseet Indians to bring online sports betting to Maine. We chose to partner with Caesars over other companies because of Caesars' decades-long history of working with Tribal Nations throughout the country, their commitment to Tribal sovereignty and their understanding of our State's deep history with horse racing. When consumers use the Caesars Sportsbook app they can do so knowing that they are supporting the vast majority of the Wabanaki Nations and a company that operates with respect and a commitment to Tribal Nations and a deep understanding of Mainers," said Chief Kirk Francis of the Penobscot Nation.
"The Mi'kmaq Nation is proud to launch mobile sports wagering in Maine jointly with the Penobscot Nation, the Houlton Band of Maliseet Indians and Caesars Sportsbook. We appreciate the work of the Maine State Legislature, the Governor, and the Maine Gambling Control Unit to bring sports betting to the State in a way that promotes gaming integrity and offers a vitally needed economic opportunity to each of the Wabanaki Nations. The Mi'kmaq Nation is committed to working with its Tribal Nation partners, Caesars Sportsbook and State officials to offer a robust and well-regulated sports betting industry in Maine for the benefit of the Wabanaki Nations, the State, and the public," said Chief Edward J. Peter-Paul of the Mi'kmaq Nation.
"The Houlton Band of Maliseet Indians is thrilled to offer the first legal online sports wagering in Maine in partnership with the Penobscot Nation, the Mi'kmaq Nation, and Caesars Sportsbook. Our three Wabanaki Nations searched long and hard for a partner who shares Maine values. We found that partner in Caesars Sportsbook. Caesars is committed to helping make all our tribal and non-tribal communities stronger and safer. The revenues from sports wagering will be used by our tribal governments and the State to support law enforcement, health care, housing, and education throughout Maine. Working together, we are stronger," said Chief Clarissa Sabattis of the Houlton Band of Maliseet Indians.
Sports fans can download the Caesars Sportsbook app on iOS and Android or visit caesars.com/sportsbook on desktop for a sports wagering experience that delivers premium rewards via the industry-leading customer loyalty program, Caesars Rewards. Every wager placed with Caesars Sportsbook earns Tier Credits that contribute to status and Reward Credits redeemable for unique Caesars Rewards experiences like discounted getaways at various Caesars destinations across North America – including at destinations in the heart of the Las Vegas Strip – extraordinary culinary and entertainment experiences, as well as bonus cash in the app and unique sports experiences.
Caesars Sportsbook puts the sports fan at the center of the experience with versatile wagering experience, including livestreaming marquee sporting events and lightning-fast in-app scoreboards to quicker payouts, expanded in-play betting options, and user-friendly features.
Lucky Player Wins Big at Horseshoe Casino Baltimore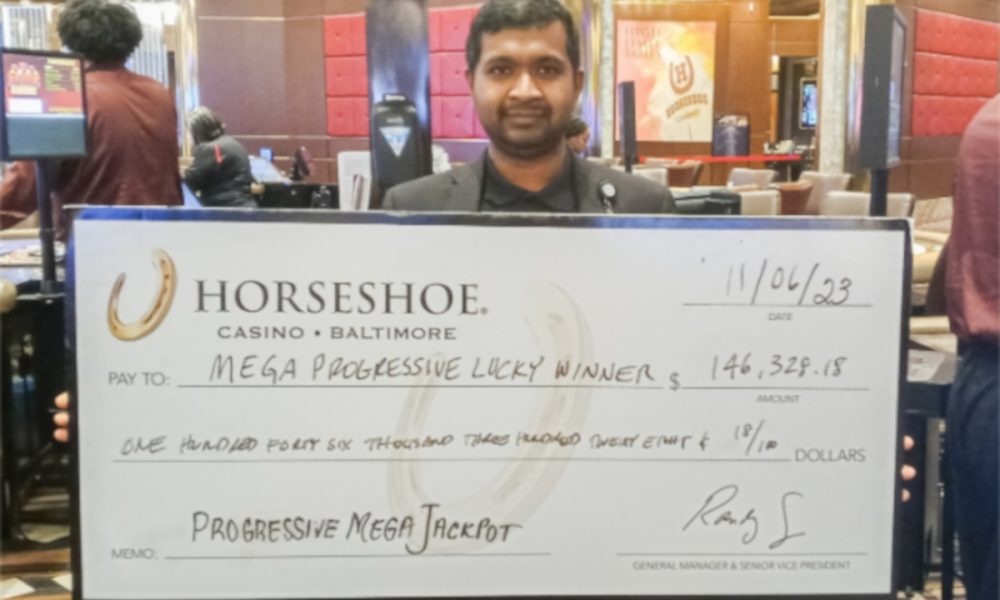 On Monday, November 6, a Caesars Rewards member at Horseshoe Casino Baltimore hit a $146,328.18 Mega Jackpot continuing the winning streak at the casino over the last several months. The table games dealer dealt the player two 7s of diamonds with another of diamonds already up, making the guest a big winner. This is the fifth progressive jackpot to hit at Horseshoe Casino Baltimore this year.
"Horseshoe Casino Baltimore has quickly become the casino in the region to win large table games progressive jackpots," the General Manager for Horseshoe Casino Baltimore, Randy Conroy, said. "Five $100,000 and above jackpots have been won in the past 60 days with the largest being over $1 million Ultimate Texas Hold 'Em Royal Flush, all won with only $5 wagers. Congrats to all big winners at the 'Shoe'."
To be eligible for the Mega Jackpot, guests must try their luck on a progressive game including Four Card Poker, Ultimate Texas Hold'em, Mississippi Stud Poker and Blazing 7's Progressive located on level two of Horseshoe Casino Baltimore's casino floor. For more information on Caesars Entertainment's Horseshoe Casino Baltimore, visit Caesars .com/Horseshoe-Baltimore.
The Cordish Companies and Caesars Entertainment Present $150K in Local Impact and Community Grants to Organizations in Pompano Beach Communities Surrounding 'The Pomp'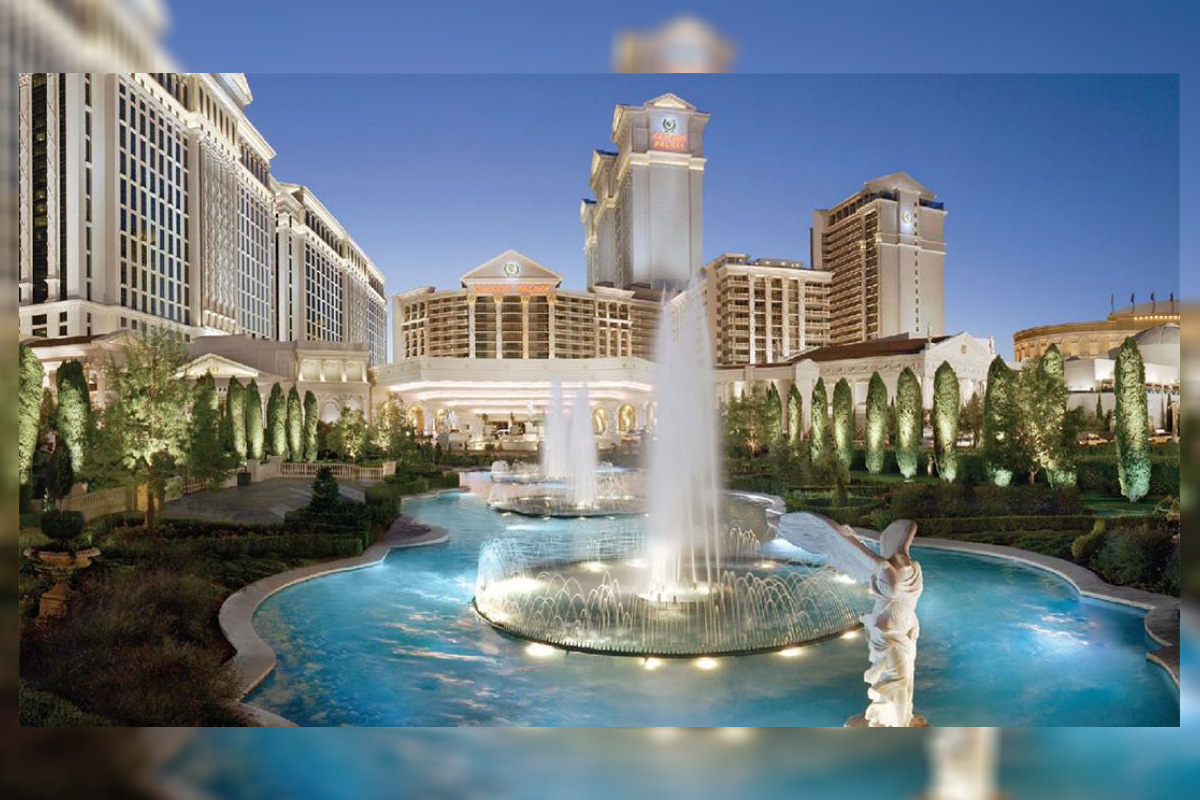 The Cordish Companies and Caesars Entertainment have awarded $150,000 to organizations in the Pompano Beach community through its Community Charitable Funding Grant program. Established to provide valuable resources to communities surrounding The Pomp, a 223-acre world-class destination currently under construction in Pompano Beach, the grants aim to help local organizations in Collier City, Cypress Bend, Palm Aire and Pompano Beach make a significant difference through community revitalization and beautification, traffic and public safety improvements, and community service programs. Cordish Chief Operating Officer Zed Smith, Senior Vice President of Caesars Entertainment Troy Buswell, and members of The Pomp Community Advisory Board presented the grants to recipients at a grantee ceremony, held last week in Pompano Beach.
"The Cordish Companies has been committed to making a difference and creating a better future for those living and working in the communities in which we do business for over century. The recipients of these grants are driving their respective communities forward, making them a great place to live, work, play and visit. We are certain that this additional financial support will go a long way in helping them continue their efforts to revitalize and transform the greater Pompano Beach area," Zed Smith, Chief Operating Officer of The Cordish Companies, said.
"Caesars Entertainment and Harrah's Pompano Beach are extremely proud to continue to support local organizations in our community. The passion and dedication of each of our grant recipients creates a positive impact within our community every day," Troy Buswell, SVP and General Manager of Caesars Entertainment, said.
"The significance of this grant extends beyond mere financial assistance. By involving community members in the grant-delivery process, McArthur's Own and Salem SDA Church aim to foster a sense of ownership and responsibility among residents. This not only enriches the initiatives that receive funding, but also equips the community with skills and knowledge they can apply in future endeavors. It is McArthur's Own's firm belief that the impact of this collaborative effort will be multidimensional—addressing social, economic, and even environmental aspects of community well-being. With its proven expertise in designing and executing impactful programs, McArthur's Own is confident that this partnership will substantially contribute to a brighter, more inclusive future for Pompano Beach," Jeanette Gordon, President and CEO of McArthur's Own, said.
One of the largest developments in South Florida, The Pomp is a 223-acre project currently under construction 35 miles north of Miami and less than 10 miles north of Fort Lauderdale. Once complete, the project — anchored by Live! at The Pomp — will bring together entertainment, dining, hotel, retail, residential, office and lifestyle amenities, alongside the successful Harrah's Pompano Beach casino, in one world-class destination. The development's name, The Pomp, honors the local history and pays homage to the beloved former Pompano Park racetrack located on the project site. With the newly remodeled and rebranded Harrah's Pompano Beach and Live! entertainment anchor at its core, The Pomp will feature 1.3 million square feet of retail and entertainment space, 4000 luxury residential units, two hotels and 1.35 million square feet of Class A office space upon completion.
Along with Live! at The Pomp and Harrah's Pompano Beach, Topgolf will also anchor the Pompano Beach development with their eighth Florida location. The future Topgolf venue will invite players to enjoy the brand's technology-driven modern golf experience to play point-scoring golf games in an energetic and fun environment. The venue will feature 102 outdoor climate-controlled hitting bays equipped with Topgolf's signature ball-tracking technology, along with a full-service restaurant, top-shelf drinks, rooftop terrace, a patio, music, private event space, and year-round family-friendly programming. Currently under construction, Topgolf is expected to open late 2023.
In Florida, Cordish was the original development partner of the Seminole Tribe of Florida for Hard Rock Hotel & Casino Hollywood and Hard Rock Hotel & Casino Tampa, two of the most successful casino entertainment resorts in the world. Further demonstrating their strong commitment to the State of Florida, Cordish recently opened Vivo!, a 62,000-square-foot dining and entertainment experience in Miami, and will open a 36,000-square-foot immersive dining and entertainment district at The Pointe Orlando, near major theme parks and across the street from the Orange County Convention Center, next year.
Caesars Sportsbook Opens at Red Mile Gaming & Racing in Lexington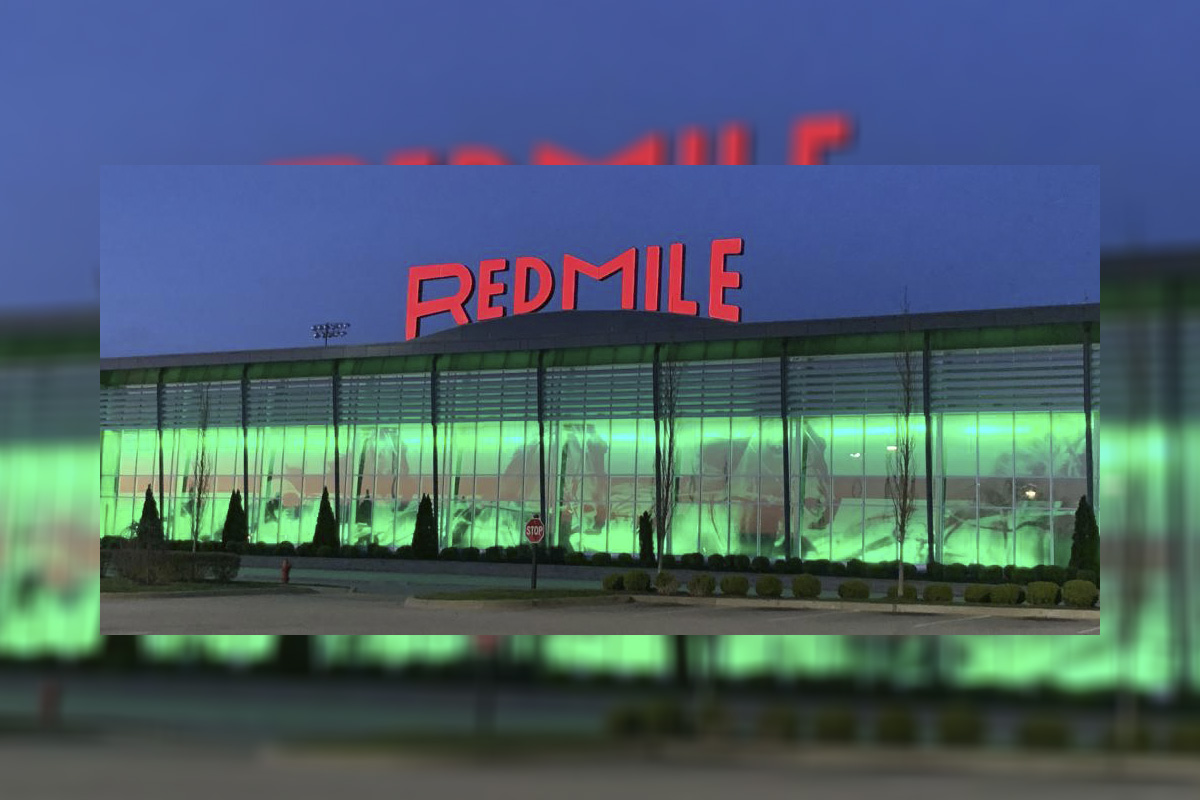 Caesars Entertainment, in partnership with Keeneland and Red Mile Gaming & Racing, celebrated the grand opening of Caesars Sportsbook at Red Mile last Thursday. The more than 4600-square-foot sportsbook in Lexington is the only retail sportsbook in Central Kentucky. Governor Andy Beshear placed the ceremonial first bet alongside Chairman Jonathan Rabinowitz of the Kentucky Horse Racing Commission, Caesars, Keeneland, and Red Mile representatives.
"Caesars Sportsbook at Red Mile brings a premier in-person sportsbook to an iconic Kentucky destination. We're proud to partner with Keeneland and Red Mile to bring in-person sports wagering to life in a way that honors the important legacy they hold in the Bluegrass State. Sports fans and horse racing fans should expect an experience that treats them like royalty, similar to what they've enjoyed at our world-class destinations in the region," Eric Hession, President of Caesars Digital, said.
"Red Mile and Keeneland have prepared a premium space dedicated to sports wagering. We believe Caesars will provide excitement with their sports wagering product that exceeds expectations, and we are excited to invite the public out for the full experience. We hope guests will also take a moment to experience live harness racing, gaming, and great food and beverage while they are with us," Shannon Cobb, Chief Financial Officer and Chief Operating Officer at Red Mile, said.
"Keeneland is excited to team with Caesars and Red Mile, both of whom share our commitment to providing a quality fan experience. Sports wagering offers great potential for horse racing to reach new audiences, and we value Caesars demonstrated support of the sport nationwide," Shannon Arvin, President and Chief Executive Officer at Keeneland, said.
Open seven days a week from 10 am to midnight, Caesars Sportsbook at Red Mile is a state-of-the-art Vegas-style sportsbook featuring five betting windows and an elevated bar area complete with wall-to-wall flatscreen televisions on the first floor and 14 self-service betting kiosks throughout the gaming floor and simulcasting areas. The second level of the venue includes an elevated atmosphere with a variety of comfortable seating arrangements for larger sporting events, views of the racetrack, and full food & beverage service throughout the space.
Caesars Entertainment's partnership with Keeneland and Red Mile Gaming & Racing reinforces the Company's commitment to horse racing and the expansion of the Caesars Racebook app, which is live in 17 states, including Kentucky. With mobile sports wagering launching in Kentucky on September 28, sports fans 21 and older can download the Caesars Sportsbook app on iOS and Android, visit caesars.com/sportsbook on desktop, or stop by Caesars Sportsbook at Red Mile to register and take advantage of a special early deposit offer when depositing between September 7 and 27.