ProgressPlay showcasing latest innovation in Cyprus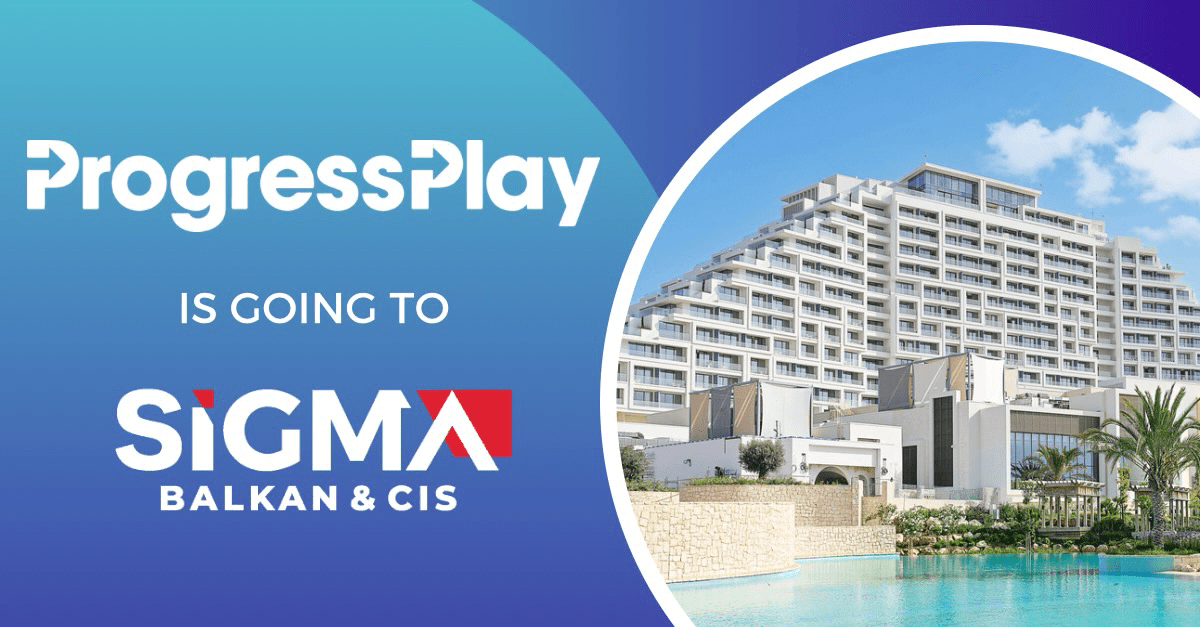 Reading Time:
2
minutes
ProgressPlay are taking to Cyprus the new innovative technology and tools that the company first introduced earlier this year in London and Amsterdam, to present it at SiGMA Balkans & CIS show during the first week of September.
ProgressPlay's commitment to innovation, cutting-edge products and casino-centric solutions aligns seamlessly with SiGMA's values, with the show and awards taking place in Cyprus for the first time where it looks set to attract record numbers of participants aided by the sunny Mediterranean holiday island destination and a pulsating programme of events and speakers.
ProgressPlay, now in their second decade serving the global igaming B2B market, has been doing the rounds of international shows to ensure that operators are aware of their advances in platform capability and service, which have been significantly enhanced by multiple waves of investment.
Central to this increased market exposure is ProgressPlay's new platform technology which offers a comprehensive gaming management solution across multiple channels and products, giving the company an important revitalised cutting-edge in their quest to deliver long-term value to a deepening operator cluster. ProgressPlay's new platform manages player accounts, payments, bonuses, loyalty programs, fraud prevention and games, using robust analytics.
ProgressPlay Sales Manager Marina Nahhas said: "We had some really interesting meetings in London and Amsterdam as we expanded our outreach to the global igaming community. As we take our new technology from show-to-show we are delighted with the enthusiasm from operators and casino brands, who have been seeking solutions that can deliver more in this very competitive environment."
On the proprietary side, and recently introduced to the international online gambling market, ProgressPlay's innovative Responsible Gambling software covers topics like KYC, player activity, affordability levels, and a transparent audit trail. This breakthrough data-driven software was recognised in the first half of the year with a shortlisting in the EGR's inaugural Safer Gambling Award, a significant achievement for a new product.
The company has rethought its Responsible Gambling strategy, developing an AI-driven flow for player engagement that recognises players in real-time and rates them according to various standards. This feature has proven highly attractive to the regulated market which is coming under increased pressure from regulators in Europe and beyond.
Over 150 online casino brands have partnered with ProgressPlay covering a unique combination of casino games and sports-betting. ProgressPlay's sportsbook offers up to 40,000 live betting markets and services across 20 languages while the new platform offers a slick AI-driven UI/UX, and extensive value-added services alongside thousands of casino games, including slots, online casino, live casino, poker, table games, and sportsbook, across all devices and currencies.
ProgressPlay CEO Itai Loewenstein said: "Marina and I look forward to mixing with our growing casino cluster, other industry leaders, nurturing meaningful new connections, and getting immersed in all the insightful discussions a big show like this generates. Of course, we will be there showcasing our cutting-edge products within an event that looks to set new standards and drive the igaming sector forward."
Cyprus National Betting Authority Boss Under Investigation
Reading Time:
2
minutes
President of the Cyprus National Betting Authority, Ioanna Fiakkou, is under criminal investigation in connection to match-fixing claims after she refused to answer MPs' questions at a House hearing.
The House's Ethics Committee called Fiakkou after she refused to provide information about corruption in football.
Reportedly, Fiakkou refused to hand over information to the Cyprus Sports Ethics Committee, former board member and lawyer Charis Savvides claimed.
As then head of the Sports Ethics Committee, Savvides had been investigating allegations by investor in Nicosia club Omonia FC Stavros Papastavrou about corrupt acts by prominent people within the football association.
Savvides claimed he had asked Fiakkou to provide relevant information on suspicious betting activity in 2021, but she refused to do so, citing personal data protection.
The required information involved a specific betting company active on the island.
Fiakkou was invited to give her side of events but refused to answer questions posed by House Ethics Committee chair AKEL MP Irene Charalambides.
Infuriated, Charalambides demanded that Fiakkou respect the House and answer the questions, noting that concealment is a criminal offence.
The head of the National Betting Authority responded by saying her obligation is to report to the investigating authorities, asking for the intervention of the Legal Service.
A spokesperson for the Legal Service told the committee that a person under investigation has the right not to answer because anything they say before the House Committee can be used against them in court.
Those comments revealed that Fiakkou is under investigation in connection with match-fixing, with Charalambides telling her she should have made that clear to MPs.
Last month, Savvides, the former head of the Sports Ethics Committee, had told MPs that the Union of European Football Associations (UEFA) had recently sent an email involving red notices for 16 matches likely to have been manipulated.
He claimed a coverup by the Cyprus Football Association (CFA) and a UEFA official.
Savvides told MPs the CFA did not take the designated measures to investigate warnings over possible fixed matches sent by UEFA and even denied receiving any red notice.
Melco's Cyprus IR to Open in July
Reading Time:
< 1
minute
Melco Resorts and Entertainment has announced that City of Dreams Mediterranean will open on July 10, bringing a one-of-a-kind development to Cyprus.
City of Dreams Mediterranean is the first integrated resort in Europe, showcasing an unparalleled array of offerings, including Europe's grandest casino, fine dining, extensive entertainment and the biggest expo centre in Cyprus.
Grant Johnson, general manager of City of Dreams Mediterranean, said: "We are thrilled to finally open the doors of City of Dreams Mediterranean to our valued guests.
"A landmark project and our first venture in Europe, it will bring Melco's award-winning standards of entertainment and leisure and welcome innovation to Cyprus' luxury hotel scene.
"We look forward to captivating our guests with contemporary design, first-class entertainment, and immersive experiences."
Racecourse Media Group and BoscaSports break new ground as betting shop displays go live in Cyprus
Reading Time:
2
minutes
Nicosia Race Club roll out BoscaSports' market-leading platform
Racecourse Media Group, working in partnership with BoscaSports and Nicosia Race Club (NRC), have teamed up to roll out BoscaSports's market-leading pool betting display platform across the betting retail estate in Cyprus.
Nicosia Race Club is a long-standing and valued partner of RMG and have been importing RMG's high quality horseracing content for over a decade. RMG are delighted to bring NRC and BoscaSports together to deliver state-of-the-art digital display screens to the market and support RMG's premium content – such as racing from Epsom, Newmarket, York and Goodwood – via its Racing TVi international betting service.
BoscaSports, already providing the digital display platform at 85 of the 86 racecourses in the UK and Ireland, worked with NRC to replace the outdated analogue systems in place and provide their customers with more engaging content on all RacingTVi racing as part of their ongoing investment in global markets.
The product leverages BoscaSports' platform and experience in rapidly delivering cost-effective solutions to market. The display automates the schedule of racing and pulls through content and pricing on all RacingTVi races throughout the day.
George Hadjiminas, General Manager of Nicosia Race Club, said: "British and Irish horseracing is well established in Cyprus and therefore popular with our customers. We are delighted to work with RMG and BoscaSports to deploy the new digital screens in our betting outlets and racecourse. We expect the new screens to be well received by our customers."
Eugene Mitchell, CEO of BoscaSports, added: "It is fantastic to agree this deal with George and his team. This is the first full market roll-out for the BoscaSports platform, and we are delighted it is a country with such a rich tradition of horseracing".
Ian Houghton, International Director at Racecourse Media Group, commented: "Both Nicosia Race Club and BoscaSports are great partners to work with. RMG are delighted to play its part in delivering state-of-the-art digital screens to Cyprus and we are hopeful that the additional data supplied, along with the modern presentation, means that the wagering customer will be much better informed".
The roll-out includes all 125 retail outlets, plus the racecourse, within the Nicosia Race Club.