Amelco goes live with iGaming solution in New Jersey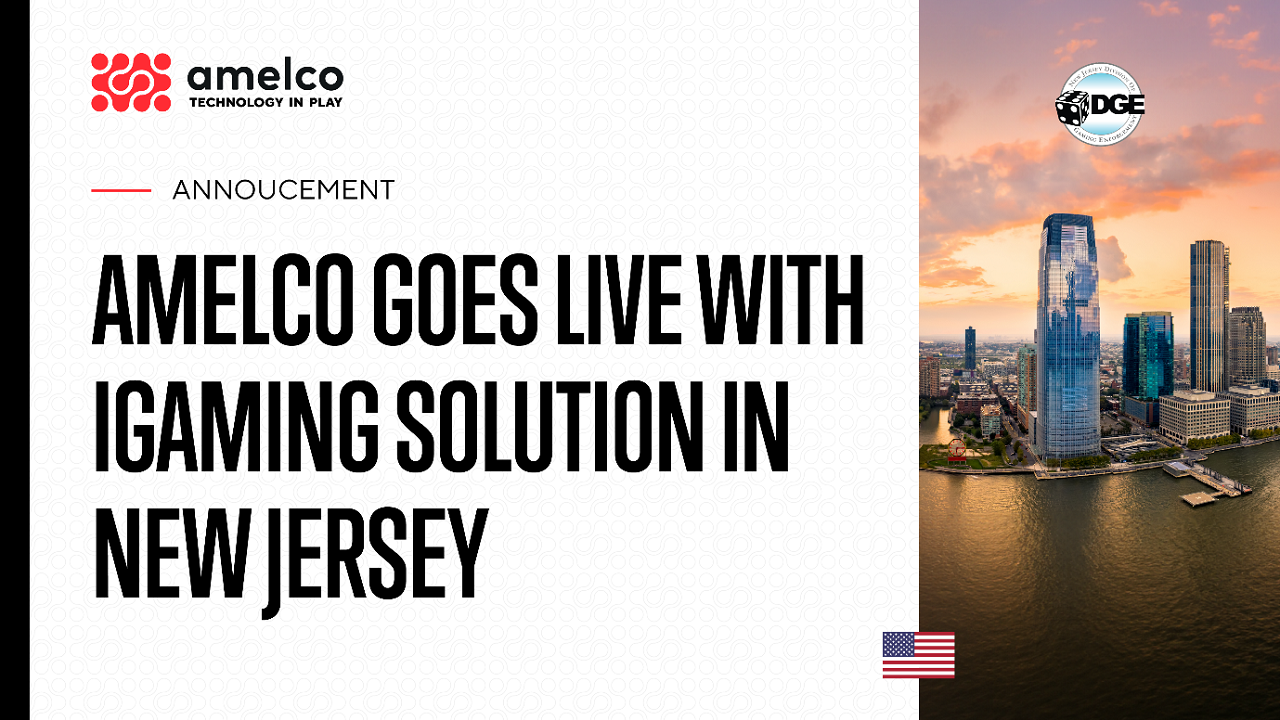 North America's most comprehensive platform launches online casino within the Garden State
Amelco, the leading sports betting and platform provider, has announced the launch of its complete iGaming solution in the state of New Jersey, strengthening its position as North America's most comprehensive platform.
Amelco's in-house casino aggregation suite, used by some of the world's biggest operator brands, covers a host of verticals. These include slots, poker, table games and instant games – supplied by the likes of Evolution Gaming Group, Light & Wonder, IGT and Pariplay, as well as multiple other tier-one studios.
Provided to its US operator partners with the ability to dynamically adjust content, as well as delivery via Amelco's bespoke app, the launch is set to ensure the platform supplier continues to solidify its leading position in the Garden State.
Also integrated within its innovative solution is Amelco's proprietary Bonus Engine, which provides a wide range of bonuses and tournaments – all of which are expected to be hugely popular with players in one of the US's most established online casino markets.
Commenting on its iGaming solution launch in New Jersey, Brandon Walker, Head of Amelco USA, said:
"As one of North America's most established online casino markets, it's great to have our full iGaming solution now live in the state of New Jersey. 
"This is a great opportunity for us to see where we stand in terms of our casino offering. Our award-winning sportsbook is already live across 15 states, so we are excited to showcase our solution in such a competitive environment.
"We are one of the most established platforms in the US and this will only enhance our reputation further across iGaming, as well as sport."
The launch will provide a welcome addition to Amelco's already comprehensive end-to-end platform, which spans sports betting, retail kiosks, player account management (PAM), as well as supporting multiple data feeds.
Amelco announces US micro-betting partnership with Simplebet
North America's most comprehensive platform integrates proprietary in-play betting technology
Amelco, the leading sports betting and platform provider, has announced its partnership with B2B technology supplier Simplebet. This will provide an extended micro-betting offering for all Amelco operators across all US sports.
With a mission to power the future of fan engagement, Simplebet utilises machine learning and real-time technology to deliver a market leading micro-betting solution, making every in-play event an even more exciting betting opportunity.
Amelco, which offers one of the most comprehensive end-to-end platforms in North America, unveiled Simplebet's hyper-short form betting proposition with BetSaracen during the annual NCAA March Madness collegiate basketball tournament.
Already proving to be one of the fastest-growing elements of the US sports betting market, micro-betting enables sports fans to bet on every aspect of in-play events during a game – such as pitches in baseball, or plays and drives during football, with a near-instant bet settlement.
Following its initial March Madness success, Amelco and Simplebet now plan to scale their offering with the advent of the 2023 Major League Baseball season and the upcoming football season.
The partnership is expected to provide a welcome addition to Amelco's already comprehensive offering, which spans sports betting, iGaming, retail, player account management (PAM), as well as multiple data feeds.
As one of North America's most exciting betting propositions, Simplebet has enjoyed continued success since its launch, with the product now live in 22 states.
Simplebet's popularity with sports fans has grown exponentially in the first few months of 2023, with an 84% increase in micro-betting handle during Super Bowl LVII, and over 3.7 million bets processed throughout the NFL postseason, up 150% on 2022.
Commenting on the Simplebet partnership, Brandon Walker, Head of Amelco USA, said: "This is yet another big step in the right direction and this focus on micro-betting will stand us in good stead ahead of some huge upcoming sporting events.
"With March Madness proving to be a standout success in our first debut together, the US sporting calendar for 2023 is beginning to hot up with the start of the MLB season and the NBA playoffs. Simplebet will be available in all the states we are currently live in and I'm sure this partnership will continue to scale and prove to be a real game changer for all our operators."
Chris Bevilacqua, Chief Executive Officer at Simplebet said: "We're excited to join forces with Amelco and add them to our strong roster of partners that are integrated with our micro-betting solution.  It's become clear that operators have a growing need to fill the demands of their customers in regard to the micro-betting category, and us partnering with Amelco will only further our reach.
"Onboarding new partners and providing high quality service has continued to be a huge focus and we look forward to working together with Amelco to create a great experience for its customers. There's a constant journey towards providing instant-gratification betting moments, and our collaboration will allow us to bring these to more players than ever before."
Interview with Amelco: The Latest on March Madness
With March Madness well underway, the tension is building as the tournament makes its way through the knockout rounds. March Madness is a hugely popular event in the US but what makes it so attractive from a betting perspective?
We caught up with Amelco's Director of Trading, Mark Hill, to discuss who could be the major players in terms of bets and his predictions as the tournament unfolds.
March Madness is a truly unique event. with a plethora of bets available, how difficult can it be pricing this up? And which bet do you think will be the most popular throughout the tournament?
Core pricing itself is pretty easy as the market has matured over the course of the NCAA season where all 68 teams entering the bracket will have racked up in excess of 30 games. This is a decent sample size when you consider the NFL regular season is just 17 games. In 2022, it was St. Peter's that became the giant killer after their unexpected and incredible run and this time around it looks to be Princeton capturing the public's imagination after their run to the "Sweet 16" in the South Region seeing off Arizona and Missouri along the way.
It's a really exciting time for Amelco with the Same Game Parlay product supplemented by Player Prop markets from our partners Swish Analytics. This is likely to prove very popular as the tournament moves into the latter stages. We have also introduced micro betting on the NCAA Tournament for the very first time on our platform with a recently completed integration of the hugely successful Simplebet. Whilst Money Line, Spread and Total bets will still account for the largest volume monetary wise, bet count on the SGPs and Micro Markets could exceed that this year, in what is sure to be a thrilling finale to March Madness.

Which of Amelco's 17 live states do you expect to do the most business during March Madness? 
Arkansas and Ohio are likely to see the biggest volume on an Amelco platform. In Arkansas, we have the Bet Saracen brand that is all about building a localised offering and following. The market share there has been phenomenal, but the hard work won't stop here. New integrations and platform improvements ahead of the Big Dance are likely to hold that volume with the Hogs already defying their lower seed to keep the Arkansas natives happy.
In Ohio, we've been stunned by Hard Rock's success across online and retail since being one of the first to market in the Buckeye State. Similar to Saracen in Arkansas, Hardrock are enhancing their core product with regular updates and are carving out a decent market share against their competitors.
Will the excitement of events such as March Madness be a springboard for other states to jump on the bandwagon of legalised sports betting?
As America's most comprehensive platform, we are live and licensed across 17 states, so we definitely have an eye on expanding as the year carries on. Our sportsbook partners more than hold their own against the so-called "big boys" in competitive markets such as New Jersey, Michigan and Colorado. So far, states who are closing in on legislation will have seen the huge benefits surrounding tax and taken note of existing models that other states have used. There is no doubt that more states will become legalised as we extend further in 2023 and beyond.
Mobile betting continues to grow apace. With the US still in its infancy as a sports betting aficionado, do you think that this method will continue to grow during and after March Madness?
I see no reason why the rapid growth of mobile betting shouldn't go side-by-side with a land-based model as there is a lot going for one another to flourish together. The retail numbers at launch for FedEx Field and Fanatics have been mightily impressive and a more traditional casino and hotel-based business continues to thrive.
At Amelco, we take great pride in developing both modules at a rapid pace whilst keeping in mind all the latest industry innovations and demands. Whilst mobile betting is expected to take a big chunk of bets, nothing really beats enjoying the company of others when taking in the biggest and best sports events and tournaments. It was fantastic to see record retail numbers during the soccer World Cup in Qatar and the Super Bowl in February and I expect to see the same during March Madness.
February and March have seen huge US sporting events with the Super Bowl and March Madness. What can keep bettors and operators interested throughout the spring and summer?
Following the conclusion of March Madness, basketball and ice hockey are once again thrust back into the limelight as the play-offs kick off imminently once the NCAA finishes. As the summer progresses, tennis begins to take the public's imagination with the French Open and Wimbledon, and golf is also at its height, with the US PGA, US Open and The Open falling within a two-month spell between May and July. The MLB season will have also ramped up as June begins.
In soccer, there looks set to be a thrilling end to the EPL and the Champions League, whilst many other major soccer leagues in Europe begin winding down towards the end of July. Off the field, the NFL draft is becoming more and more popular from a betting perspective and continues to grow each year.
Whilst the summer months are seen as quieter times for bettors and operators, we are increasingly optimistic that business will maintain a healthy balance as we are offering competitive and diverse options across many sports during this period.
Who do you think will win March Madness and which underdog do you think will go furthest?
Alabama looks by far and away the strongest contender and most likely winner on the metrics and season-long performance. They tick all the boxes and stood out amongst the number one seeds pre-tournament. They cruised through Conference play and as +800 second favourites going into the Big Dance, they have eased through to the "Sweet 16" where they face San Diego St and then likely Creighton in the "Elite 8".
I said before the tournament that Florida Atlantic could be primed to go on a decent run. The #9 seed in the East Region edged past a tough opponent Memphis 66-65 in a thrilling first round clash and beat the #1 seed, Purdue's, as well as surprise conquerors, Fairleigh Dickinson, in the second round. They are now set to face the #4 seed, Tennessee, in the "Sweet 16", who saw off the #5 seed, Duke, in impressive fashion in round two. It certainly is all to play for!
Amelco confirmed as second provider to go live in state of Arkansas
Saracen Casino is first in the state to integrate US's most comprehensive platform
Amelco, the leading sports betting and platform provider, has gone live in Arkansas with Saracen Casino in a move that strengthens the Natural State's newly established online sports betting market.
Representing one of four licences initially issued, this landmark deal confirms Saracen Casino as one of the first operators to establish state-wide sports betting in Arkansas and coincides with the start of the NBA playoffs and the summer calendar of sport.
The deal has seen Saracen go live with its own-brand sportsbook and custom mobile app, available state-wide – all powered by Amelco – reflecting the unique conditions of the state's market, with Amelco's in-house team ensuring its services deliver to Saracen's bespoke requirements.
Under the agreement, Saracen Casino is set to benefit from Amelco's end-to-end sports betting solution.
Testament to Amelco's position in the US market as one of the industry's leading platform providers, the deal marks yet another major landmark for the tier one provider, who already services numerous leading operators globally, including Flutter, Hard Rock Digital, FuboTV and Wynn Interactive.
Commenting on the deal, Brandon Walker, Head of Amelco USA, said: "It's great to be out of the blocks as one of the first suppliers in the state to go live with state-wide mobile. Arkansas is a very exciting state to go live in and Saracen Casino holds plenty of growth potential as one of the first operators to debut in the state.
"We're all about delivering solutions for our partners that exactly fit their needs. We see this as a great example of making that happen, delivering to Saracen's unique requirements for homegrown market conditions."
Carlton Saffa at Saracen added: "We are delighted to integrate Amelco's platform for this landmark deal, which sees sports betting go live in Arkansas for the first time.
"Establishing an online presence is clear evidence of Saracen's ambition in the online sports betting space, and choosing Amelco's high-quality platform is representative of our commitment to providing the best possible offering for the state's players."
Amelco offers one of North America's most comprehensive platforms available to operators, spanning sports betting, iGaming, retail, player account management (PAM), as well as multiple data feeds.
Amelco is now live in a total of 14 states; with additional jurisdictions to be announced in the near future.