Bragg is attending the EGR US Power Summit 2023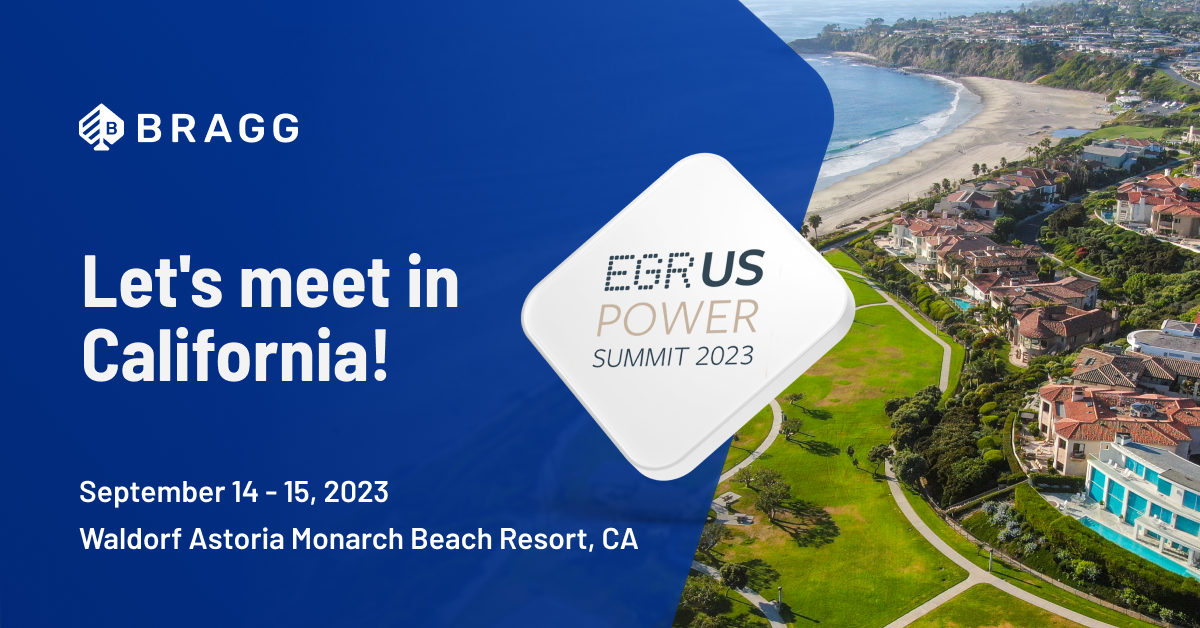 On September 14 – 15, 2023, Kunal Mishra, COO Americas, and Doug Fallon, Group Director of Content, will be attending the EGR US Power Summit in California. The yearly meeting of the most powerful and influential North American operators is organized by EGR, one of the key info hubs and news sources on the iGaming industry in the continent.
This exclusive and invitation-only event is a great opportunity to obtain and share experience from the field, network among peers, discover future partners and establish new connections. This year, more than 50 delegates from over 20 North American operators will be engaging in two days of panels, discussions and networking activities with the most prominent figures from the industry.
We are proud sponsors of this year's Power Summit, as we continue to boost our presence and visibility in North American markets as part of our ongoing drive to strengthen our position in one of the most promising iGaming markets globally.
Bragg Gaming's New Content Live with Caesars Sportsbook & Casino in New Jersey
Bragg Gaming Group announced that it has launched its new content and Remote Game Server ("RGS") technology with Caesars Sportsbook & Casino in New Jersey. The launch expands the reach of Bragg's new proprietary content in the U.S. and further demonstrates continued progress for the Company's North American expansion strategy.
Proprietary content such as Egyptian Magic, Fairy Dust and the Girl with the Golden Eyes from Bragg's Atomic Slot Lab studio, as well as new exclusive premium content from the Company's partner studios is now available to Caesars customers in New Jersey.
The roll-out of Bragg's new content with Caesars in New Jersey extends an existing collaboration between the two online gaming companies in North America as Bragg also provides iGaming content to Caesars' players in New Jersey and Michigan through its Spin Games RGS. In addition, the Company launched its new content and RGS technology with Caesars in Michigan last year.
According to H2 Gambling Capital, the interactive casino market in New Jersey is on track to generate US $1.8 billion in Gross Win in 2023.
Yaniv Sherman, Chief Executive Officer for Bragg Gaming Group, said: "The iconic Caesars brand is synonymous with the very best in casino gaming entertainment in the U.S., and as we continue to successfully deploy our rich new content portfolio across North America, we are delighted to further build on our long-standing relationship by extending the reach of these new games to their players in New Jersey.
"This launch is an important step for us, as the integration of our new RGS technology opens the door to a stellar line-up of premium casino content we have planned for release throughout the year and beyond."
Matthew Sunderland, Senior Vice President of iGaming at Caesars Digital, said: "We have enjoyed a very productive relationship with Bragg and are pleased to extend our companies' partnership as we know their slot content resonates with our players. The launch of new content from Bragg will further help us bring our customers in New Jersey a best-in-class iGaming experience."
Incredible Technologies Announces iGaming Partnership with Bragg Gaming Group
Incredible Technologies, Inc. (IT) is pleased to announce a new partnership with Bragg Gaming Group (Bragg) to extend its distribution of IT iGaming products.
Incredible Technologies has a decade-long tenure of casino gaming hardware and software
development experience. The company's land-based success extends to iGaming platforms
with top-performing titles like Crazy Money 2 and Big Prize Bubblegum Deluxe, both already available via Bragg's remote games server (RGS) technology. IT's existing partnership with Spin Games (Spin), acquired by Bragg earlier this year, sets a strong foundation for the innovation to come.
"Our games have already gained fans on existing iGaming platforms under Spin's brand," said Daymon Ruttenberg, Senior Vice President of Gaming. "We're eager to extend the partnership with Bragg and are thankful for a partner that's committed to the success of innovative games in new iGaming markets."
Bragg's interactive catalog is available in numerous markets, including New Jersey,
Pennsylvania, Michigan and Connecticut with partners Draft Kings, Fan Duel, Caesars
Entertainment, and Rush Street Interactive. Through this new partnership, IT's new, innovative content to will gain expanded access to existing and future customers.
"We are constantly looking to improve our game portfolio as we seek out third-party partners whose content complements our growing internal development efforts", said Kent Young, President of the Americas at Bragg and Founder of Spin Games. "The Spin RGS has already been a home for some of Incredible Technologies' high-performing iGaming titles and we are thrilled to expand on this relationship going forward. Through our expanded work with IT, Bragg will be able to bring more of their great games, starting with Ultra Rush Golden Steed and Ultra Rush Sky Fire, to our RGS customers in North America and across our global platform."
Bragg Group Companies Oryx Gaming, Spin Games and Wild Streak Gaming Consolidate Under Single Brand
Group companies adopt Bragg brand as part of integration process
Bragg Gaming Group announced today that following its successfully completed acquisitions of Wild Streak Gaming and Spin Games and the start of its new content roll-out in North America, it is consolidating all group companies under the single brand, Bragg Gaming Group.
The Company's Oryx Gaming offices in Slovenia will become Bragg Ljubljana, while Spin Games in the U.S. and India will change to Bragg Reno and Bragg Chennai respectively.
The company will also open a new Bragg Las Vegas office this year, providing a base for existing employees from Wild Streak Gaming and Spin Games, as well as for new hires. This adds to the existing Bragg offices in Toronto, London and Malta.
These hubs, its technology, services and turnkey offering will move forward with the single brand of Bragg Gaming Group, while its content output will retain its internal game studio marques: Wild Streak Gaming, Spin Games, Atomic Slot Lab, Indigo Magic, and Oryx Gaming.
While the changes set to be rolled out evolve the group's outward profile, its provision of high-performing, data-driven and passionately crafted proprietary casino gaming titles and wider technology will continue to maintain its market-leading characteristics.
Combined with this strength of offering, the unified Bragg brand will enhance the representation of the Company's international presence as it continues to grow in existing and new regulated markets.
Yaniv Sherman, Chief Executive Officer of Bragg Gaming Group, said: "As we consolidate our group companies under the single brand of Bragg, we celebrate the heritage, values and successes of Oryx Gaming, Spin Games and Wild Streak Gaming which have built us into the company we are today, and which will propel us into our next phase as a global iGaming provider.
"We're incredibly proud of the work that all of our colleagues have put in over the years which are the foundations we continue to build on. We're sure that the renewed focus that our consolidation brings will be positively felt across our hubs in Toronto, Las Vegas, London, Ljubljana, Malta and Chennai and it will signal a new exciting era of growth for us all under the same umbrella with aligned values and goals."