Five Startup Finalists Announced For The Second Edition of SBC First Pitch Barcelona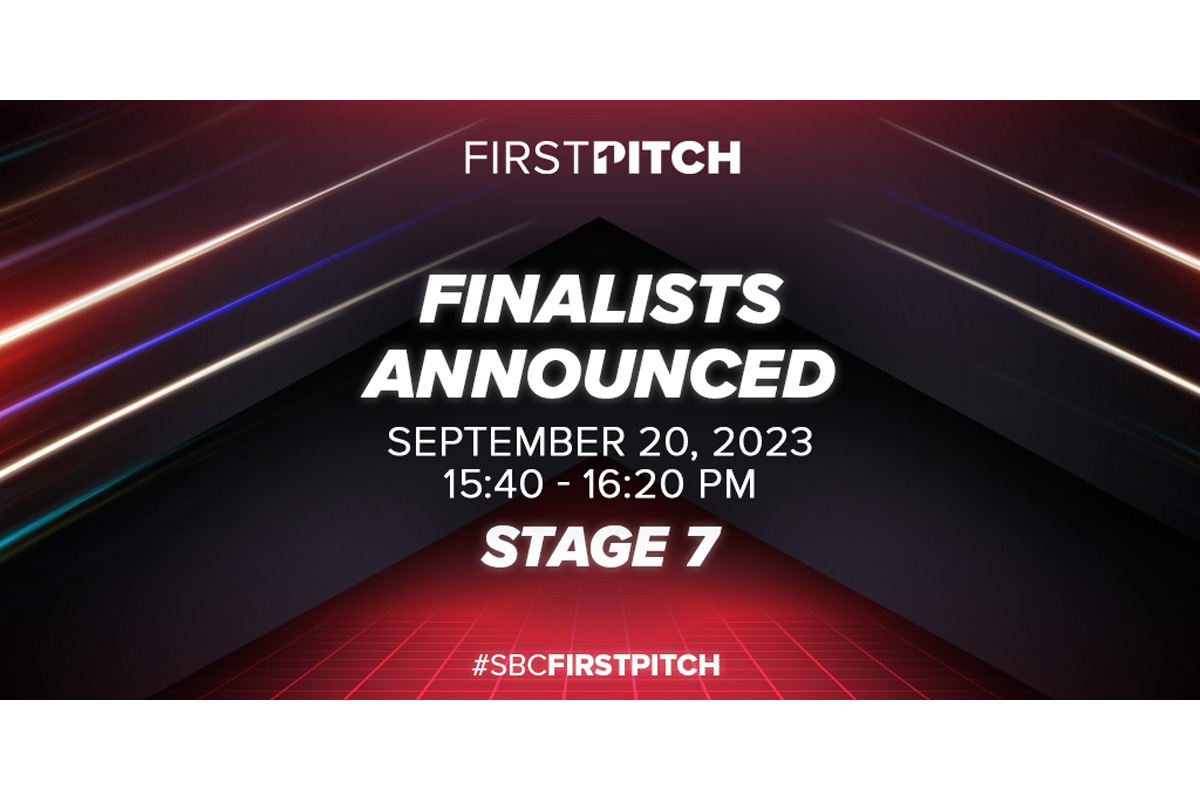 Reading Time:
3
minutes
Five innovative industry start-ups have been selected as finalists for the second edition of SBC First Pitch Barcelona at this month's SBC Summit Barcelona. The finalists will compete for an exclusive prize package valued at over €60,000, to aid in the growth and development of the winning company.
The competition, powered by Yolo Investments, will serve as a platform for the five aspiring companies to present their products and business plans in front of a live audience of industry leaders. The winner will be chosen by a judging panel consisting of venture capital and investment experts.
The First Pitch Competition will be hosted at the Fira de Barcelona Montjuïc, on Wednesday 20th September, and will feature as part of the 'Future of Technology' conference track.
Rasmus Sojmark, CEO & Founder of SBC, said: "As event organizers, we believe that SBC First Pitch Barcelona occupies a central role in facilitating innovation in the industry. Competitions like this serve as a platform for emerging talents to showcase their groundbreaking products and services, whilst also gaining invaluable experience presenting in a public space and networking with industry elite."
"SBC First Pitch is essentially about innovation meeting opportunity, ultimately encouraging the industry to grow, welcome new ways of thinking and foster an environment that nurtures innovation and collaboration."
The five finalists of the SBC First Pitch Barcelona are:
We are the Bookie: an online B2C sports betting platform with a 50% monthly Gross Gaming Revenue (GGR) rebate for losing customers.
Rdentify: a platform that identifies vulnerable customers during customer conversations in real-time and flags them to the safer gambling team and triggers customisable interventions as soon as behavioural risk has been flagged
Snap Screen: Leveraging the user's mobile camera to recognise live events on TV and streaming, Snap Screen is akin to a 'Shazam for sports betting,' allowing operators and affiliates to integrate SnapOdds into their websites.
SQR Group: simplifies compliance and reduces fraud by enabling seamless identity verification without storing sensitive documents, using Secure QR Code® technology.
Sport Exchange Market: a web app platform where fans can trade virtual shares of football teams, experiencing the same adrenaline as when they are betting or playing fantasy sports games
The First Pitch competition will be hosted by Anton Kaszubowski, (Managing Director, SBC Advisory Partners) and feature a star-studded judging panel of industry experts. The panel consists of Adam Rosenberg (Senior Advisor, Gaming & Leisure. Blackstone), Evert Einroos (Partner, Yolo Investments), Peter Heneghen (Senior Associate, Bettor Capital), Hilary Stewart-Jones (Independent Consultant, Harris Hagan) and Claudia de la Riva (Angel Investor, Various), who will each cast their vote to determine the winner.
The winning start-up will receive a prize package comprised of:
A two-day workshop trip to Tallinn with Yolo Investments Founder Tim Heath, including flights, hotel, and covered expenses – valued at €25,000.

An SBC Media promotional package including a magazine ad in SBC Leaders Magazine, two featured editorials promoting the business and a guest appearance on the iGaming Daily Podcast – valued at €7,000.

 A prize pack from Receptional, in which a dedicated team will collaborate with the winning company to provide a tailored digital marketing package – valued at €10,000.
A Square in the Air press pack that includes a corporate video filmed on-site at the event, two press releases distributed on the Square in the Air social channels, a free social media audit, competitor analysis and a strategy guide to help build the company's profile – valued at £5,000.
An exclusive brand or web design package from Vegas Kings, the leading iGaming design and development agency – valued at €2,500.

A 3x3m booth, including a turnkey standbuild, sponsorship mention, and 4 complimentary tickets for the SBC Summit 2024 – Valued at €15,000.
Last year's edition of SBC First Pitch Barcelona saw Kero Gaming, an in-game micro-betting and interactive social platform, crowned the winner. Paradox, a parimutuel betting protocol where all the commission charged is distributed proportionally to the people who bet before you, was the runner-up.
How to Win Blackjack Online: 5 Secrets from Experienced Gamblers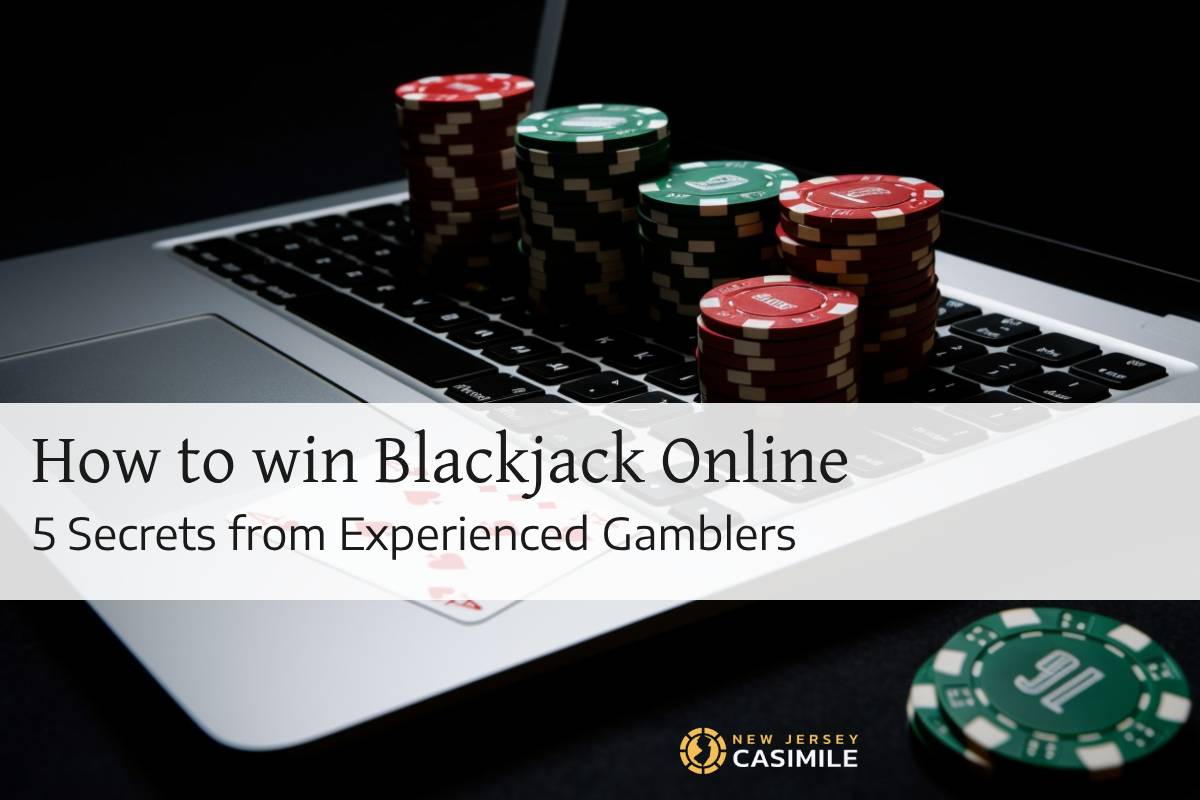 Blackjack is a popular card game, and many players try their hand at the online version. While the basics remain the same, playing blackjack online has its unique challenges. The shift from live blackjack tables to online platforms requires adapting to new rules and strategies. Even if you're a pro at the live game, online blackjack can be a different beast. In collaboration with the top experts from NJCasimile.com casino review site, we'll unravel the secrets that experienced gamblers use to increase their winning chances online.
1. Understand How Live and Online Blackjack Differ
The first step to winning in online blackjack is recognizing its differences from its live counterpart. Unlike live blackjack, you cannot count cards online since online decks shuffle after each hand. Another missing element is the social interaction, as you don't sit around a physical table with other players and a dealer. This absence means you need to rely solely on your skills and strategy without being influenced by others. Moreover, online platforms come with a set of distractions.
2. Stick to a Basic Blackjack Strategy
Every blackjack game, whether played in a brick-and-mortar casino or online, benefits from a well-executed blackjack strategy. This strategy is a tried and tested method to reduce the house edge, which is generally around 0.5%. Interestingly, blackjack makes up about 31% of casino table game actions, emphasizing its popularity and the importance of a solid betting strategy.
When playing blackjack online, relying on a basic strategy becomes even more essential. Card counting gives players an edge of up to 2% over the house, and is almost impossible to apply in online versions.
A key statistic to keep in mind is that the odds of being dealt a natural blackjack are only 4.8%. So, while chasing that perfect hand is exciting, it's the consistent application of strategy that will lead to more frequent wins in the long run.
3. Make Thoughtful Choices When Deciding to Split Your Hands
Splitting hands in blackjack is a double-edged sword. Done right, it increases your chances of winning blackjack; when done wrong, it depletes your bet quickly. When playing blackjack, understanding when to split is as crucial as knowing when to hit or stand.
Always Split:
Aces:

Splitting aces gives you a shot at two 21s. Two aces in one hand are a total of 12, but splitting them turns them into two powerful hands.

Eights:

A total of 16 is a weak hand. By splitting eights, you potentially turn a losing hand into a winning one.
Never Split:
Tens:

With a total of 20, you're in a strong position. There's no sense in breaking up such a good hand.

Fives:

You have a total of 10, which is a good number to double down on. Splitting fives leads to two weak hands.
By making thoughtful decisions on splitting, you maximize your chances of winning and make the most of your original bet.
4. Bypass Paying Insurance
In the realm of blackjack, insurance might seem like a safety net. However, according to many blackjack rules and experienced players, it's often not the best bet. When the dealer shows an ace, players are given the option to take insurance. This side bet covers the possibility of the dealer having a blackjack.
Taking safety measures means placing half of your initial bet. If the dealer does have a blackjack, you get paid 2:1 on your insurance bet, essentially breaking even. But if the dealer doesn't have blackjack, you lose your insurance bet.
Statistically, the odds are against the dealer having a blackjack. Thus, consistently paying for a warranty erodes your winnings over time. The best approach to winning blackjack is often to bypass the safety option and stick with the fundamentals.
5. Manage Your Bankroll Wisely
Managing your money is paramount when venturing into any form of gambling. In blackjack, it's no different. A clear understanding of blackjack rules and disciplined bankroll management creates the difference between a successful session and a quick loss.
Firstly, set a budget. Determine the amount you're willing to spend and stick to it. Avoid chasing losses; if it's not your day, it's better to walk away and play another time.
Consider the betting amounts. Playing smaller bets allows you to play longer and increases your chances of winning blackjack in the long run. It's also essential to know when to double down. While it can be tempting to double your bet when you feel lucky, it's crucial to do so based on the strength of your cards rather than emotion.
FAQs about Winning Secrets to Play Blackjack Online
What is bankrolfl management? 
Bankroll management refers to the practice of setting and adhering to a budget for your casino game sessions. It involves determining how much money you're willing to spend, setting limits, and adjusting your bets based on your financial situation. 
How to double down in Blackjack? 
In blackjack online, doubling down is an option where you increase your initial bet by 100% in exchange for committing to stand after receiving one more card. It's a tactical move, used when the player believes their hand can beat the dealer's with just one additional card.
What is insurance betting in Blackjack? 
In Blackjack, insurance is a side bet offered when the dealer's upcard is an ace. This bet covers the possibility of the dealer having a blackjack. Players place half of their initial bet for it. If the dealer does have blackjack, the player receives a 2:1 payout on this side bet.
BET99 selects GeoComply as its new geolocation provider in Ontario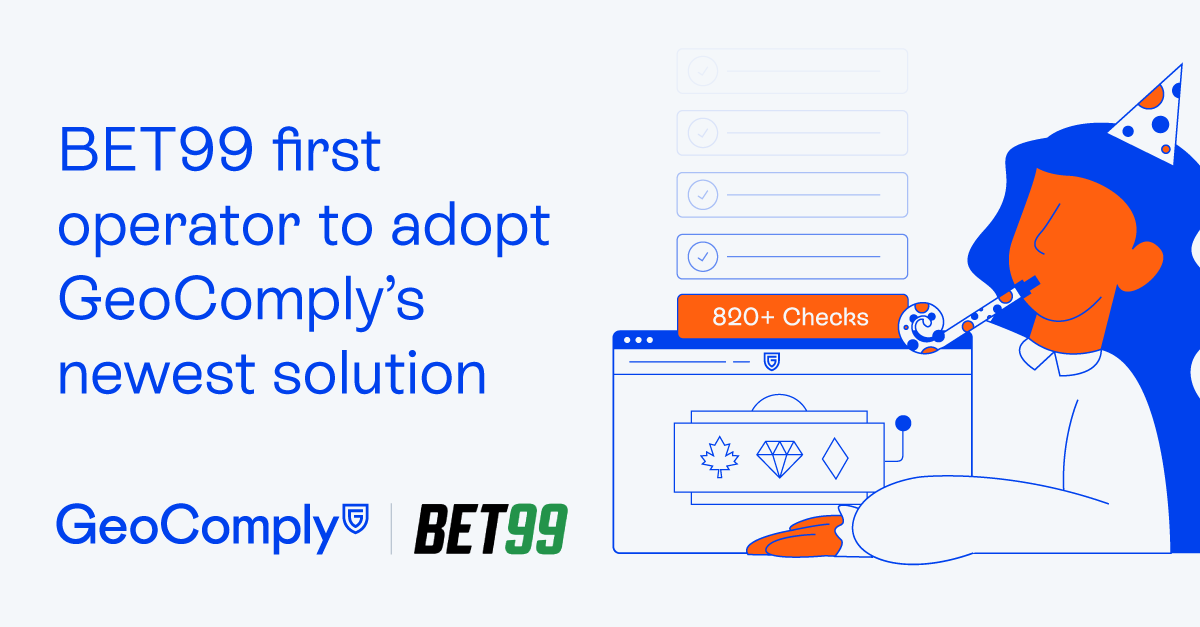 GeoComply Solutions Inc., a leading provider of cutting-edge anti-fraud and geolocation solutions, today announced that Canadian online sportsbook BET99 has chosen GeoComply as its geolocation supplier for Ontario, Canada.
The Canadian-focused sportsbook is determined to provide the very best customer experience with gold-standard geolocation solutions for desktop and mobile that help increase pass rates, detect fraud, and boost gross gaming revenue.
BET99 Chief Technology Officer Paul Nyzuk commented, "We are excited to partner with GeoComply. They have more experience than any other geolocation provider and a commitment to innovation, as evidenced by GeoComply's new No Download Browser Solution. Our priority is ensuring the best player experience while achieving the highest standards in compliance. GeoComply's cutting-edge technology brings tremendous efficiencies so BET99 can achieve these goals."
GeoComply's new solution allows mobile and desktop players to validate their location in one click without leaving the page or downloading a companion app or plugin, thus removing a player pain point and boosting conversion.
GeoComply Senior Vice President Lindsay Slader added: "We are thrilled that Bet99 has adopted our new technology, which makes geolocation compliance easier than ever for players and easier than ever for BET99 to integrate, helping to keep them compliant, profitable and safe."
GeoComply's no-download desktop and mobile solution can help protect operators at all stages of the player journey, from registration to deposit and withdrawal, with fraud solutions that detect spoofing devices, account takeovers, bonus abuse, and other forms of fraud. Operators can proactively mitigate location and payment fraud with deposit and withdrawal checks and extra data review points.
Hacksaw Gaming Strikes Content Agreement with NetBet Italy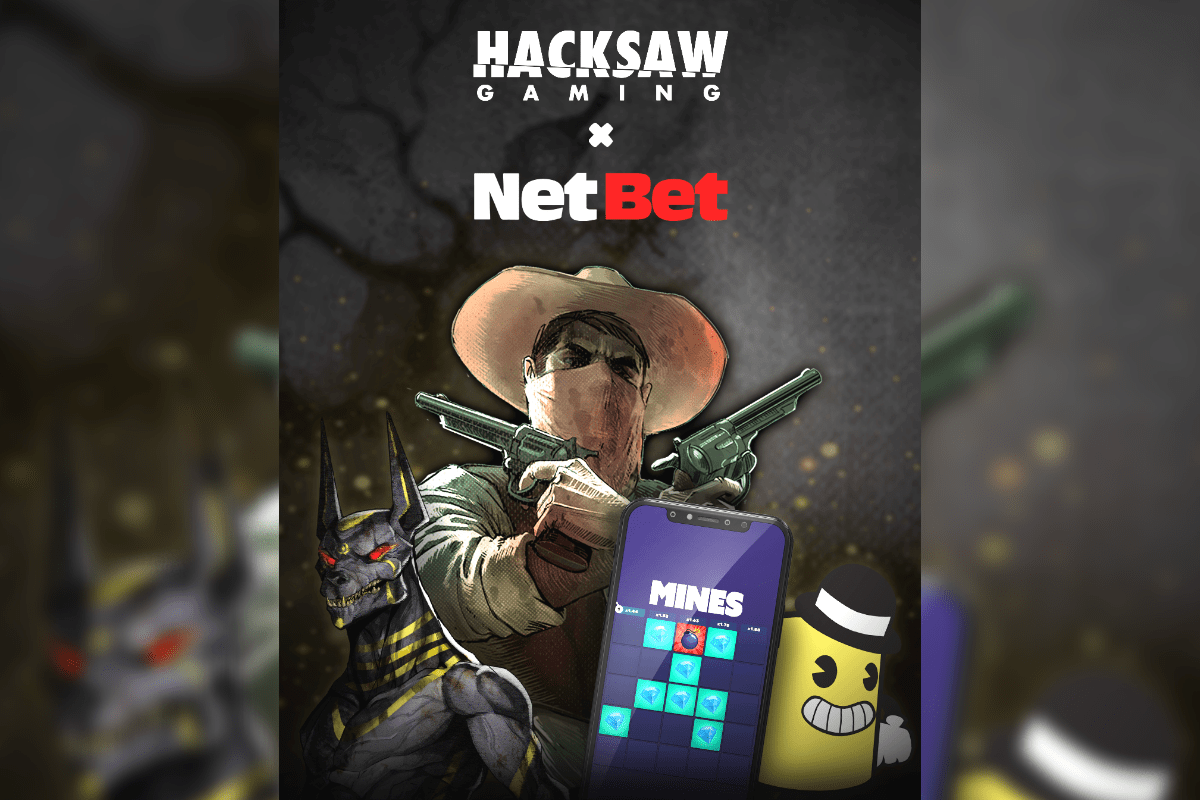 Reading Time:
< 1
minutes
Online casino game supplier Hacksaw Gaming is pleased to announce a content agreement with NetBet Italy.
The deal sees a selection of Hacksaw Gaming's portfolio integrated with the operator. NetBet Italy players can now enjoy fan-favorite slot titles like Wanted Dead or a Wild, Hand of Anubis, Gladiator Legends, and Tosh Video Club, in addition to Dare2Win games Mines, Coins, and Boxes.
More games powered by the provider are expected to be rolled out in due course as both parties aim to build on the partnership.
NetBet Italy becomes Hacksaw Gaming's eleventh casino partner in the Italian market with today's news, after the studio received full regulatory approval earlier this year.
Marcus Cordes, Hacksaw Gaming CEO, said: "This significant announcement demonstrates our commitment to expanding our business across regulated markets, and in particular in Italy, which continues to grow at lightspeed.
"Furthermore, we're constantly looking to team up with industry players of the highest pedigree. Netbet.IT is yet another household name that needs no introduction – an operator that shares our passion for excellence and delivering market-leading products and services."
"We are thrilled to join forces with Hacksaw," said Claudia Georgevici, NetBet Italy's PR Manager. "Their commitment to excellence and their portfolio of exciting games perfectly aligns with our goal of providing our players with the best entertainment environment."