AGS is Dropping Hits at G2E 2023: 'Best Slot Product,' 'Best Table-Game Innovation,' '#1 New Indexing Online Games'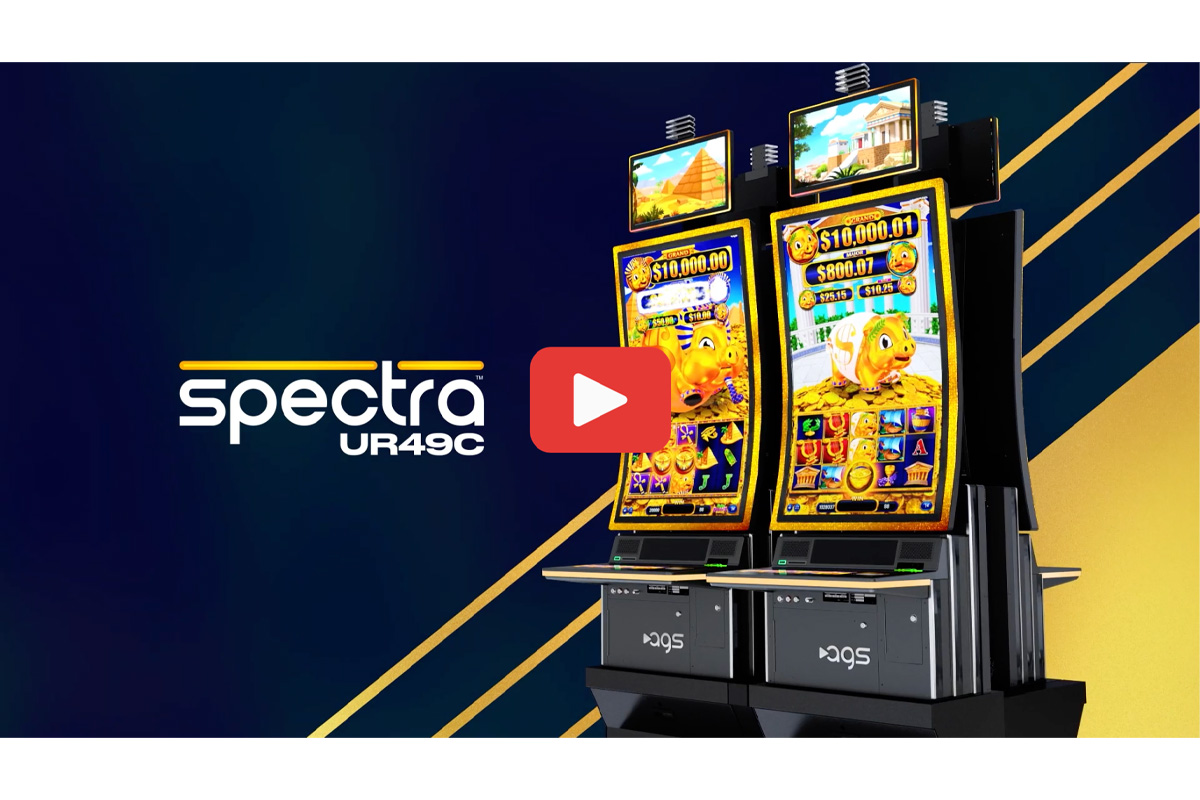 The 2023 Global Gaming Expo ("G2E") in Las Vegas, to be held October 10 to 13, marks the beginning of a new era for PlayAGS, Inc. (NYSE: AGS or "the Company"), a leading supplier of high-performing slot, table, and interactive products and services to the global gaming industry.
At G2E, AGS invites customers "backstage" to experience a legendary lineup of star-studded products taking center stage at booth 1253, including a new slot cabinet, game themes and product configurations, as well as innovative table enhancements and a turbo-charged lineup of new interactive game content.
Drop It Like Its Slot: Spectra Climbing the Charts & Dropping Hot New Configs
Following the successful launch of its chart-topping portrait upright cabinet Spectra UR43 in 2022, AGS introduces its second cabinet in the Spectra line and a new premium configuration:
Spectra UR49C features a towering 49-inch curved monitor and enlarged button deck along with an expanded library of high-performing games.
Spectra UR43 Premium includes a regal billboard-style digital display and thematic merchandising available in various inline and pod configurations.
"This year's G2E represents a significant step towards our unprecedented slot strategy transformation. Our products and strategy are fully aligned towards growing our market position to become a leading slot supplier to the gaming industry," said Mark DeDeaux, Senior Vice President and General Manager, Slots. "We have elevated our people, processes, and products and we are in full launch mode."
Remixing Award-Winning Brands – And Making Them Even Better
AGS will showcase its deepest and most diverse pipeline of new games to date, featuring extensions of several of its most successful game themes, iterations of market-resonant game mechanics and cutting-edge innovation.
Triple Coin Treasures Gold, a four-pot twist on the original Triple Coin Treasures game family, which was recognized as a "Best Slot Product" in the 2024 GGB Gaming & Technology Awards.
The return of Cornsquealius, everyone's favorite vivacious pig, in Rakin' Bacon Odyssey® and Rakin' Bacon Sahara®.
Longtime player-favorite Fu Nan Fu Nu Prosperity and Fu Nan Fu Nu Longevity, now with premium merchandising.
Staying On Beat with The Industry's Best Table Progressives
Innovating on the high-performing, award-winning progressive system Bonus Spin Xtreme, AGS' tables division will release new features to further enhance the experience for players.
 Bonus Spin Xtreme Power Up! includes a wheel triggered by individual hands for non-community table games.
The high-hand jackpot feature offers players a progressive jackpot for making top individual hands.
"Our Bonus Spin Xtreme showcase at G2E is another solid example of how we don't stop innovating on a great idea, and the new features we are showing are great examples of how we continue to push the envelope on what's possible with our progressive platforms," said John Hemberger, Senior Vice President and General Manager, Table Products. "In line with being relentless with product enhancements and refinements, we continue to fine-tune our Pax S card shuffler and grow our support network across the country."
In addition, AGS' single-deck shuffler, Pax S® is back with its most feature-rich software ever, including added game configurations and enhanced efficiency and serviceability.
Interactive Games Topping the Charts & Reaching New Heights
AGSi, AGS' interactive division, achieved new levels in 2023 with the entrance into British Columbia Lottery Corporation, Italy, Romania, and West Virginia jurisdictions and most recently ranking #1 for Top Indexing New Online Slots per the September '23 Eilers-Fantini Online Game Performance Report.
AGSi debuted its first persistence titles from the Ultimate Choice Jackpots® game family this year and successfully entered the online stepper product category with the release of Mega Diamond–accompanied by a modernized UI layout. Underscored by a marquee year, AGSi plans to release its first online table game among the 50 games it plans to introduce to the market in 2024 and become the first supplier to offer table progressives online.
Kambi wins two prestigious industry awards ahead of G2E 2023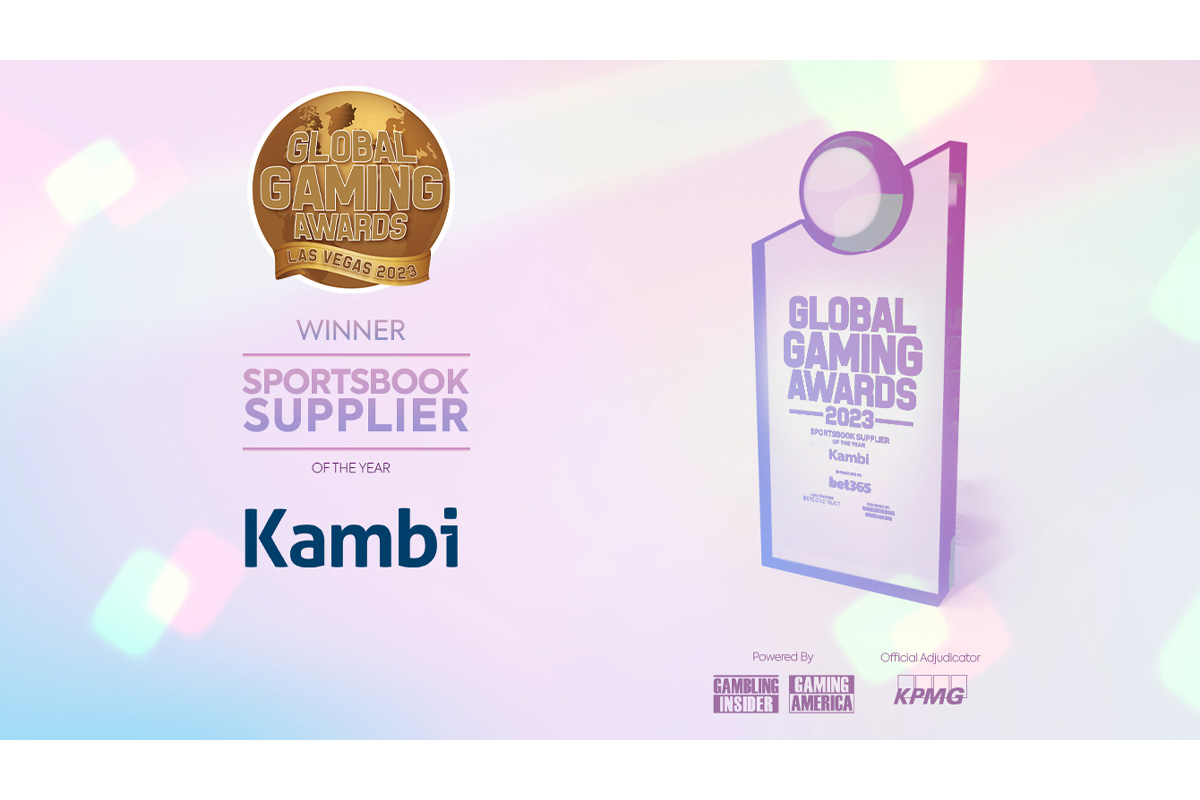 Kambi crowned Sportsbook Supplier of the Year at Global Gaming Awards Las Vegas while the innovation of its pioneering AI-powered trading capability is also recognised by GGB
Kambi, the world's trusted sports betting partner, has won two prestigious industry awards ahead of the Global Gaming Expo (G2E) 2023, including Sportsbook Supplier of the Year at the Global Gaming Awards Las Vegas.
Yesterday, Kambi was named the Sportsbook Supplier of the Year for the second consecutive year at the Global Gaming Awards which are held annually at the Venetian Las Vegas on the eve of industry trade show G2E.
Independently adjudicated by KPMG, the prestigious Global Gaming Awards are powered by B2B publications Gambling Insider and Gaming America and are judged by a panel of more than 100 C-level industry executives.
Kambi's success at the Global Gaming Awards came just days after its pioneering AI-powered trading capability was the recipient of Best Sports Betting Product at the 23rd annual Global Gaming Business (GGB) Gaming & Technology Awards.
The GGB award marks the second time this year Kambi's AI-powered trading has been recognised having previously won the Innovation in Sports Betting Software award at the EGR B2B Awards earlier this year.
Now offered as a standalone modular service, Kambi's AI trading removes the friction points sports bettors face while also empowering operators to innovate and create unique and custom markets through dynamic APIs.
Cecilia Wachtmeister, Chief Commercial Officer at Kambi, said: "We are delighted to receive these awards, which serve as a testament to our unwavering commitment to excellence and innovation in the sports betting industry. At Kambi, we are driven by a passion for delivering outstanding sportsbook solutions that empower our partners and drive success. These awards are a reflection of the hard work and dedication of our talented team."
To learn more about Kambi's award-winning sports betting technology and services, visit the Kambi team at G2E in Las Vegas on October 10-13, booth 2230.
Spintec Teams Up with DGS for a Show-Stopping Presence at G2E 2023
Dynamic Gaming Solutions (DGS), the premier distribution and gaming solutions provider for the US casino market, partners with Spintec Gaming Technology, to showcase the latest in live-action Electronic Table Games experiences at the Global Gaming Expo (G2E) from October 10-12 at the Venetian Expo Center in Las Vegas.
This year, DGS spotlights its collaboration with Spintec, a prominent Electronic Table Games manufacturer based in Slovenia, making waves in the US market.  Visitors to the Spintec booth #2043, can explore a thrilling array of gaming solutions featuring the latest live-dealer and fully automated ETG innovations.  Highlights include Spintec's 'HotSpot Roulette', a sizzling twist on the classic game with an enticing win-multiplier feature, offering players a chance to win up to 900 times their wager. Additionally, Spintec's integrated 'Multi-level Progressive Jackpot' system will be showcased, promising even bigger wins for both electronic and live roulette wheels.  The event will also feature a live Roulette tournament, powered by Spintec's cutting-edge tournament mode, with numerous on-site prize giveaways. Visitors will also be able to see and experience the fresh and attractive new graphic user interface for all Spintec solutions, a fantastic new standalone and wear-proof roulette wheel with superior visibility, and an innovative blackjack live table with easily customizable height to suit every croupier.
As the exclusive US distributor for Spintec, DGS has made significant inroads since bringing their solutions to market less than 24 months ago.  Mark Larson, CEO of DGS, shared, "Our casino partners have been pleased with the Spintec ETGs.  We're seeing them quickly exceed benchmarks set by more established competitors, and that's adding to their growing reputation for performance.  Our goal in highlighting our partnership with Spintec at G2E this year is to drive awareness of these unique games and give attendees a chance to experience them first-hand."
Goran Sovilj, Global Sales Director at Spintec, added, "Our collaboration with DGS at G2E speaks to our shared vision of delivering unmatched gaming solutions. We look forward to showcasing the distinct edge that Spintec brings to the table, and together, we are setting new trends in the industry."
Fostering innovation and driving growth by convening the global gaming industry together in one place, G2E stands as the preeminent gaming tradeshow.  This year's exhibition is expected to draw over 25,000+ industry professionals, 350+ exhibitors, and 70+ education sessions. Among these global exhibitors, DGS stands out as a high-growth partner: broadening gaming horizons and expanding access to high-quality casino entertainment alongside esteemed partners, like Spintec.
Betcris prepares for Vegas Baby, the highly-anticipated networking event of Vegas G2E
Coming next month to Las Vegas is the Global Gaming Expo (G2E), now back to normal after missing a couple of years due to COVID-19. 2021 marked the return of the successful gathering, and 2022 is going to be even bigger. One of the highlights will be the popular networking event Vegas Baby, and global gaming operator Betcris is anxious to attend.
G2E's full education lineup opens on October 10 at 9:00 AM PST at The Venetian Expo. It will welcome the global gaming community for collaborative conversations about the future of gaming, including sports betting, digital payments and cryptocurrencies, tribal games and international markets. The four-day expo will conclude on October 13.
Vegas Baby, the most important networking event at the G2E, returns to Beer Park on Tuesday, October 11. In attendance could be as many as 750 professionals from the betting and iGaming industries in the heart of the Las Vegas Strip.
This year, Betcris is proudly sponsoring Vegas Baby.
In attendance at the event will be the company's head of business development, Fernando Garita, who will also be available for the duration of G2E. Highlighting the company's presence will be the introduction of a revamped affiliate site focused on the Latin American market.
Beer Park was named by Thrillist and iGoVegas as one of the top rooftop bars on the Strip. It is a popular spot for people-watching and networking with friends while taking in the views of the Bellagio fountains. The outdoor terrace, measuring 9,000 square feet, will offer guests the opportunity to network and enjoy drinks, snacks and entertainment.
Betcris has had a busy year so far, continuing its global expansion. It has signed new sports sponsorships with clubs in Central America, Europe and Brazil as it continues to establish itself as a leading operator in the global gaming ecosystem.