San Diego County Supervisor Joel Anderson Joins Jamul Casino and the Jamul Indian Village of California Tribe in Honoring Veterans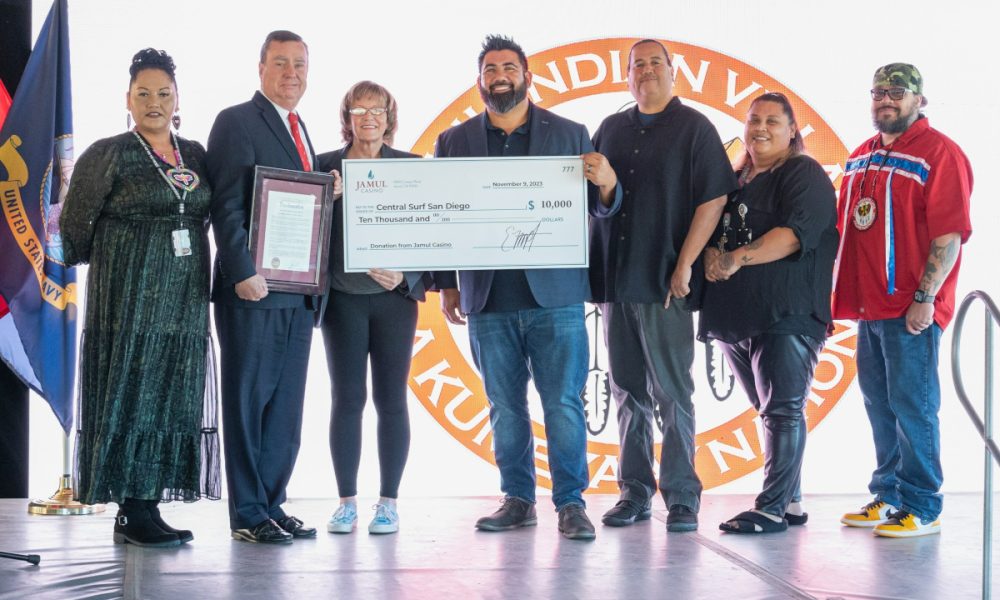 Tribe's annual donation to organizations serving veterans goes to Central Surf San Diego
Yesterday, Supervisor Joel Anderson of the San Diego County Board of Supervisors joined Jamul Casino and the Jamul Indian Village of California Tribe to commemorate Veterans Day with an exclusive event at Jamul Casino.
This seventh annual luncheon paid tribute to 54 members of the tribe and casino team who have served in the military. The event also featured its annual check presentation to a local veterans' organization; this year given to Central Surf San Diego. The yearly Veterans Day luncheon is part of the Jamul Tribe and Jamul Casino's commitment to recognize the courageous work of individuals and organizations making a difference in the San Diego community.
"This event is an opportunity to honor the strong legacy of military service among the Jamul Indian Village tribal members and Jamul Casino team members," the President and General Manager for Jamul Casino, Mary Cheeks, said. "Having so many service members among our team is truly a source of pride. We are thankful for the sacrifices they have made and the talents they bring to our team."
"Today, it is my sincere privilege to be able to honor the sacrifice of veterans by contributing to Central Surf San Diego," the Chairwoman for the Jamul Indian Village of California, Erica M Pinto, said. "Its mission of wellness and healing resonates in our tribal communities and we are honored to include it in our philanthropic efforts. I also want to especially acknowledge our American Indian veterans; they have served in every major conflict in every capacity and in every generation since the military was established. Their enduring legacy carries on and we are proud to be able to recognize them today."
Central Surf San Diego
A 501(c)3 non-profit organization, Central Surf San Diego was founded by Coast Guard veteran Denise Graham, who discovered the calming and healing effects of the ocean in 2015. She founded Central Surf to promote health and healing among veterans and others who have experienced trauma by using nature, athletics and the power of the ocean.
Tally Technology Delivers Fan Activation Program for Concacaf Gold Cup
As part of ongoing partnership with Concacaf, Tally Technology is providing pre-tournament and in-tournament fan gamification
Tally Technology (www .PlayTally .com), the premier fan engagement platform, in partnership with Concacaf (The Confederation of North, Central America and Caribbean Association Football), has launched a comprehensive entertainment program for the 2023 Concacaf Gold Cup.
As part of an ongoing partnership with the international football confederation, Tally Technology is offering a prediction game (Concacaf. PredictionsGame .com) for fans throughout the tournament, which comes to a climax with the final on July 16 at SoFi Stadium in Inglewood, California. Additionally, Tally Technology offered a trivia game in the weeks leading up to the competition.
"Since working alongside the great team at Concacaf, they've been highly committed to engaging with their fans on an elevated level, and this campaign for the Gold Cup is yet another example of that commitment," the Chief Executive Officer for Tally Technology, Brad Vettese, said. "A program like this connects with fans at several levels, both in anticipation of the event and throughout the tournament on the world stage."
Utilized by broadcasters, leagues and teams to drive fan engagement and retention through prediction games and trivia, Tally Technology's platform is designed to create new revenue streams through sponsorship activations, player conversion and data creation.
Tally Technology was founded in 2018 as a free-to-play prediction game for brands, professional sports teams, leagues and media platforms seeking a turnkey fan engagement platform. As part of the natural game play, Tally Technology is building a database of unique users.
Tally Technology has recorded more than 20 million predictions from unique users across North, Central and South America. It is the fan engagement platform choice of some of the biggest names in sports including AB InBev, Los Angeles Rams, Green Bay Packer, Buffalo Bills, Seattle Seahawks, Atlanta Hawks, Buffalo Sabres, St Louis Blues, Ceará, Atlético MG and more.
CNIGA Grows to 50 Members, Creasey Elected Associate Member Representative
The largest regional tribal gaming association in the United States just got even bigger. Joining the California Nations Indian Gaming Association (CNIGA) this week are the Paskenta Band of Nomlaki Indians and the Big Valley Band of Pomo Indians, increasing CNIGA's membership to 50 tribes.
These additions continue a meteoric growth spurt for the organization, growing from 34 tribes in late-2019. Forty-four CNIGA tribes are gaming tribes, giving the organization nearly 70% of all gaming tribes in California.
This growth has occurred under the leadership of CNIGA Chairman James Siva, who ascended to his position at the end of 2019.
"I am pleased to welcome Paskenta and Big Valley to the CNIGA family of tribes," Siva said. "Their additions strengthen our voice on gaming and sovereignty issues in California and helps ensure that tribal voices will be heard in the halls of power."
CNIGA Vice-Chairman Mike Lopez credits Chairman Siva's leadership for the growth in membership.
"Chairman Siva has created a welcoming environment and has created a respectful space for tribes to express their views, even when they conflict with the majority," Lopez said. "He makes sure all voices are heard. I think tribes recognize this and that is why so many have joined or re-joined the organization."
Also, this week, the CNIGA associate membership elected Chris Creasey to the associate member representative position on the CNIGA Executive Committee, succeeding Russell Witt. Creasey serves as Director at Tutor Perini Building Corporation, which has an extensive resume in Indian Country and has long been an active associate member of CNIGA.
"I am honored to have been elected to this position," Creasey said. "My predecessor set the gold standard on what this position should be as the associate membership saw major growth of the program during his tenure. I am very determined to continue in his footsteps with a singular purpose of continuing this growth."
The associate member representative is a non-voting member of the executive board, who is directly elected by the CNIGA associate membership, comprised of business and professional groups who support the organization. Like the organization overall, it has seen a major increase in membership in recent years.
CNIGA was founded in 1988 and is comprised solely of federally-recognized tribal governments and associate members who are dedicated to the tribal government gaming industry. CNIGA is dedicated to the purpose of preserving and protecting Indian gaming on federally-recognized Indian lands. It acts as a planning and coordinating agency for legislative, policy, legal and communications efforts on behalf of its members and serves as an industry forum for information and resources.
Eagle Mountain Casino Scheduled to Open in Central California from May 9
In the western American state of California and the Tule River Tribe is to officially premiere the first phase of its relocated Eagle Mountain Casino from May 9 complete with a 2,000-seat events center.
The federally-recognized tribe began work on its newest gambling-friendly venue in April of 2021 after being forced to shutter its predecessor owing to continuous flooding and access concerns. The coming enterprise is to also feature an around-the-clock diner, a casino offering 20 gaming tables and 1,750 slots, a 20,000 sq ft convention center and a sports bar and grill.
The Assistant General Manager for Eagle Mountain Casino, Tiffani Sahagun, revealed that the new Eagle Mountain Casino is to sit on around 40 acres of land located some 17 miles west of its precursor on the Tule River Reservation and be a mere six-minute drive from the Porterville Municipal Airport. The experienced professional stated that the coming venue is to moreover retain popular features such as The River Steak House and the Yokuts Coffee House while introducing new elements including supply partnerships Stafford's Chocolates and the J & R Meat Company.
Sahagun pronounced that Eagle Mountain Casino has come a long way since the 1990s when the facility was housed in a trio of manufactured trailers. She went on to disclose that the construction of the Tulare County venue's latest incarnation created more than 300 temporary employment opportunities with its completion expected to result in as many as 200 additional jobs.
"We are excited to get it open as soon as possible," Sahagun said. "It's been a long time in coming. We may open the doors before. Employees are working around the clock to get it ready."
The Tule River Tribe earlier divulged that its new Eagle Mountain Casino was designed by nationally-recognized hospitality and entertainment architecture and interior design firm HBG Design and could eventually furthermore feature a 125-room hotel. The tribe additionally asserted that it soon intends to make a definitive decision on what to do with the site of its former on-reservation casino with current options encompassing its repurposing as a health center or a recreational facility.