Hipther Events Listed on AllconfsBot – the Top Events Calendar on Telegram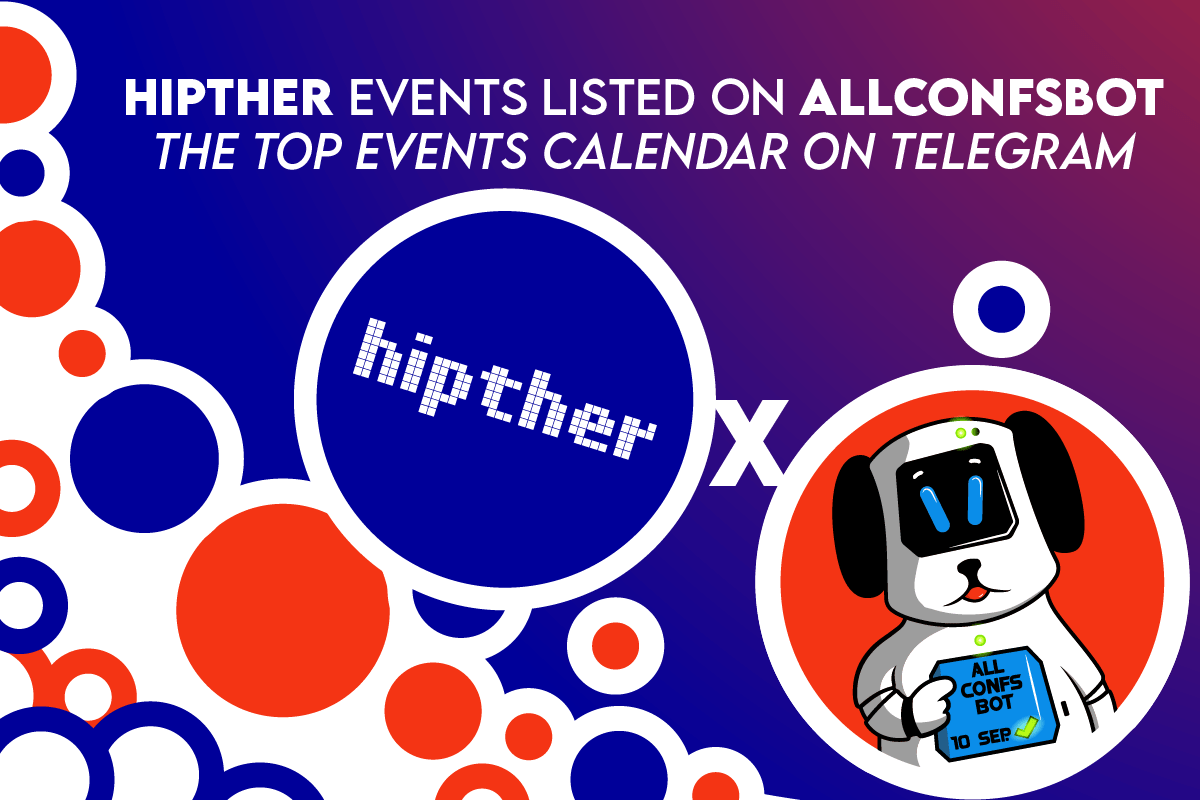 Reading Time:
3
minutes
Hipther Agency, a renowned name in the gaming and events industry, is excited to announce its strategic partnership with the pioneering AllconfsBot – the leading events calendar on Telegram. This collaboration marks a significant step forward in providing event enthusiasts with seamless access to a wide range of global events, reinforcing Hipther's commitment to offering top-notch event experiences.
AllconfsBot is the top events calendar on Telegram, available in English, Russian, and German. It provides quick access to a wide range of global events within Telegram. Users can easily add events to their Google and Apple calendars for better schedule management.
This strategic partnership between Hipther and AllconfsBot promises a new dimension of event discovery for users! By integrating Hipther's prestigious events into the AllConfsBot platform, individuals passionate about gaming, technology, and related industries will have unparalleled access to a wealth of valuable gatherings. The upcoming Hipther events to be featured on AllconfsBot include:
GamingTECH CEE Summit:

Scheduled for September 26-27, 2023, in Budapest, this event carries forward a 7-year tradition as the premier autumn event in the Central and Eastern European region. The summit offers a unique opportunity for industry leaders to convene, share insights, and foster meaningful connections. The event also features the GamingTECH Awards, which celebrate innovation and excellence within the region.

European Gaming Congress:

Returning after a three-year hiatus, this highly anticipated event is set to take place in Warsaw on October 30-31, 2023. Compliance experts, regulators, and gaming industry professionals will converge to discuss the latest updates on gambling industry compliance across Europe, providing valuable insights for attendees.
For those who like to plan ahead, Hipther's 2024 events include the Prague Gaming & TECH Summit on March 25-27, 2024, and the MARE BALTICUM Gaming & TECH Summit on May 13-15, 2024, in Tallinn. These events promise to deliver unprecedented networking experiences and a platform for dialogue among industry luminaries.
Hipther's dedication to shaping the future of the gaming industry through knowledge-sharing and community-building is now amplified through its collaboration with AllConfsBot. This partnership ensures that event enthusiasts have a convenient and efficient way to stay informed about the latest happenings across the industry.
According to Hipther Agency's Co-Founder and Head of Business, Zoltan Tuendik: 
"We are thrilled to announce our strategic partnership with AllConfsBot, the leading events calendar on Telegram. This collaboration is more than just a milestone for Hipther Agency; it's a leap forward in enriching the event experience for enthusiasts across the globe. Whether it's the GamingTECH CEE Summit in Budapest or the much-awaited European Gaming Congress in Warsaw, our events aim to provide invaluable insights and networking opportunities. Thanks to AllConfsBot's remarkable platform, we can now extend these opportunities to a wider audience, right at their fingertips. Our alliance promises a new dimension in event discovery, and we can't wait for our audiences to experience it."
Stay in the know about the latest updates and hottest events! Be sure to follow and like AllconfsBot on our social media platforms for all the latest updates and exclusive content:
LinkedIn | X/twitter | Facebook | Instagram | Telegram
About AllconfsBot
AllConfsBot is a pioneering events calendar on the Telegram platform, available in English, Russian, and German languages. The bot offers quick and convenient access to a diverse range of global events, allowing users to seamlessly integrate events into their Google and Apple calendars for effective schedule management. AllConfsBot is committed to enhancing event discovery and providing users with a comprehensive event experience directly within the Telegram ecosystem.
About Hipther Agency
Hipther Agency is the parent brand of European Gaming, PICANTE, WireUp Zone, Gaming Americas, eSports Connect, the HIPTHER news app, and the WireUp networking app found on the Play Store.
➔ To receive constant updates from the HIPTHER network and conference agenda updates, subscribe here: http://eepurl.com/hfyZxf
➔ For sponsorship/speaking inquiries, make sure to reach out to Zoltan Tuendik (Co-Founder and Head of Business at Hipther) at [email protected]  
➔ For media-related inquiries, please contact Maria E. Arnidou (Event marketing Coordinator at Hipther) at [email protected]
Genius Sports Enters into Partnership with Snap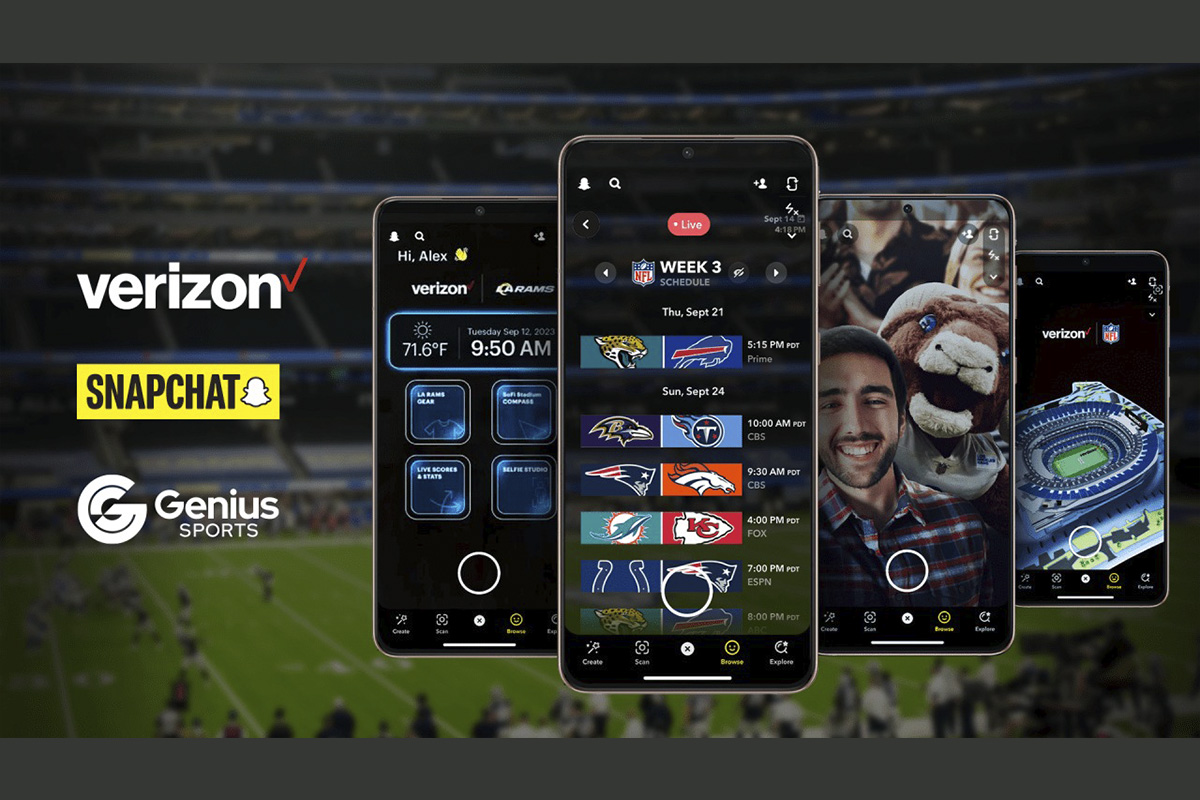 Genius Sports Limited has struck a new partnership with Snap Inc to power immersive augmented reality (AR) fan experiences via Snapchat Lenses.
Genius Sports will help to power the next wave of Snapchat Lenses through NFL Official League Data, providing millions of fans with phone-based, highly shareable content. Genius Sports is also the exclusive distributor of the NFL Official league Data and Next Gen Stats (NGS) feeds to global media and betting markets.
The sponsored Lens provides a powerful way for Verizon, the Official 5G Network of the NFL, to connect with fans through the power of AR. Verizon will be the first sponsor to run a Lens that incorporates Genius Sports technology. As part of this partnership, Genius Sports and Verizon's 5G network will help to power Verizon's NFL Lens, including live data visualizations and an AR commerce platform. The Lens will debut at SoFi Stadium on September 17 when the LA Rams host the San Francisco 49ers and will include real-time game stats, merch try-on, and a 3D interactive map of the stadium, exclusively for Verizon 5G customers.
In addition to exclusive access to the Lens, Verizon and the NFL are also offering Verizon customers 40% off an annual subscription of NFL+ Premium. NFL+ Premium includes access to live local and primetime games on mobile, NFL RedZone, NFL Network, game replays, and more.
This immersive sports hub is the latest activation from Snap and Verizon's 5G innovation partnership, which brings exclusive first-of-its-kind experiences to Snapchatters via Verizon's 5G Ultra Wideband network.
"The new Snapchat Lens at SoFi is yet another illustration of the amazing experiences offered by the combination of augmented reality and 5G. With this cutting-edge technology, we're able to offer fans experiences they've never had before, and we're grateful for the partnerships that helped bring it all to life," Kris Soumas, Director of Platforms and Partnerships for Verizon Consumer Group, said.
"Snapchat is the best place to showcase your fandom and keep up with all the action on game day. With over 250 million Snapchatters engaging with AR on our platform every day, we're thrilled for Genius Sports to bring real-time data to our Lenses to make them even more immersive," Anmol Malhotra, Snap's Head of Sports Partnerships, said.
"Snapchat's Lens technology is leading the AR revolution across US sports, giving fans new and exciting platforms to put themselves at the center of the live experience. We're delighted to partner with Snap, helping to enhance Lenses with NFL Official League Data," Matt Ryter, Vice President of Sales, Media & Fan Engagement at Genius Sports, said.
Black Oak Casino and Quick Custom Intelligence Extend Partnership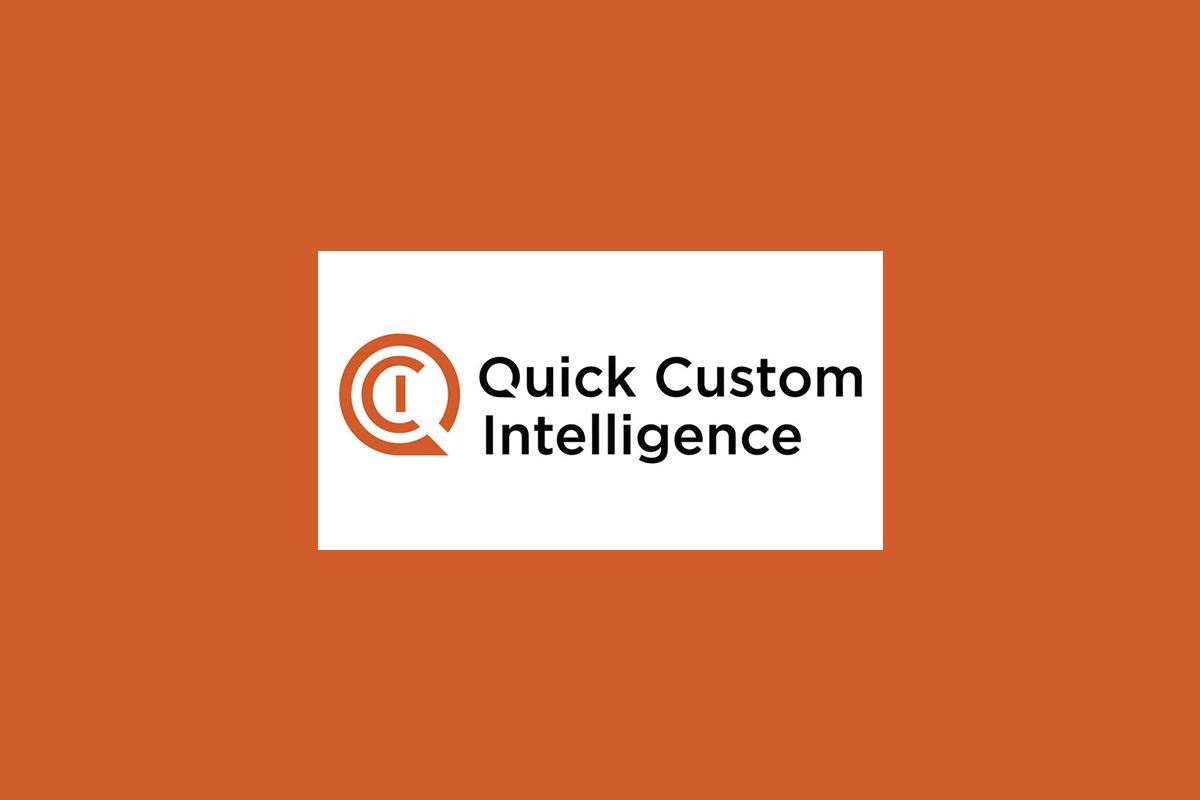 Quick Custom Intelligence (QCI), a leading enterprise solutions provider, announced an extension of their partnership with Black Oak Casino & Resort. Building on the success of the QCI Enterprise Platform, Black Oak will now incorporate the QCI Power Pack and Events modules to elevate guest satisfaction and bolster profitability.
Danielle Chapel, Director of Marketing at Black Oak Casino & Resort, said: "Our collaboration with QCI has been nothing short of transformative. The QCI Enterprise Platform has already delivered tangible results, enhancing our operational efficiency and guest engagement. As we look to the future, we are eagerly anticipating the integration of the QCI Power Pack and Events modules. We believe that these additions will be pivotal in elevating our guest satisfaction and in turn, our profitability."
This partnership reinforces QCI's commitment to providing cutting-edge tools and solutions for businesses in the casino and entertainment industry.
Andrew Cardno, CTO of QCI, said: "We are deeply honored to continue our relationship with Black Oak Casino & Resort. Their forward-thinking approach and dedication to delivering exceptional guest experiences align perfectly with our mission at QCI. Together, we aim to set new benchmarks in the industry."
The collaboration will focus on leveraging the power of data and analytics to anticipate guest preferences, streamline operations, and ultimately create memorable experiences for Black Oak's patrons. The adoption of the QCI Power Pack and Events modules represents a significant step in harnessing the power of technology to achieve these goals.
Bragg Launches Lady Luck Casino Egyptian Magic Slot with Caesars Digital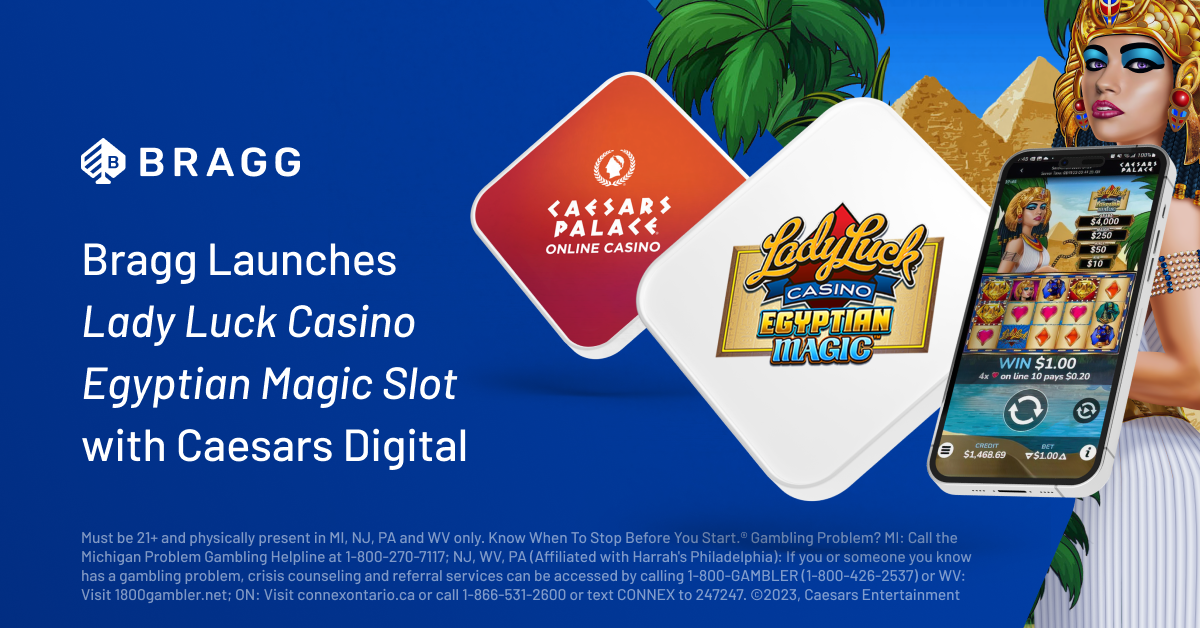 Bragg Gaming Group has launched the exclusive slot game Lady Luck Casino Egyptian Magic on Caesars Palace Online Casino in Michigan and New Jersey, in a unique game development partnership with Caesars Digital.
The bespoke game title combines gameplay and imagery from Bragg's popular slot title Egyptian Magic with the Lady Luck Casino brand owned by Caesars Entertainment, offering players a custom gaming experience with proven mechanics, exclusively available on Caesars Palace Online Casino.
Lady Luck's legacy draws from its namesake – that every play, every spin, and every moment holds new possibilities – the opportunity to feel the anticipation of a win, to earn personalized rewards, and to unlock memorable experiences at more than 50 Caesars Rewards destinations. Lady Luck Casino Egyptian Magic is another example of Caesars Digital leveraging the IP of world-class Caesars Rewards destinations to provide a unique customer experience only found on Caesars Palace Online Casino.
Set against the eternally popular – and lucky – pyramids of ancient Egypt, the slot boasts 50 win lines and two magical features. Respin Orb symbols may land on any spin, including during Free Games. Six or more Respin Orbs in the base game trigger the Respin Feature with the chance to win Credits and Jackpots with a unique upgrade feature.
Kunal Mishra, COO, Americas for Bragg Gaming commented: "We are thrilled to release the exclusive Lady Luck Casino Egyptian Magic with our valued partners at Caesars Digital, underpinning our commitment to bringing the highest quality content to our customers in the U.S.
"Since we launched with our newest RGS technology with Caesars Digital in Michigan and New Jersey in the past year, we have been able to deliver an even richer portfolio of online casino games to their players. We look forward to many more successful releases on Caesars Palace Online Casino as we continue to roll out our new games portfolios from Bragg Studios and from our Powered by Bragg partners."
Matt Sunderland, Senior Vice President, and Head of iGaming at Caesars Digital added: "Lady Luck Casino Egyptian Magic is a great addition to our custom game selection that players can only experience at Caesars Palace Online Casino. We already know that Bragg content resonates well with our player base, and this new title should quickly become a player favorite."