AdInMo expands in-game commercial team
Reading Time:
< 1
minute
AdInMo, the contextual in-game advertising platform has appointed adtech gaming evangelist Yasin Dabhelia as its VP Programmatic to lead its global demand strategy.
Yasin brings extensive digital and cross-media advertising experience and has been part of the growing in-game advertising ecosystem from its early days, overseeing multi award-winning campaigns for Bidstack plc as VP Programmatic Partnerships and Sales.
In 2022, AdInMo was part of an industry group led by IAB, IAB Tech Labs and the Media Ratings Council (MRC) which published measurement guidelines for Intrinsic In-Game Advertising. This key milestone paves the way for brands and agencies to have confidence in the emerging ad formats and make in-game part of their programmatic media spend for brand advertising.
AdInMo's global mobile games ad network enables advertisers to target and measure against different player personas based on first-party contextual and behavioral data. Yasin's appointment will focus on building AdInMo's demand partner network in the US, Americas and Europe, which already includes Pubmatic, Smaato, InMobi and OpenX, as well as agencies and DSPs focused on enabling clients to reach gaming audiences including Eskimi and TripleA Games.
Yasin said: "2023 will require smart media planning by digital advertisers with the widely predicted ad spend growth slowdown. Gaming is well positioned to help brand advertisers leverage programmatic channels. AdInMo's focus on addressability and solutions for the attention economy will be key and I'm delighted to join Team AdInMo to help educate buyers about in-game advertising."
Co-founder and CEO Kristan Rivers added: "We're delighted to welcome Yasin to Team AdInMo. The appointment is the first in a series of announcements about our US expansion. Yasin's extensive in-game experience and demand partner network will help AdInMo accelerate growth in all key markets."
DreamHack Winter 2023 Opens in Jönköping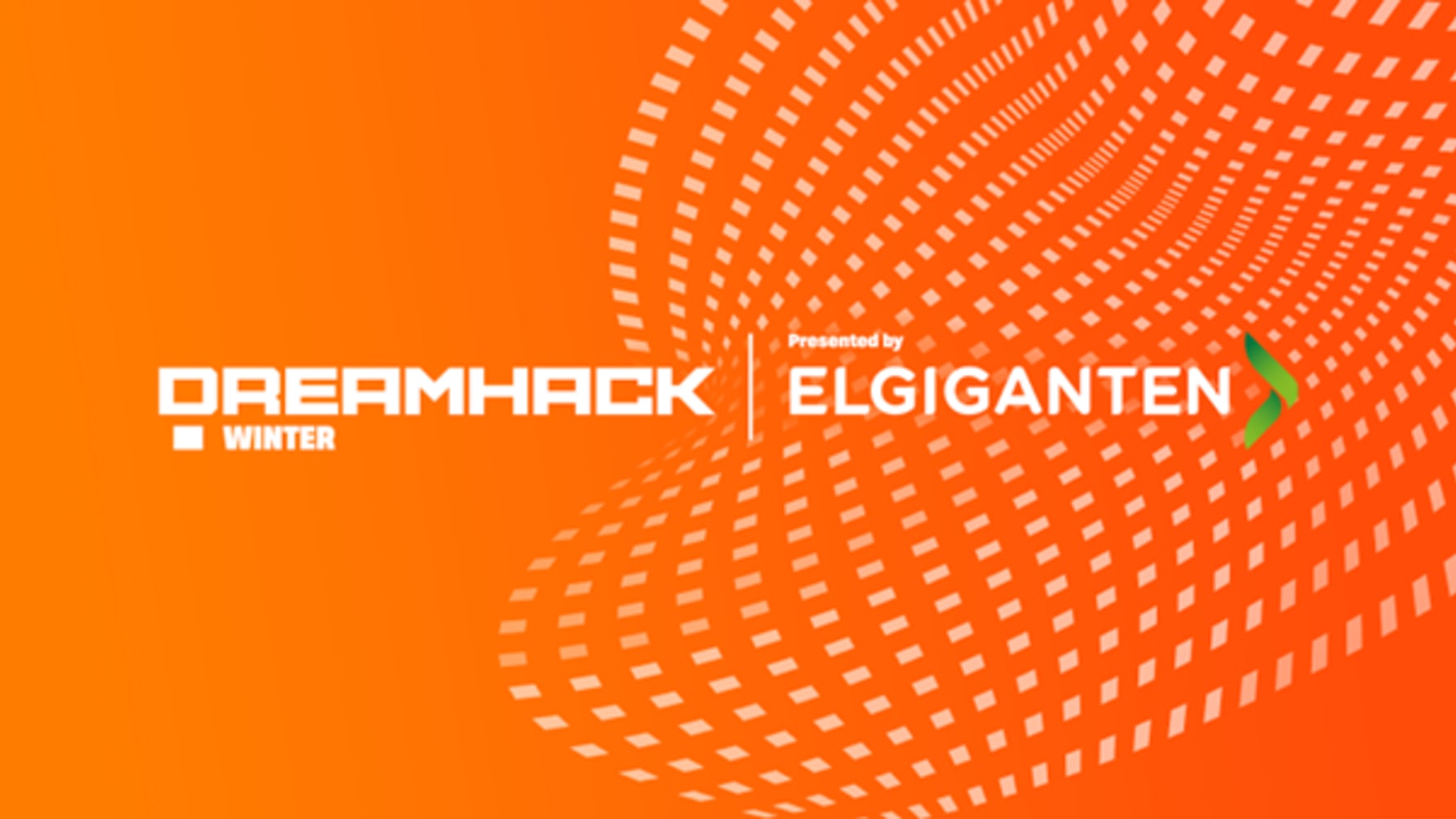 Reading Time:
3
minutes
Dreamhack Winter 2023, presented by ESL FACEIT Group and partner Elgiganten, opened its doors at the Elmia Congress Center in Jönköping, Sweden. Taking place from today until November 26 (LAN November 23-26), 2023, DreamHack Winter is an immersive gaming lifestyle festival offering attendees an extraordinary experience where the gaming community comes to life.
Highlights from day one include the stunning opening ceremony welcoming attendees from across the globe to DreamHack Winter, bass-blasting live music acts, and nail-biting first tournaments across esports championships such as the Brawl Stars World Finals and ESL R1, as well as meet-and-greets, tabletop gaming, cosplaying, and much more.
DreamHack Opening Ceremony
Attendees for day one were treated to an eye-watering introduction to Jönköping, as a spectacular light show lit up the halls of DreamHack Winter.
The World Famous LAN Party Kicks Off
DreamHack veterans and newcomers set up their spaces ready to take part in the iconic LAN event, which will see attendees set up their computer (or console) for a weekend of non-stop gaming. Guests also have the opportunity to jump into the Fortnite Battle Royale Duos LAN tournament, which is set to run across all three days, with a $10,000 prize pool up for grabs.
Turn Up The Volume With Live Musical Acts
The first day of DreamHack Winter concluded with four stellar musical performances on the live stage, as guests soaked up the atmosphere and danced the night away. Opening with a jaw-dropping performance from Tiktok star Bell, the fun continued with electrifying LBSB and WastedPenguinz, and Frontliner wrapping up the first night of DreamHack Winter with his intense basslines.
ESL Challenger Begin With A Series Of Nail-Biting Matches
Eight of the world's best Counter-Strike teams delivered their best performance during the first day of DreamHack Winter, with their eyes on a share of the $100,000 prize pool and qualification for the next EPT event: ESL Pro League Season 19. Monte and MIBR proceed to the semi finals, with 3DMAX the first to be eliminated.
Group A
1
Monte
2-0
26-13
13
2
Nouns Esports
1-1
21-24
-3
3
Eternal Fire
0-1
11-13
-2
3
TYLOO
0-1
5-13
-8
Group B
1
MIBR
2-0
38-31
7
2
GamerLegion
1-1
39-46
-7
2
Virtus.pro
1-1
35-34
1
4
3DMAX
0-2
42-43
-1
An Epic Clash Reigned Over The Brawl Stars World Finals
Day one of DreamHack Winter marked the introduction of the Brawl Stars World Finals, which saw Group Stage Part One commence. Attendees witnessed incredible performances from Reply Totem and Navi, as teams battled it out in the hopes of taking away a piece of the eye-watering $750,000 prize pool.
ESL R1 Fall Major Accelerates Off The Start Line
The top 24 drivers from the ESL R1 season took to the track, competing against one another in a series of nail-biting races before the final 12 drivers were selected to attend tomorrow for the final day of the Fall Major. All drivers showcased phenomenal performances, with Sebastian "Sebi" Job from G2 at the top of the leaderboard, securing a spot in the finals alongside the other top 10 drivers from the day.
Creator Hub Highlights
The Creator Hub returns to DreamHack Winter with all-new ways for fans to interact with their favourite stars. This year, the area will be home to numerous fun activities, each involving the audience and creators alike. Whether it be playing Red Light, Green Light with MatildaLindroth, LativeGamer & TuggoTacco, or Dodgeball with Nicoleboojie & RelicKris – you won't be strapped for games and interactions to jump into. Here are just some of the creators attending DreamHack Winter:
Elajjaz
Kandyland
AnnieFuchsia
NymN
MissMikkaa
Exciting Events Still To Come At DreamHack Winter…
The fun continues across the weekend at DreamHack Winter, with a plethora of activities for attendees to dive into. Visitors can expect a catwalk competition at the DreamHack Cosplay Championship on Saturday, the chance to meet even more content creators such as f0rest, a reprieve from the show floor in the iconic Retro Arcade Area or Tabletop Arena, and much more.
PAGCOR SCORES 99.46% IN GCG 2022 PERFORMANCE EVALUATION SYSTEM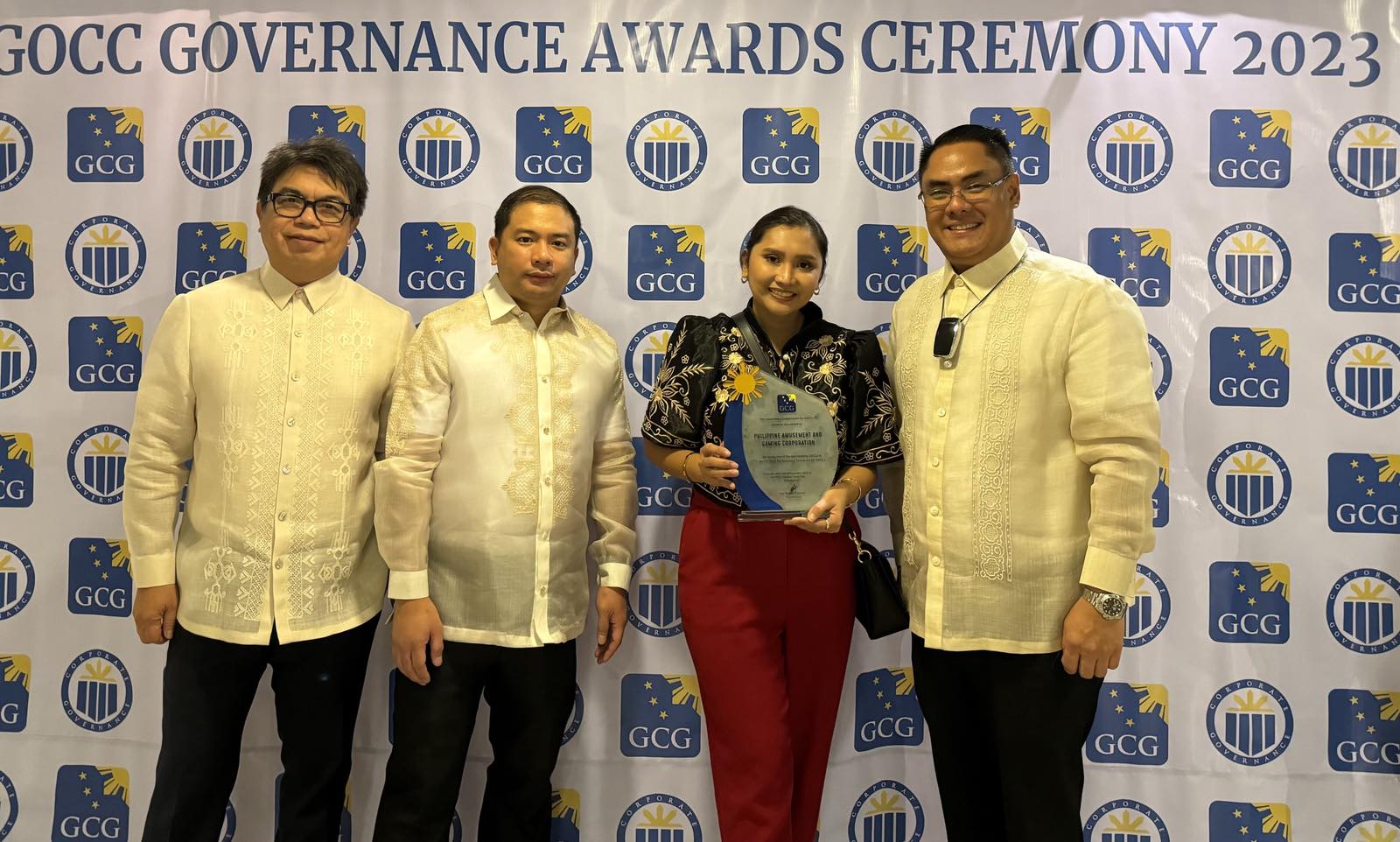 Reading Time:
2
minutes
The Philippine Amusement and Gaming Corporation (PAGCOR) recently received formal recognition from the Governance Commission for GOCCs or GCG for achieving a score of 99.46% in its annual Performance Evaluation System (PES) for 2022.
The score is one of the highest in the history of PAGCOR and was achieved on the first year under the leadership of Chairman and CEO Alejandro H. Tengco, who was appointed by President Ferdinand Marcos Jr. in August 2022.
PAGCOR's score in the 2021 PES was 98.08%, while in 2020 it was 91.38%.
The award for 2022 was received by PAGCOR President and COO Atty. Juanito L. Sañosa during the inaugural GOCC Governance Awards Ceremony on November 20, 2023 at the PICC Complex in Pasay City.
Atty. Sañosa said the award elevated PAGCOR to the ranks of the best performing GOCCs in the country.
"This is truly another proud moment for PAGCOR. While this award serves as a validation of our efforts and hard work, it also inspires us to continuously exceed our past accomplishments – all in the service of our country," he said.
The PES award is a recognition of the unwavering dedication to the highest standards of accountability and efficiency among government-owned and controlled corporations.
In the GCG report, PAGCOR garnered perfect scores in the following categories: Increased Contribution to National Government Coffers and Nation-Building Efforts; Increased Gross Gaming Revenue of the Industry; and Increased Revenue of PAGCOR; among others.
In his keynote speech during the awards ceremony, Executive Secretary Lucas P. Bersamin said GOOCs contributed Php48.68 billion in dividends in 2022, funding some of the most vital government socio-civic projects such as infrastructure, health, education, and others.
"It is beyond question that GOCCs are significant tools in adjuring inclusive economic growth and development for 2022. The Bureau of Treasury recorded Php48.68 billion dividends coming from different GOCCs that are covered under Republic Act 10149," Bersamin noted.
In a statement, GCG Commissioner Atty. Brian Keith F. Hosaka encouraged all GOCCs to work closely together in making the GOCC sector a prime driver in delivering effective and efficient progress for Filipinos.
Aside from PAGCOR, twelve other GOCCs received awards for achieving the highest Corporate Governance Scorecard (CGS) ratings in 2022 while three bagged the CGS Hall of Fame.
Kick Off the Fun with Football Transfers Trivia: A Game for Every Football Fan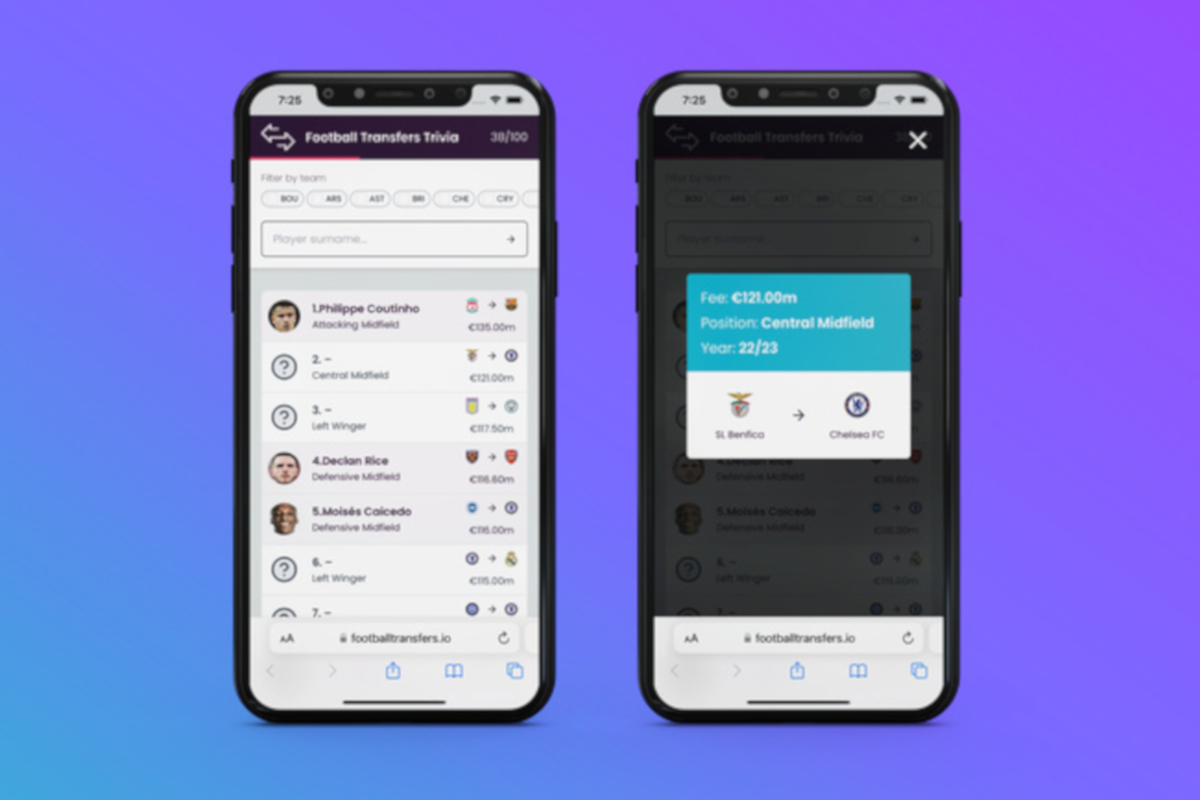 Reading Time:
2
minutes
Today marks the launch of Football Transfers Trivia, an addictive game that gives football enthusiasts the opportunity to show off their knowledge of Premier League transfers.
Inspired by a feature on Sky Sports, where Jamie Carragher and Daniel Sturridge competed to guess the transfer, Football Transfers Trivia challenges players to spot the top 100 Premier League transfers from the fee and clubs involved.
Phil Smith, the founder of Football Transfers Trivia and Director of Brighton-based web agency amillionmonkeys, expressed his enthusiasm for the project: "Football Transfers Trivia is a simple game designed to test your memory of key moments in the Premier League history. It's a bit of fun and will be for football fans what the Tube Map Memory Game was for commuters."
Following a soft-launch last week the game is gaining interest with most users getting over 50% of transfers in two days but only 2% completing the game so far.
How to Play Football Transfers Trivia
Visit https:// FootballTransfers.io and you will see a list of Premier League transfers. Once you spot one you know, tap in the search box and enter the player's surname.
There's no need to sign up or log in and you don't have to worry about doing it all in one go as the site will save your data when you close the tab meaning you won't lose any progress.
Every time you name a correct player, the name and image of the player will appear and your score (displayed in the top right) will increase. If you get stuck, tap on any transfer to see more details or try filtering by team for some focused gameplay.
Who Created the Game
Football Transfers Trivia is built by web developer Phil Smith, Director and founder of Brighton web agency amillionmonkeys. Earlier this year, amillionmonkeys also released 5Tracks, which challenges music fans to identify five tracks in the quickest time possible.