ALTAIR BREAKER Launches Globally on Steam and Meta Quest Store
Reading Time:
2
minutes
Test your sword-wielding skills in this fantasy adventure VR action game
Thirdverse, Inc. today launched the VR sword-fighting actual game ALTAIR BREAKER for the Meta Quest 2, Oculus Rift and Valve Index. Players can test their sword-wielding skills, team up with three friends and battle against AI creatures in an expansive fantasy world. ALTAIR BREAKER will be available for purchase starting today at 10:00AM PDT, at a set price of $24.99 on Steam and Meta Quest Store.
Teruyuki Toriyama, Producer at Thirdverse, said: "ALTAIR BREAKER was developed by combining the VR game development know-how gained by the young game creators of "Swords of Gargantua" with more advanced consumer action game techniques. The idea was to create a new VR sword-fighting action game that can be easily enjoyed by users who are new to VR games, rather than the realistic sword-fighting simulators often seen in VR. The setting of this work is a virtual world called "ALTAIR," an abandoned island in the void ruled by an experimental combat AI. The worldview incorporates elements typical of Japanese fantasy anime, such as mecha and fantasy, as its main theme. Players can easily experience sword-fighting action that transcends reality, just like a hero in such a world in VR. We hope you will enjoy the high-speed VR multiplayer sword-fighting action that is unique to this title. We will also continue to collect everyone's feedback in order to deliver more and more content that our users can enjoy."
To commemorate the release of ALTAIR BREAKER, ongoing campaigns will be open for everyone to participate in and have a chance to win a Meta Quest 2 headset and an Amazon Gift Card of the value of $300, as well as livestream on Twitch on selected channels with our partner creators.
Key Features in ALTAIR BREAKER:
Transcendent VR Sword-Fighting: Designed with casual players in mind, ALTAIR BREAKER brings a "new generation of VR sword-fighting action" to the VR world featuring high-speed sword-fighting action, blow-ups, aerial combos, and wide-range attacks with special moves.
Unique Battle System:Move from map to map while enjoying the feeling of transcendent sword fighting. Take advantage of your surroundings by climbing and gliding to easily take on enemies.
Experience a wide range of attacks only possible in the VR world, like Shockwaves and Surge Mode.
Expansive World of ALTAIR: The game takes place in an aerial city ALTAIR, where AI was created to develop singularity-like creatures. Once a group of islands in a sea of clouds, most of the islands have collapsed and only floating ruins remain, which are inhabited by LAWS, the experimental battle AIs left behind and free to wander around.
Freedom of Movement: Glide through the air using your glider or climb the walls of a fortress as movement is possible in all directions in VR space. The entire map is your battlefield!
Cross-Platform Four-Player Co-Op: Multiplayer gameplay between Meta Quest 2 and PCVR, leaving players free to be matched with players from all over the world and communicate via voice chat.
Canterbury: Sam Warburton and Mack Hansen Feature in New Roblox Metaverse Game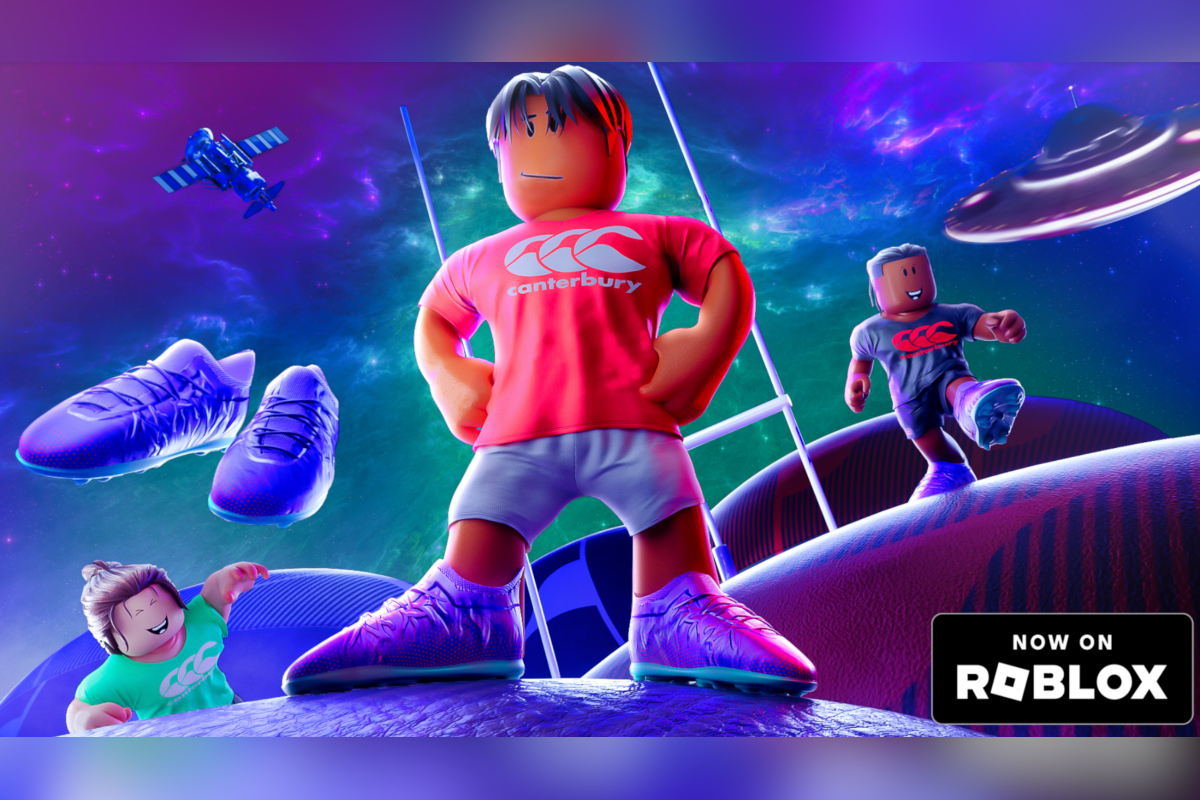 Reading Time:
2
minutes
World Cup Star Mack Hansen and Wales and Lions Legend Sam Warburton Feature in New Roblox Metaverse Game
To support the launch of the Canterbury Speed Infinite Elite boot purple colourway, the rugby heritage brand has worked with metaverse/gaming developers Dubit to partner with the massively popular Ultimate Easy Obby on the Roblox platform. Players can take on a Canterbury-themed obstacle course and win a free pair of Speed Infinite Elite purple boots for their avatar.
Canterbury NZ launches new in-game experience in collaboration with Ultimate Easy Obby
Canterbury's new Speed Infinite Elite boot will be given away as part of the experience as free UCG
Ireland's World Cup ace Mack Hansen stars in the game
Launching today (October 2), the integration will last for one month, giving fans the opportunity to participate in the game and meet their rugby heroes along the way.
The gameplay will consist of five unique stages, each inspired by Canterbury, rugby and its hero ambassadors. Canterbury ambassadors Mack Hansen, Ellie Kildunne, Sam Warburton, Jodie Ounsley, Adam Radwan and Maeve Og O'Leary will all feature in the unique new prospect and provide players with in-game boosts to help them along their way.
The first 15,000 players who successfully complete all five stages will be rewarded with a special UGC version of the Speed Infinite Elite shoes that their avatar can wear in other games across the Roblox metaverse platform.
"This is an exciting launch for everyone at Canterbury, being the first time we have activated within the metaverse gaming space," the Global Senior Vice-President for Canterbury NZ, Luke Doddrell, said. "The Speed Infinite Elite boot has proven to be one of our most popular boot launches ever, changing perceptions of Canterbury within the rugby boot category. This partnership will bring even more awareness to the boot, through an avenue we haven't previously explored.
"At Canterbury, we are trying to push the boundaries while showcasing out fantastic ambassadors and the gameplay activation within the Ultimate Easy Obby Roblox game here ticks those boxes. Mack has been electric so far for Ireland and, who knows, we might find a pair of Canterbury Speed Infinite Elites gracing the turf of the world's showpiece final."
Electronic Arts Enters into New Long-term Partnership with Stats Perform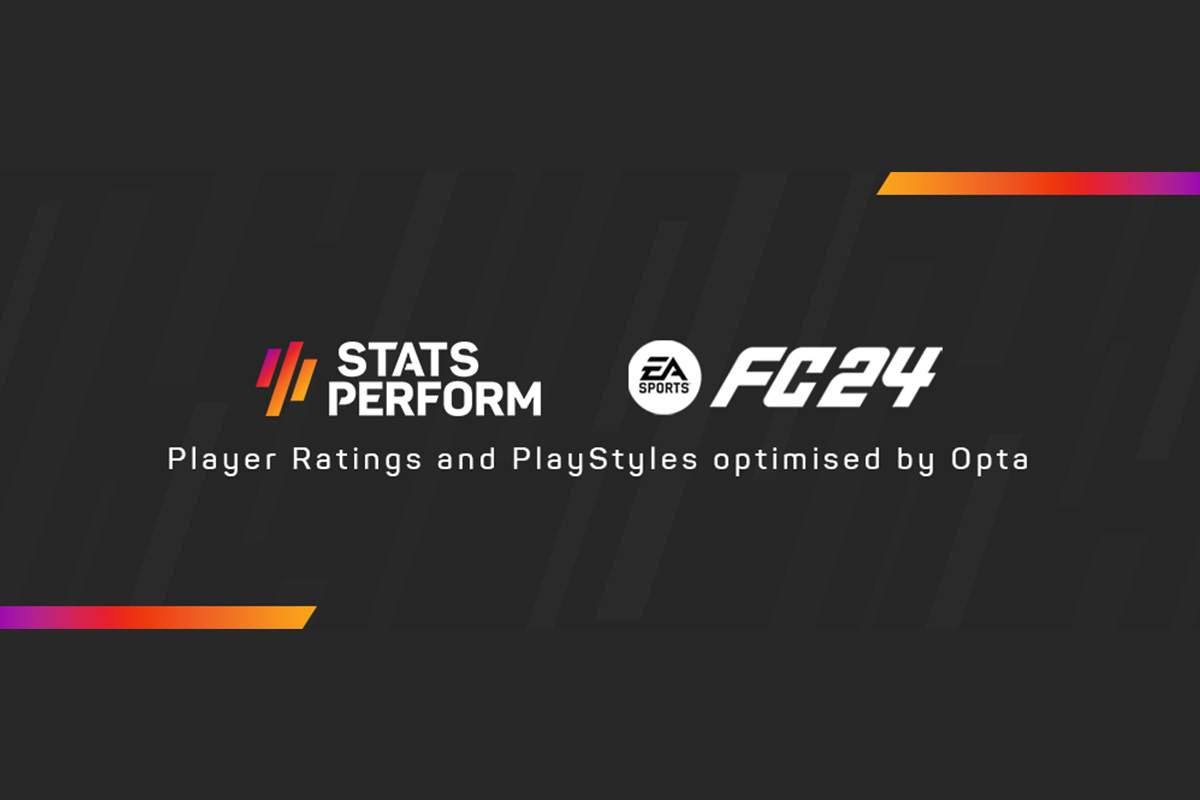 Reading Time:
2
minutes
Electronic Arts (EA) have turned to Stats Perform to optimise their player ratings and PlayStyles features under a new long-term partnership and ahead of the launch of their blockbuster new EA SPORTS FC24 game, bringing unprecedented new levels of authenticity and realism to gameplay.
Opta's deep and broad performance data is collected in real-time across more than 200 men's and women's competitions globally. It is at the core of FC24's flagship new PlayStyles and PlayStyles+ features, which inform how players move and play in the game, based on their real-life strengths and traits, bringing to life the on-pitch signature skills that make them special and recognisable by fans in the real world.
Michael Mueller-Moehring, Head of Data Collection & Licensing at EA Sports said: "This is an exciting new direction for us. For FC24 we're seeing the very first introduction of Opta into the game, helping us to validate and optimise our existing processes but going into future years, we'll see the partnership expand to new heights. Broadcasters, leagues, and clubs globally have used Opta's data to educate fans about the beauty in the detail of football for over 25 years, making Opta a fundamental and trusted part of global football fans' lives. That's exactly why we sought to partner with Opta, to ensure we're bringing that same level of beauty and realism to our game."
Carl Mergele, Chief Executive Officer at Stats Perform, said: "Today's fans enjoy experiencing football in lots of different ways and we're proud that Opta data continues to be at the core of their experiences, on every screen and format. We are delighted that our ongoing investment in collecting, generating and distributing the fastest, most accurate detailed data has been trusted by EA to play a role in such an exciting new experience. We hope FC24 players will love the added realism that Opta provides and it will bring them even closer to the game and to sport."
Ahead of the launch of the game, Opta's massive database of detailed player statistics and metrics across men's and women's football was brought to life during the launch campaign of the new Player Ratings and PlayStyles, including the key launch video which celebrated the style of play and performance on the real-world pitch of the top-rated players in the game.
Prepare for battle as Yggdrasil releases Lotus Warrior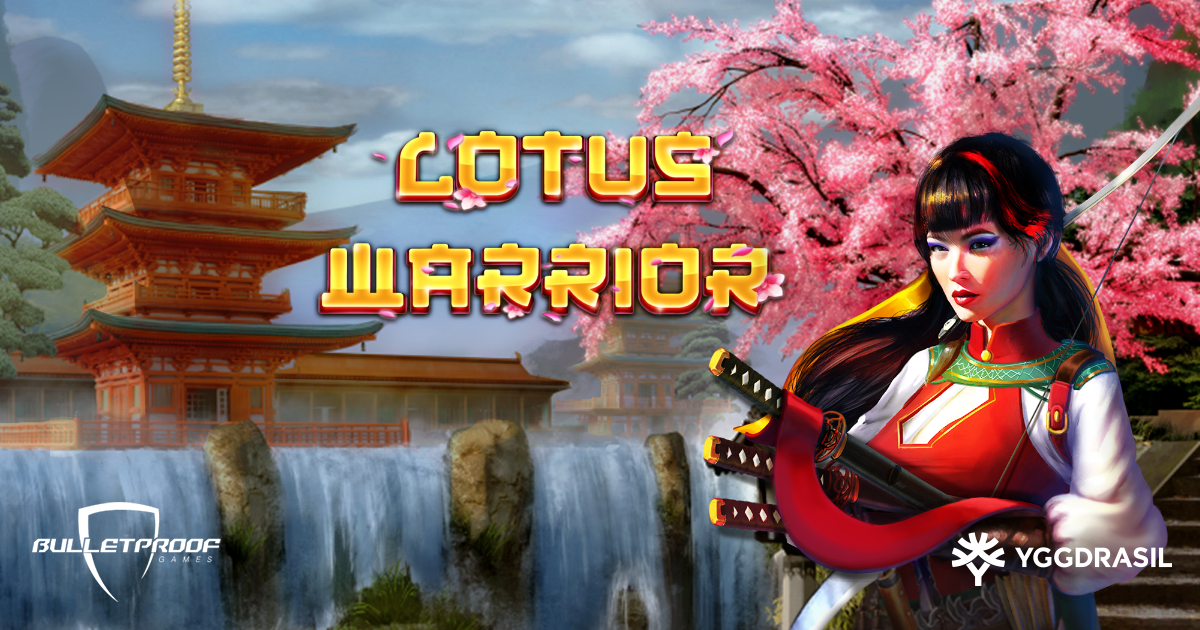 Reading Time:
2
minutes
Leading iGaming publisher Yggdrasil has teamed up with Bulletproof Games to deliver an action-packed Asian adventure in their latest release Lotus Warrior.
The 5-reel, 25 payline slot boasts three unique free spin features – Sakura, Shinobi and Sumari – as well as expanding wild symbols, which can help deliver lucrative cash prizes.
Lotus Warrior's free spin features are triggered depending on whether three, four or five bonus symbols land on the game reels.
Sakura Spins is a progressive free spins feature in which each Sakura spin awards more than the previous one. Lighting the word EXTRA above the reels awards five more spins.
Shinobi Spins sees tiles on the game's symbol trail spinning for one spin. Any new symbols appearing will cause a lock and respin and subsequent icons that appear will increase a win multiplier. The final spin can restart the feature should three bonus symbols land.
Samurai Spins sees players awarded eight free spins, during which any wild that lands is collected into a pot. Each winning spin adds to a multiplier pot and at the end of the feature, one final spin occurs where all the collected wilds are added back to the reels for one final super spin. Those winnings are then multiplied by the current multiplier.
Players can opt to buy Sakura Spins for 80x their stake, Shinobi Spins for 130x and Sumari Spins for 250x. Alternatively, for 100x their stake, a lucky dip can be received, which selects a feature at random.
The title is the newest creation by Bulletproof Games to join the YG Masters portfolio, following Blackbeard Battle of the Seas and Dragon Lore GigaRise.
Lotus Warrior is powered by GATI, with Yggdrasil's state-of-the-art technology enabling partners to employ the preconfigured, regulation-ready, standardised development toolkit to produce consistently cutting-edge content followed by rapid distribution.
Mark McGinley, Chief Gaming Officer at Yggdrasil, said: "If you're a fan of deep and immersive games with rich bonus features then Lotus Warrior is a game that will tick all of your boxes. Once again it's been a great pleasure working alongside the talented team at Bulletproof Games and this new title showcases the true benefits of working collaboratively on new releases."
Michael Bullock, Product Director at Bulletproof Games, said: "Lotus Warrior is a game designed specifically for those thrill seekers that enjoy the rush of immersive bonus features. We hope players enjoy this slot as much as we enjoyed making it."