Sportradar Reports Strong Growth in Second Quarter 2022 and Increases Its Revenue Outlook for Fiscal 2022 Projecting Revenue Growth of 24% to 27%
Reading Time:
6
minutes
Sportradar Group AG, the leading global technology company enabling next generation engagement in sports, and the number one provider of business-to-business solutions to the global sports betting industry, today announced financial results for its second quarter ended June 30, 2022.
Second Quarter 2022 Highlights
Revenue in the second quarter of 2022 increased 23% to €177.2 million ($186.0 million)1 compared with the second quarter of 2021, driven by strong growth across all business segments. In particular, U.S. segment revenue grew by 66% to €29.1 million ($30.5 million) compared with the second quarter of 2021.
Adjusted EBITDA2 in the second quarter of 2022 decreased 13% to €27.6 million ($28.9 million)1 compared with the second quarter of 2021 primarily due to costs associated with additional organic and inorganic headcount growth and new and renewed sport rights contracts and the impact of the Russia/Ukraine conflict.
Adjusted EBITDA margin2 was 16% in the second quarter of 2022, compared with 22% over the prior year period.
Adjusted Free Cash Flow2 in the second quarter of 2022 increased to €35.7 million, compared to negative Adjusted Free Cash Flow of €2.3 million for the prior year period. The resulting Free Cash Flow Conversion2 was 129% in the quarter.
Net Retention Rate2, based on the last twelve months, was strong at 115% at the end of the second quarter of 2022 highlighting the continued success of the Company's cross-sell and upsell strategy across its global customer base. For second quarter 2021, the Net Retention Rate was 120%.
Cash and cash equivalents totaled €715.6 million as of June 30, 2022. Total liquidity available for use on June 30, 2022, including undrawn credit facilities, was €825.6 million.
In July 2022, Sportradar prepaid €200.0 million principal amount of its €420.0 million senior secured term loan Facility B. Significant cash flow generation has allowed the Company to reduce its debt while maintaining flexibility for acquisitions and additional investment in technology and products.
The Company upgraded its previously provided annual outlook for full-year 2022 for revenue and maintained its outlook for Adjusted EBITDA2. Please see the "Annual Financial Outlook" section of this press release for further details.
| | | | |
| --- | --- | --- | --- |
| Key Financial Measures | Q2 | Q2 | Change |
| In millions, in Euros € | 2022 | 2021 | % |
| | | | |
| Revenue | 177.2 | 143.6 | 23% |
| Adjusted EBITDA2 | 27.6 | 31.6 | (13%) |
| Adjusted EBITDA margin2 | 16% | 22% | – |
| Adjusted Free Cash Flow2 | 35.7 | (2.3) | – |
| Free Cash Flow Conversion2 | 129% | (7)% | – |
____________
1 For the convenience of the reader, we have translated Euros amounts in the tables below at the noon buying rate of the Federal Reserve Bank on June 30, 2022, which was €1.00 to $1.05.
2 Non-IFRS financial measure; see "Non-IFRS Financial Measures and Operating Metrics" and accompanying tables for further explanations and reconciliations of non-IFRS measures to IFRS measures.
Carsten Koerl, Chief Executive Officer of Sportradar said: "As the world's leading provider of technology solutions to the sports betting industry, our Q2 revenue exceeded our expectations for the quarter, growing 23% year-over-year. Confident about the momentum we have built in our business, we are raising our revenue guidance for the year. Given our strong cash flow generation and demonstrated good stewards of our capital, we have also chosen to pay down about half of our outstanding debt. We remain as confident as ever in the leverage and scalability of our business, and our ability to deliver results in the face of global challenges and economic conditions."
"Separately, our Chief Financial Officer, Alex Gersh, has decided that he will be leaving the company to accept another position in the United States where he will move with his family. I appreciate Alex's many contributions to Sportradar and invite you to join me in wishing him well as he embarks on his next chapter. We have launched a search for a new CFO, and have named Ulrich Harmuth as interim CFO. Ulrich, who has been with the company since 2013, has served as Chief Strategy Officer since 2020 and has been a member of my management team overseeing corporate development activities, including M&A, strategic partnerships, and ventures. I am confident in Ulrich's leadership to support Sportradar's growth and the continued execution of our financial priorities."
Segment Information
RoW Betting
Segment revenue in the second quarter of 2022 increased by 21% to €95.5 million compared with the second quarter of 2021. This growth was driven primarily by increased sales of our higher value-add offerings including Managed Betting Services (MBS) which increased 65% to €32.9 million and Live Odds Services, which increased 9% to €28.5 million. MBS growth was attributable to record turnover3 and Live Odds Services grew as a result of upselling content to existing customers. Additionally, increased content sales from last year's Synergy Sports acquisition contributed to the growth in revenue.
Segment Adjusted EBITDA2 in the second quarter of 2022 decreased by 8% to €43.3 million compared with the second quarter of 2021. Segment Adjusted EBITDA margin2 decreased to 45% from 59% in the second quarter of 2021 driven by the impact of the Russia/Ukraine conflict, acquisition of new sport rights as well as temporary savings in sport rights and scouting costs in the prior year due to the COVID-19 pandemic.
RoW Audiovisual (AV)
Segment revenue in the second quarter of 2022 increased by 9% to €39.7 million compared with the second quarter of 2021. Growth was driven by new customers and traction with our Synergy Sports acquisition, offset by the impact of the Russia/Ukraine conflict.
Segment Adjusted EBITDA2 in the second quarter of 2022 increased 22% to €13.1 million compared with the second quarter of 2021. Segment Adjusted EBITDA margin2 increased to 33% from 29% compared with the second quarter of 2021 primarily due to lower sports rights costs.
United States
Segment revenue in the second quarter of 2022 increased by 66% to €29.1 million compared with the second quarter of 2021. This growth was driven by increased sales of U.S. Betting services primarily as a result of new states legalizing betting. We also experienced growth from increased sales to media companies and a positive impact from the acquisition of Synergy Sports.
Segment Adjusted EBITDA2 in the second quarter of 2022 was (€5.5) million compared with the second quarter of 2021 of (€4.6) million, primarily due to increased investment in the Company's league and team solutions focused business. Segment Adjusted EBITDA margin2 improved to (19%) from (27%) compared with the second quarter of 2021 reflecting an improvement in the U.S. segment operating leverage.
____________
2 Non-IFRS financial measure; see "Non-IFRS Financial Measures and Operating Metrics" and accompanying tables for further explanations and reconciliations of non-IFRS measures to IFRS measures.
3 Turnover is the total amount of stakes placed and accepted in betting.
Costs and Expenses
Purchased services and licenses in the second quarter of 2022 increased by €10.6 million to €43.2 million compared with the second quarter of 2021, primarily resulting from increased costs of content creation and processing.
Personnel expenses in the second quarter of 2022 increased by €17.6 million to €64.4 million compared with the second quarter of 2021 primarily resulting from additional organic and inorganic hires in the Company's product and technology organizations. Employee headcount increased by 789 (of which 354 were inorganic) to 3,520 full-time employees at the end of the second quarter of 2022 compared with the second quarter of 2021.
Other Operating expenses in the second quarter of 2022 remained substantially unchanged at €21.2 million.
Total Sport rights costs in the second quarter of 2022 increased by €13.8 million to €48.7 million compared with the second quarter of 2021, primarily a result of new acquired rights in 2022 for the NHL, UEFA, ATP and a normalized schedule in many sports, including the NBA, as COVID-19 pandemic restrictions eased.
Recent Business Highlights
In July 2022, Sportradar repaid €200 million principal amount of its €420 million senior secured term loan Facility B. Continued revenue growth and our strong liquidity position enabled the Company to prepay a portion of the outstanding term loan and the Company has confidence that future cash flow generation will allow it to invest in the business and take advantage of market opportunities as they arise.
Sportradar partners with Turkish Basketball Federation on comprehensive rights deal. Encompassing the first-tier Turkish Basketball Super League (BLS), the second-tier Turkish Basketball First League (TBL) and all cup competitions, Sportradar will have (i) international rights to all BSL and TBL games starting with the 2023 season and (ii) domestic rights beginning in the 2024-2025 season. The partnership includes a comprehensive set of Sportradar solutions including Universal Fraud Detection Systems, Synergy Automated Camera Systems, and AI video capture technology in 27 venues in Turkey.
Sportradar launches Athlete Wellbeing. This global program was developed for leagues and federations, teams, and collegiate governing bodies to help support athletes' and reduce the potential impact of sports betting on their mental health. This program will offer a comprehensive curriculum including on-demand virtual sessions, pre-recorded webinars and in-person workshops.
Sportradar bolster's cricket offering with launch of world's first virtual cricket in-play solution. Modeled on the popular T20 cricket format, Sportradar brings hyper-real 3D animation with over 400 million unique game situations. With over 2.5 billion cricket fans worldwide, our solution offers over 3.8 billion unique video seconds featuring the top eight teams from India's leading T20 competition.
Sportradar to deepen fan engagement for groupe FDJ with launch of automated near-live short-form video content. Our company is providing ParionsSport en ligne, the French operator FDJ's online sports betting activity, with an artificial intelligence driven, near-live premium sports video content offering to create deeper engagement with the sports betting service's customer base of sports fans.
Annual Financial Outlook
Sportradar is upgrading its revenue outlook and reiterating its Adjusted EBITDA outlook for fiscal 2022 as follows:
Sportradar is upgrading its revenue outlook for fiscal 2022 from its previous range of €665.0 million to €700.0 million ($698.3 million to $735.0 million) 1 to a new range of €695.0 million to €715.0 million ($729.8 million to $750.8 million), representing prospective growth of 24% to 27% over fiscal 2021.
Adjusted EBITDA2, impacted by the Russia/Ukraine conflict, is expected to remain in the range of €123.0 million to €133.0 million ($129.2 million to $139.7 million)1, representing growth of 21% to 30% over fiscal 2021.
Adjusted EBITDA margin2 is expected to be in the range of 17% to 19%.
SiGMA Europe 2023 in Malta: Slotegrator shares key insights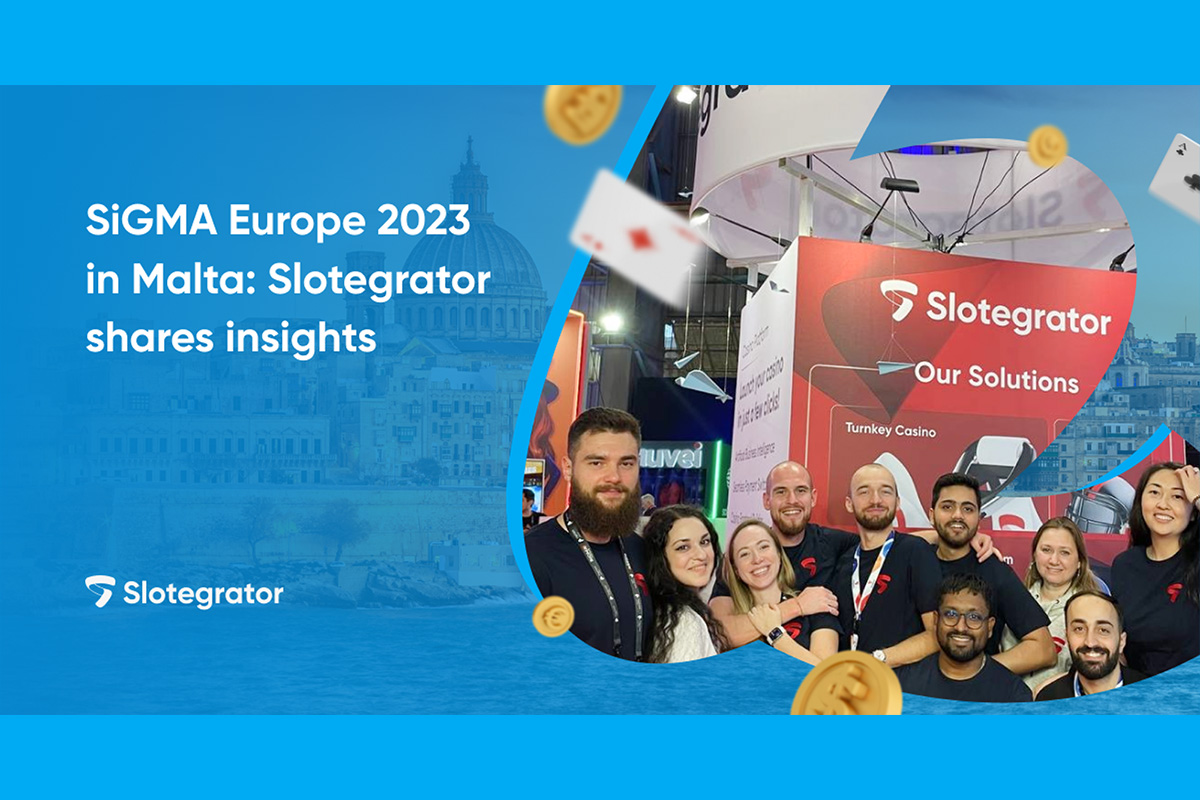 Reading Time:
3
minutes
Every year, SiGMA Europe gathers iGaming professionals together to connect, share insights, and sum up the year. This year, the event was visited by over 20,000 participants from over 100 countries. The Slotegrator team found the trip to be truly inspirational and is ready to share its insights.
SiGMA Europe was the best place to summarize the results of 2023. For Slotegrator, this year was dedicated to researching customers' requirements and desires, players' interests, and industry tendencies. Throughout the year, Slotegrator visited events in four huge iGaming markets – Africa, Asia, LatAm and Europe – to get a clear picture of what those markets are like.
At each of these events, the team gathered firsthand knowledge on how to improve Slotegrator's flagship products and provide even better service to the company's clients.
At SiGMA Europe 2023 in Malta, the Slotegrator team presented new features of its turnkey online casino platform and the phenomenal mobile solution – Telegram Casino – which was first presented by Slotegrator in 2017 and updated in 2022.
Slotegrator's top managers also had plenty of meetings with partners about the company's APIgrator solution – a unique solution for the fast and seamless integration of online casino games into gambling platforms. The solution incorporates more than 15,000 various slots, card games, live dealer games, and virtual sports from 100 world's leading developers. In 2024, Slotegrator will present to the market plenty of new partnerships with providers from different parts of the world.
"SiGMA Europe 2023 was a great event for our team, as usual. To gather in such a great place to meet partners, to summarize preliminary results of the year, to outline plans for the future – it was the right decision," says Yana Khaidukova, Managing Director at Slotegrator.
Slotegrator mentions that the composition of the iGaming world is changing: new companies have already appeared and will continue to appear not only for occuping a part of the existing market, but they form new niches, as they come with new spectacular offers and solutions. It is the reason why the competition increases many times, and it gives the industry new directions of development.
As for providers, their number is increasing very rapidly. Small companies are growing into large ones, which shows the success of their solutions, and new companies come with fresh ideas, games and experience that players like.
One trend that is only going to increase is the interest in crash games. Prominent studios are introducing new examples of fresh crash games. Leaders, who are already successful in this niche, such as Aviatrix, continue to modify their crash game and expand it into new markets and continue to win the hearts of new players by providing them with an amazing gaming experience.
According to the Slotegrator's observations, many Asian companies took part in SiGMA Europe 2023, which suggests that the Asian vector will be very popular next year.
Here are some additional key insights from SiGMA Europe that the company will carry into next year:
Responsible Gaming is growing more and more important to players, operators, and regulators.
It's essential to embrace innovation. New technologies can let operators offer players more choices and solve problems faster and more effectively.
Operators need to keep increasing their security and anti-fraud measures. Scammers are always on the lookout for new ways to defraud casinos, so operators need to try and stay a few steps ahead of them.
Players want to be a part of a community. Platform operators should create a welcoming atmosphere by offering features like multiplayer chats where players can connect with each other.
It's essential that online casinos show loyal players their appreciation. Better bonuses can keep players coming back, as well as referral programs where players earn rewards for bringing in new leads.
Cryptocurrencies, NFTs, and blockchain tech in general are here to stay. Finding ways to integrate them can help you offer your players a better, more modern experience.
Player behavior should be constantly analyzed in order to identify trends and enhance player retention strategies.
As for the last point, Slotegrator is set to release internal reports on the state of the industry that provide an analysis of player behavior and predictions for the development of the industry in 2024. To be one of the first to receive the reports, subscribe to Slotegrator's social media channel here.
ABOUT SLOTEGRATOR
Since 2012, Slotegrator has been one of the iGaming industry's leading software and business solution providers for online casino and sportsbook operators.
The company's main focus is software development and support for online casino platforms, as well as the integration of game content and payment systems.
The company works with licensed game developers and offers a vast portfolio of casino content: slots, live casino games, poker, virtual sports, table games, lotteries, casual games, and data feeds for betting.
Slotegrator also provides consulting services in gambling license acquisition and business incorporation.
More information: https://slotegrator.pro/
Oddschecker Media Group expands Italian presence with SuperScommesse acquisition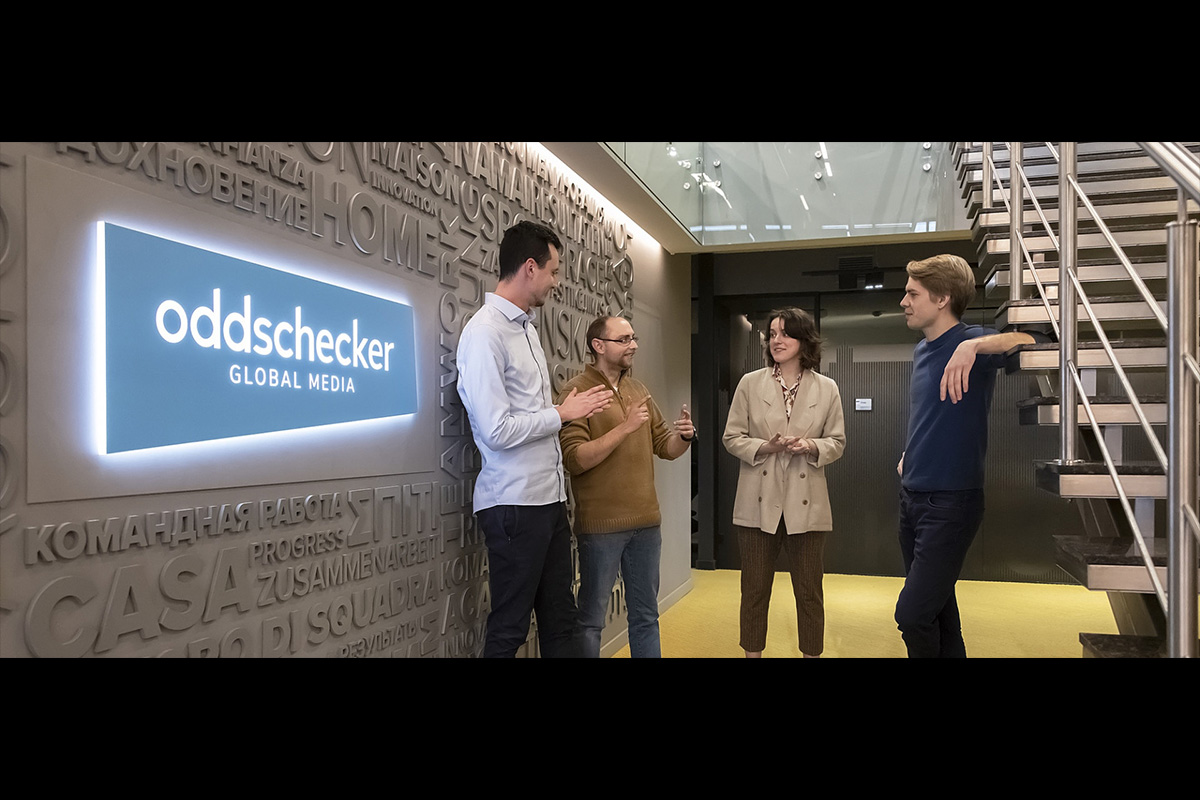 Reading Time:
2
minutes
Oddschecker Global Media (OGM), a global technology company that offers the world's leading odds comparison site and a betting destination for millions of users, has this week confirmed the acquisition of acclaimed Italian sports network SuperScommesse from Catena Media.
The deal sees OGM further expand into Europe's second-largest betting market to consolidate its position as the country's number-one sports betting advertising company, organically complementing its other media partnerships already operational with Gazzetta (La Gazzetta dello Sport) and DAZN, which leverage tens of millions of unique users and two popular TV shows between them.
SuperScommesse furnishes OGM with deep local expertise, featuring a team that has proven itself adept at driving sustained growth in the market, allied to a recognisable and trusted local-language brand. In addition, its tech stack and tools will deliver network efficiencies to the acquiring group's brands in other markets, while OGM's own technology will improve SuperScommesse's services and fan engagement across a loyal customer base.
Stuart Simms, CEO of Oddschecker Media Group, said of the acquisition: "As the growth of sports betting in this sports-mad market continues apace, we wanted to double down on our presence in this key territory. We see SuperScommesse as the ideal strategic complement to our strong Italian footprint.
"We're looking forward to servicing its customer base with an enhanced product that combines the Oddschecker DNA with its well-regarded brand name and local expertise in a market that still has huge growth potential as it builds out an online, cashless identity.
"This digital tide is only rolling one way, so the synergies are as obvious as they are natural: the Italian market allows for odds comparison as a consumer service, and we remain the pre-eminent odds comparison provider."
This latest acquisition will further bolster the effectiveness of the Confido Network, a cutting-edge affiliate partnership network – which covers over 1,000 deals from 200+ global operators – announced by OGM earlier in November 2023.
X (formerly Twitter) as a traffic source for mobile applications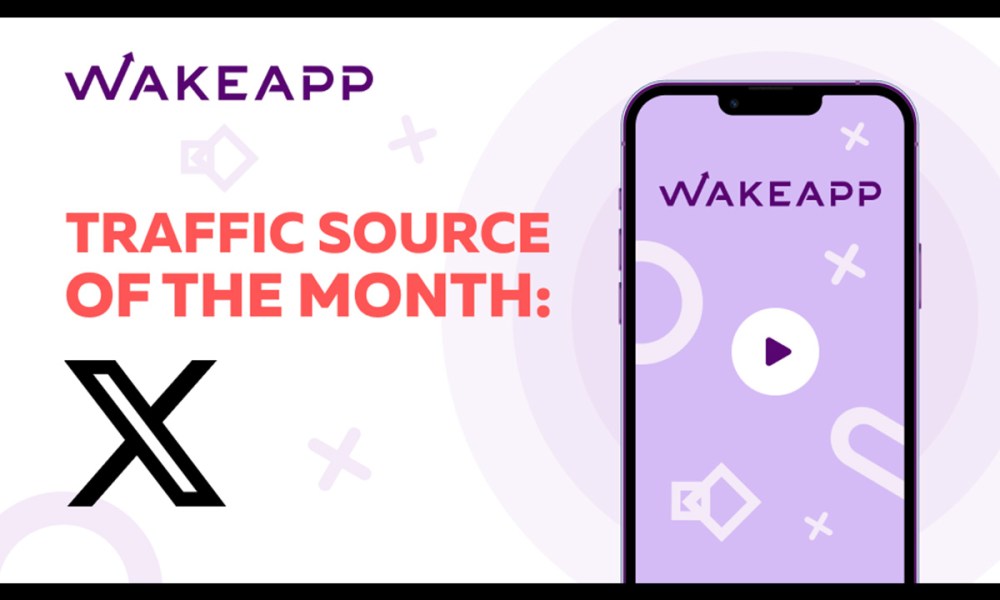 Reading Time:
6
minutes
WakeApp is back with its "Source of the Month" – an educational guide for mobile app marketers.
According to information gleaned from Statista, app stores are currently swamped with applications: Google Play includes 2.6 million apps while there are almost 4.5 million in the Apple App Store. So, what does it take for an app to rise to popularity among its users? It surely is no longer the case of uberizing a program capable of connecting clients to a service. This is where our highlight tool of the month comes in.
At WakeApp, we're always ready to lend a helping hand to novice marketers, partners and specialists in the mobile application promotion market to keep abreast of the latest GEO trends, traffic sources and promotion features. This time, we're introducing our readers to the highly popular advertising platform for media buyers and app marketers, X (formerly Twitter)!
X is an American microblogging service and social network where users post and interact with messages known as "tweets". X, Inc., which is based in San Francisco, California, provides the service and has over 25 offices worldwide. Tweets were initially limited to 140 characters, but in November 2017 the limit was doubled to 280 for most languages. Audio and video tweets remain limited to 140 seconds for most accounts.
Facts about X
How can marketers use X?
Since there are not as many ads on X as on other social networks, users are less likely to experience banner blindness. Therefore, the likelihood that the ad will be noticed is higher.
At the same time, the majority of X users are consumers, not content creators, which means they are looking forward to the opportunity to participate in discussions, download applications, and are also ready for interactivity and a gaming format of interaction.
It was on April 13 back in 2010 that X introduced advertising. This advertising was limited only to banner advertising. Four years later, on April 17 2014, X officially announced the launch of a platform for advertising applications using the MoPub mobile traffic exchange system, having acquired this service six months earlier.
This service made it possible to install promotional applications directly from the X news feed. Ads were simultaneously shown on X  through a promotional tweet system and on users' mobile devices through MoPub.
What does the X advertising account look like?
Level 1. Goals.
There are a total of seven goals on X: Reach, Video Views and Pre-Roll Views, App Installs, Website Transitions, Interactions, Readers, Repeat App Interactions.
Level 2. Campaign.
After selecting a goal, you need to set your settings at the campaign level, namely: give a name to the campaign, set the daily budget, total budget, start and end dates of the campaign, and the pace of impressions.
Level 3. You will be taken to the ad group settings that you will need to set: Group name, Start and end time of impressions, Total ad group budget, Bid type.
What can you target on X?
User demographics. To target demographics, set users' gender, age, location, and language.
Device data. In this section, select what devices your target audience uses—desktop computers or smartphones on iOS, Android, or other operating systems. You can also specify information about the operator and device model.
Custom audiences. On X, you can create custom audiences based on your contact list, website or app activity, and combined audiences based on app activity. In the same section, you can create look-alike segments by checking the "Include users similar to your selected custom audiences" checkbox.
Targeting options. You can target by interests, events, conversation topics, movies and TV shows, and reach users similar to followers of a specific account. Interests and activities can be selected from a drop-down list.
Keyword targeting is also available, allowing you to include or exclude campaign users from your advertising who enter certain words in X searches or use them in publications.
In additional settings, you can set up retargeting for those users who interacted with or saw posts. You can enable audience expansion, or add users who are already following your account to your audience.
Depending on the purpose you choose, impressions may be available in your home feed, profile, search results, and X Audience Platform which is a network of popular apps. Connecting the X Audience Platform allows you to expand your advertising reach. When setting up impressions in the Audience Platform, you need to add an advertising category (cars, restaurants, education, etc.), add a link to the site, and, if necessary, exclude applications in which you do not want to appear.
When choosing targeting, focus on test results and analytics. If you haven't run X  ads before, create ad groups for each target group.
When using keyword targeting with the "Include" option, add at least 25 keywords, as per X's recommendations. When selecting the Exclude option, remember that too many words will narrow your coverage.
Advertising formats

X advertising comes in three formats:
Promoted Tweets. They look like regular posts but are marked as "Advertising". Users can like, repost and comment on them just like organic posts. Promoted posts are shown in X search results, in the news feed, in the profiles of users and official partners of the site.
A promoted post can contain an image or video. The video plays automatically in the News Feed and loops if it is less than 60 seconds long. You can also insert a link to a website or application into your ad to attract traffic or motivate users to convert:
2) Promoted Accounts. This type of advertising is needed to direct traffic to a brand account, increase activity and the number of subscribers. Ads with promoted accounts are displayed in the news feed, in search results and in the "Who to Read" section. They are marked with an "Advertising" icon and contain a "Subscribe" button.
3) Promoted Trends. Promoted trends involve placement in the trend list on the side of the page. Advertising will be at the top of this list.
How do we use X at WakeApp?
X  makes up one of the 30+ sources that WakeApp uses to promote applications.
We have been using this traffic source ever since its appearance on the advertising market, and turn to X when our clients' goal is to attract a young, but already solvent audience.
X's main audience is 25-34 year olds who tend to be mature, progressive and technologically inclined. This audience type is especially relevant to brands with paid applications as such an audience are usually more willing to respond to and purchase an application/subscription for a service they need.
What's more, promoting on X comes at an average market cost which allows even promoters with a tight budget to promote brands.
About our guide: Every month, we publish helpful promotion guides where we discuss promotion features in a particular region according to traffic sources and GEO traffic. We also seek to keep our readers up-to-date on tips, as well as restrictions and bans about promoting on certain sources.
Think of it as a mobile marketer's desktop guide!
About us:  WakeApp is an international mobile marketing agency with over 9 years of experience in the market, and is leading the development and promotion of gaming and non-gaming mobile applications in the e-comm, video streaming, food delivery, sport, utilities, and finance verticals. In 2022, WakeApp received The Media Agency of the Year at the SiGMA Asia Awards, and in 2021, WakeApp placed in 5 categories in the 13th edition of the AppsFlyer Performance Index XIII.