THE MEXICAN GROUP WINPOT HAS INSTALLED 200 MACHINES WITH ZITRO'S NEW GAMES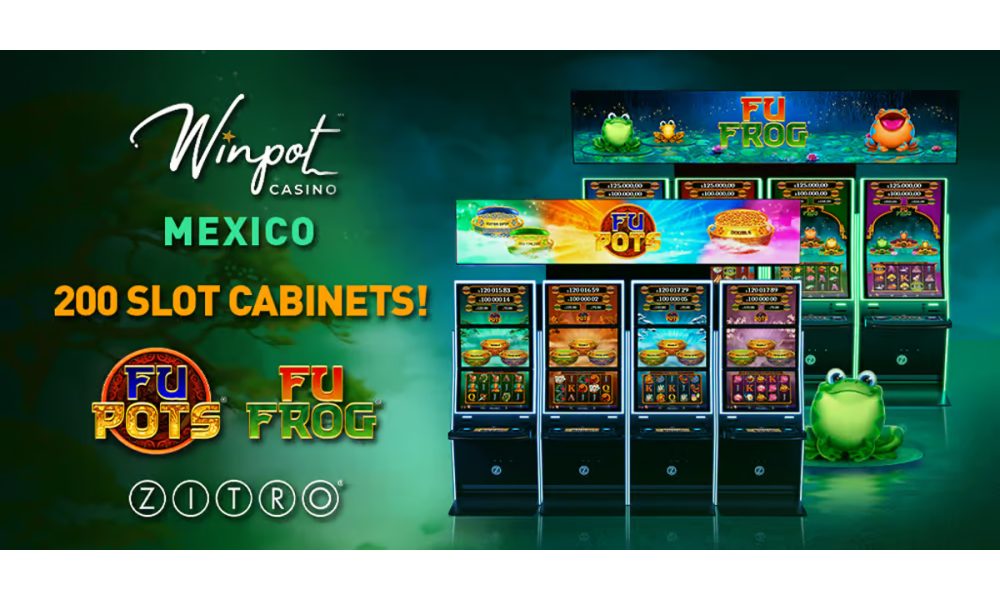 Following their debut at G2E Las Vegas, the highly anticipated new games from Zitro have arrived in Mexico: Fu Frog and Fu Pots. Designed exclusively for the Illusion Glare and Allure Glare cabinets, these games with different themes share a common gameplay mechanic.
In Fu Frog, players will encounter three charismatic frogs as the main characters, while in Fu Pots, three pots take center stage. Each frog and each pot have a function associated with bonus links, which are activated when any of them is full. One functionality multiplies it, another doubles it, and another grants extra lives. By combining these features, players can unlock up to seven bonus links.
Furthermore, both titles feature not only MEGA but also a GRAN MEGA, adding more excitement to the gaming experience.
The latest Zitro games have quickly become a highlight in Winpot's gaming halls, captivating players with their innovative features. These games are so unique and different that we're confident they'll soon become some of our players' favorites," stated Anuar Haua, Director of Operations at Winpot.
Johnny Ortiz, founder of Zitro, stated, "Fu Frog and Fu Pots have been designed with both the operator and the player in mind. Their engaging gameplay mechanics, different themes, and dynamic bonuses offer a diverse and innovative gaming experience. I wish to express my heartfelt appreciation to Winpot for placing their trust in Zitro and our comprehensive game offerings".
Spectacular Display of Zitro's Latest Innovations at IGA 2023
Zitro exhibited its new product line-up at the 2023 Indian Gaming Tradeshow and Convention (IGA) held in San Diego, California, and reaffirms its commitment to the tribal gaming community.
During the show, the company highlighted its latest innovations for the Glare cabinet line including Altius Glare, Illusion Glare and Allure Glare. Each form-factor combines unique features and a wide range of new slot content and game-play mechanics.
Zitro unveiled up to three game titles for the Altius Glare cabinet including the brand-new Epic Kingdom, which has captivated players due to its unique game mechanics. With just four link symbols, players can enter the bonus round, while a single mega symbol guarantees big wins. This slot title also features a new Bonus Link and a three-level Link that unlocks extra reels and levels, increasing the chances of winning the mega jackpot.
Another key highlight was Fantasy Wealth from the Seven Chests series, a 4-level multi-game progressive featuring four characters based on fantasy themes and a brand-new Seven Chests feature. Also on display was Fú Shòu Qí Tian, a four-level multi-game inspired by oriental mythology.
The Allure Glare cabinet showcased popular titles such as 88 Link Lucky Charms and Mega King, renowned for their outstanding performance in international markets. This exciting line-up also included Colossus Fire, which brings an unparalleled gaming experience with up to three different bonus links. It features two scalable and independent progressive levels, whose values vary according to the player's denomination. As the player enters each of these levels and increases their bet, so does the intensity of the game's adventure, offering larger prizes and rewards.
"IGA is the perfect opportunity for us to showcase the breadth and diversity of our game portfolio to our tribal partners," the Chief Executive Officer for Zitro USA, Derik Mooberry, said. "Our latest product showcase has demonstrated our commitment to deliver the best-in-class gaming products and our ability to offer a broad cabinet selection for operators looking to optimize their casino floor. We are confident that our latest developments will satisfy the many preferences of tribal operators and offer players an all-new gaming experience that is both immersive and exciting."