Mexico: How content is king in a country rich in promise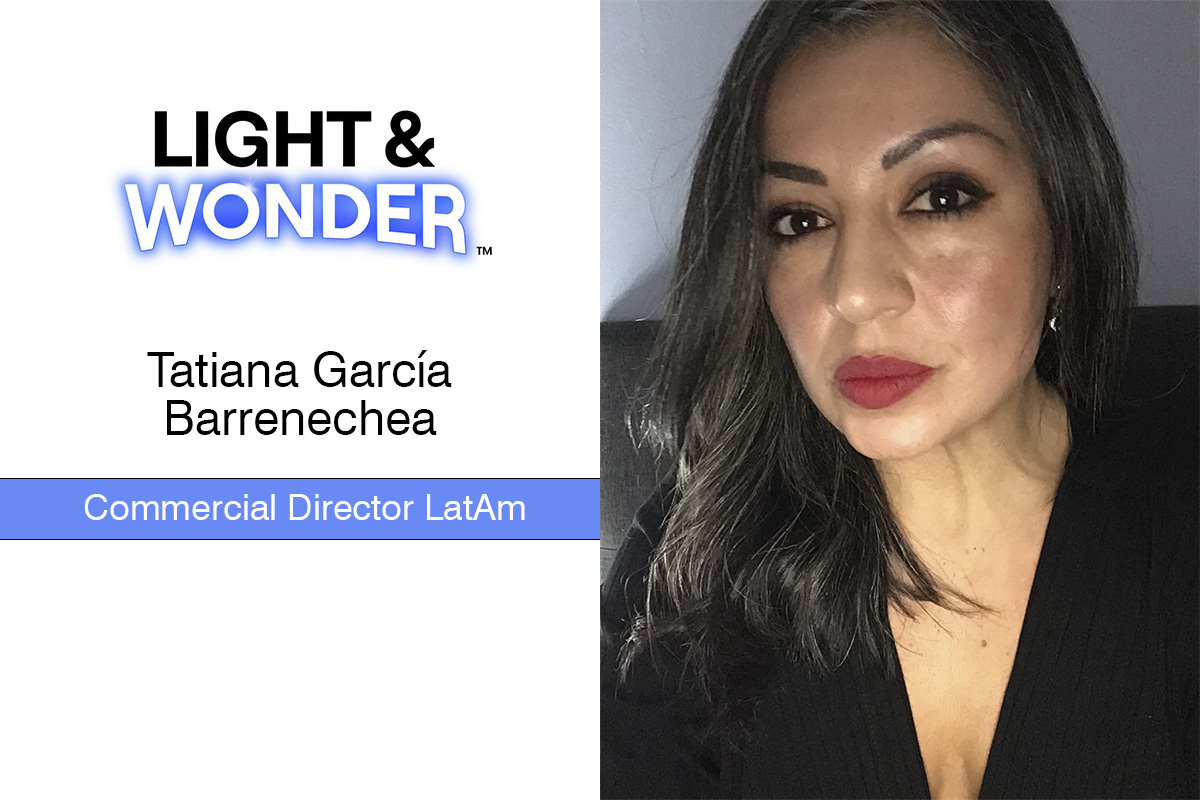 Light & Wonder's Commercial Director LatAm, Tatiana García Barrenechea, explains why Mexico is the jewel in the crown of the region when it comes to games that provide recognisable fun to casino enthusiasts.
It's been over 10 months since Light & Wonder made its debut in Mexico by launching with Rush Street Interactive. How has your content performed in the region?
As it stands, we are currently live with three operators in Mexico – RushBet, Novibet and Caliente – while in the process of onboarding a lot more. Mexico is a market with a huge land-based history, so there is no surprise that our most popular games are omnichannel titles such as 88 Fortunes and Jin Ji Bao Xi Endless Treasure. In fact, we have seen strong performance levels across all of our Asian-themed games.
It is also the top-performing land-based games that are performing the best online. These titles feature mechanics that resonate with players and ultimately, they have proven to be popular inside the casino and with online players. Mexico, in particular, has a strong casino culture, so it is no surprise that our content has performed especially well there.
Overall, how would you characterise the online casino market in Mexico?
While we've only been live for 10 months in Mexico, we have found that there are similarities to the US, given its rich land-based history. Our top-performing online games are recognisable land-based titles and we expect other Latin American markets that have a strong retail culture will follow suit in this regard. This is why our strategy is to align Latin America with our roadmap in the US and Canada, rather than UK and Europe.
Taking a wider view of LatAm as a whole right now, our biggest growth opportunities lie in Mexico, where regulation is currently less restrictive and therefore more straightforward for operators to enter the market. Many of our international tier-one partners have confirmed their plans for the market and we are in the process of onboarding these operators, while also looking to local land-based providers that want to offer their content online.
The expectation is for Mexico to grow exponentially over the coming years – to a greater extent than any of the other market in the region – and it is a country of huge interest to Light & Wonder.
Are we seeing any changing trends in the region from a content perspective?
Live dealer is a vertical of great importance in the region and as content continues to evolve along with the technology that enables players to have an ever-more realistic and engaging experience, we expect it to continue growing. There are some great products on the market right now and given Mexico's land-based heritage and culture, the delivery of advanced live dealer experiences to players presents exciting opportunities.
With the entry into the market from huge tier-one international operators we are also seeing a lot more gamification tools implemented from within their platforms. Bringing knowledge and expertise from other markets can help to influence local operators to incorporate those value-adding tools to their offerings, which is an essential part of a successful player retention strategy.
Another element that is emerging is crash games, which we have seen performing well across all Latin American markets and especially in Brazil. They provide quick-fire, unpredictable entertainment that is engaging while also simple to understand.
What's your growth focus over the coming months, both in Mexico and further afield in the region?
We will continue to work with our land-based content experts to ensure the content we're offering is relevant. We'll also be working with and closely advising our third-party studios that are entering the market. It is great to support these studios to help them bring content that delivers fantastic results. To take one example, Hypernova Megaways from Reel Play is performing very well in Mexico in particular through our OpenGaming platform.
We are also closely monitoring Peru, Chile and Brazil, to ensure once there is regulation published, we can make our analysis, enter the market and support our operator partners. Key to us is the long-standing partnerships we have cultivated. We need to support them when they want to enter a new market, whether that be through the provision of proven, successful content, back-end information or updated roadmaps. Given our extensive land-based history and strong data at a platform level, Light & Wonder has a strong competitive advantage in enabling operators to stay informed about the types of content that will prove successful.
Crown Gaming México Announces New Commercial Director
Mexican-born Enrique Manjarrez has recently joined NOVOMATIC Group subsidiary Crown Gaming México as Sales and Operations Director. Manjarrez comes with many years of gaming industry and sales management experience, having worked as Sales & Product Director at gaming developer Aurify Gaming as well as commercial director with operators GI Euromex and Sunny Group of Companies, among others. He has core competencies ranging from sales and business development, pricing strategies, product launches to the launch of new casino locations.
With a degree in International Relations from the Universidad de las Américas Puebla (UDLAP) in Mexico, Manjarrez will bring his in-depth knowledge of the Mexican market, management skills and strategic focus to NOVOMATIC locally and internationally with extensive commitment in his new role as Sales and Operations Director.
"I am excited to be part of one of the largest gaming technology companies in the world. NOVOMATIC is known for first-class quality products and leading innovations. Being able to work for the global group in my home country and contributing my personal skills, experience and passion makes me optimistic and proud," said Enrique Manjarrez.
NOVOMATIC VP Global Sales and Product Management Thomas Schmalzer said: "With Enrique Manjarrez we have gained an experienced sales and operations expert in the NOVOMATIC family. I look forward to our collaboration and to seeing NOVOMATIC continue to leverage the unwavering growth potential in the Mexican market after our more than 20 successful years in the country."
Christina Schwanzer, Supervisory Board Crown Gaming Mexico and Director Global Transport & Trade Management NOVOMATIC AG, said: "We are delighted to have won such an experienced gaming professional to spearhead our local sales and operations activities in Mexico. Enrique brings his own motivation and expertise to his new role, and I wish him much joy and success in his new assignment."
IGT Completes First Floor Manager Installation in Panama
International Game Technology PLC (IGT) announced that it continues to focus on its expansion in Central America with the introduction of its diverse portfolio of premier gaming solutions at Sortis Hotel, Spa & Casino in Panama City, Panama. To modernize the gaming floor at the property, the Company has completed the installation of over 80 high-quality IGT cabinets featuring a diverse USwitch multi-game library powered by the Company's award-winning Floor Manager technology.
"Sortis Hotel, Spa & Casino is excited to be the first operator in Panama to leverage IGT's recently expanded portfolio of market-attuned games, cabinets, and Floor Manager solution. With one of the most advanced game delivery solutions in the market, we are confident that IGT's Floor Manager will help us deliver a new level of entertainment in our casino, meet the demands of our slots players, and ultimately support our growth," Juan Pablo Solis, General Manager of Sortis Hotel, Spa & Casino, said.
"The deployment of Floor Manager along with IGT's high-performing USwitch multi-game library in Panama will give Sortis Hotel, Spa & Casino a competitive edge with a compelling portfolio of games with comprehensive business analytics tools. We look forward to continuing to expand our footprint throughout the region by deploying IGT's transformative solutions that will optimize the gaming floor and drive strong results for operators," David Flinn, IGT SVP Canada, South and Central America, said.
The Floor Manager solution will give Sortis Hotel, Spa & Casino near- immediate access to dozens of downloadable IGT slots games from its USwitch multi-game packs. Highlights include captivating titles like Lunar Disc, Shamrock Stars, and Power Coins Leprechaun. Floor Manager will also provide Sortis Hotel, Spa & Casino with the tools needed to optimize the gaming floor, and includes real-time game performance analytics and instant access to game upgrades to maximize growth opportunities.
IGT Demonstrates Lottery Operator Expertise in Costa Rica with La Junta de Protección Social Contract Extension
International Game Technology PLC announced that its subsidiary IGT Global Services Limited (IGT), in consortium with BOLDT Gaming S.A., Consorcio GTECH Boldt Gaming, will continue operating and providing lottery technology to La Junta de Protección Social (JPS) in Costa Rica, via a new contract extension through August 2024.
"JPS, along with IGT and its consortium, offers exciting lottery draw games that engage our players and generate significant profits for Costa Rica's social causes, helping to fulfill the Lottery's mission. Through this contract extension, IGT will help us continue building on our positive impact in the community while we enhance the scope of our entertainment offerings to players," Esmeralda Britton González, President of the Board of Directors of Junta de Protección Social, said.
"As the world's largest lottery operator, IGT works closely with its consortium and JPS to manage the Lottery's commercial initiatives and promotional activities. In 2022, these IGT-led activities solidified a dynamic year for JPS as it achieved double-digit sales growth. These strong lottery sales positively impact the Costa Rican economy by supporting 1,800 independent retailers and funding more than 500 social programs throughout the country," said Jay Gendron, IGT Chief Operating Officer, Global Lottery.