Can You Use iTunes Balance in Casino Apps?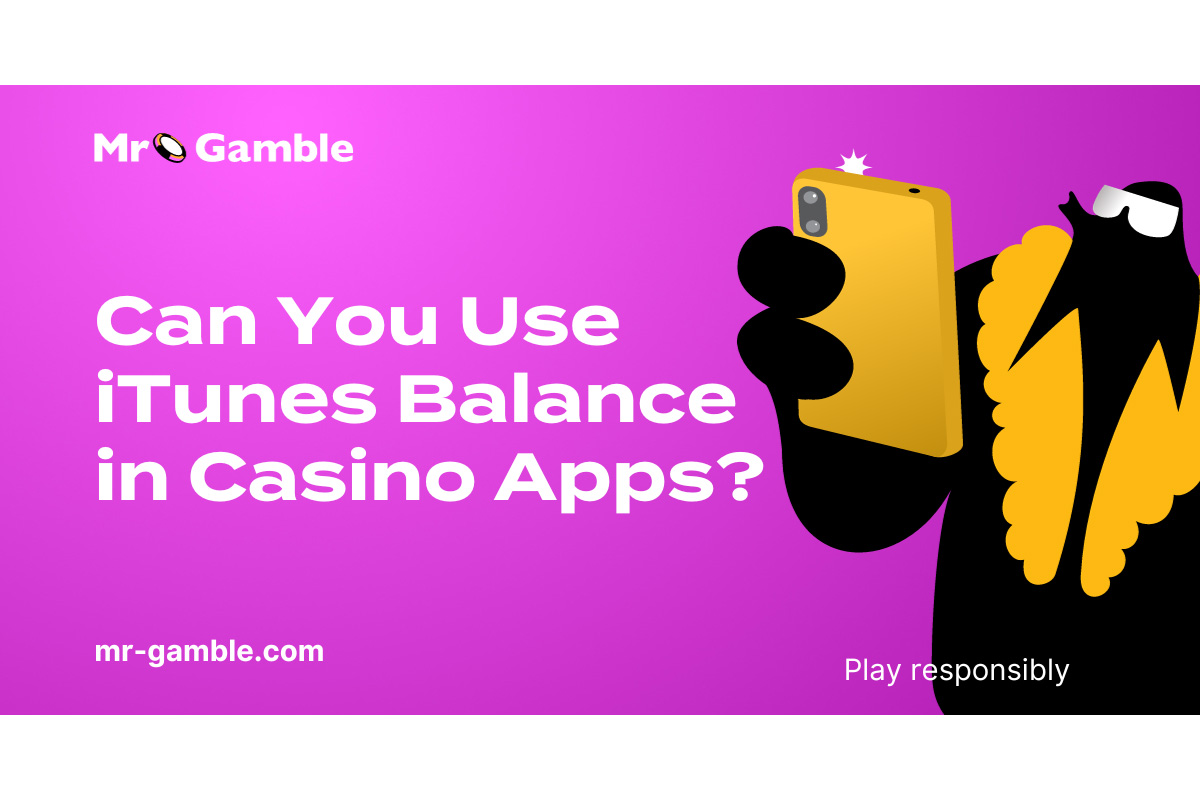 Reading Time:
4
minutes
iTunes gift cards have long been a popular gifting choice, especially during the festive season when everyone's on the lookout for that perfect Christmas casino bonus.
But their potential goes way beyond buying the latest chart-topping tune or binge-worthy series. In recent years, savvy tech users have uncovered myriad innovative ways to harness the potential of these cards.
The question is, are you making the most out of your iTunes gift card? Here's how you can use that plastic card (or digital code) for online casino deposits.
iTunes Gift Card and Online Casinos
While iTunes gift cards have traditionally been used to purchase the latest albums, riveting podcasts, or perhaps a binge-worthy TV series, a new trend has surfaced – using these gift cards as a payment method in online casinos. But how does it work exactly?
The core concept is straightforward. Once you redeem an iTunes gift card, the corresponding amount is credited to your Apple ID account. This balance, instead of being reserved solely for media purchases, can now be channelled to various online platforms, including some online casino apps.
How to Redeem Your Apple Gift Card
Redeeming an iTunes gift card to your Apple account is an easy and straightforward process. Here's how to do it:
Open the App Store: Tap the App Store icon from your home screen. If you're on a PC, open iTunes.
Sign In: If you're not already signed in, use your Apple ID to log in.
Redeem Gift Card or Code: Tap this option. If prompted, sign in with your Apple ID.
Enter the Code: Use the camera to scan the redemption code on the back of the card, or you can enter it manually.
Tap Done: Once the code is validated, your Apple ID balance will be updated.
Benefits of Using iTunes Gift Cards in Online Casino Apps
Using iTunes gift cards as a casino payment method may seem unconventional at first glance, but the advantages are clear. Here's why this option is gaining traction in the online gambling world.
Great Security
When you opt for this method, you're effectively bypassing the need to provide your banking or credit card details to the casino. This added layer of security ensures that your sensitive financial data remains untouched.
Instant Transfers
Just like buying that catchy tune or must-have app, transferring funds to your casino account using your iTunes gift card balance is instantaneous. There's no waiting involved, meaning more playtime!
Easy Management of Expenses
By limiting yourself to the balance on your gift card, it becomes easier to manage and keep track of your casino spending. This makes for a responsible gaming experience.
Things to Remember to Make a Smooth Transaction
While the allure of using iTunes gift cards in online casinos is undeniable, it's crucial to navigate this landscape with a clear understanding. Before you dive headfirst into this innovative payment method, here are some essential considerations to keep top of mind.
Regional Restrictions: Depending on where you are, there might be limitations on using your iTunes gift card for online gaming. Always check your local regulations and the casino's terms.
Withdrawal Limitations: Depositing might be a breeze, but withdrawing your winnings may not be as straightforward. Be prepared to use an alternate method for cashing out.
Balance Check: Always ensure you have enough balance on your gift card before making a transaction. An insufficient balance might lead to failed transactions.
Expiration Date: iTunes gift cards usually come with an expiration date. Ensure you utilise your balance before the card expires.
Service Fees: Some online casinos might charge a nominal fee for processing transactions via this method. It's good to be aware of any additional costs.
Secure Your Account: Just as with any online platform, ensure that your Apple ID remains secure to avoid any unwarranted transactions.
By keeping these points in mind, you can enjoy a smooth and enjoyable online casino experience using your iTunes gift card.
Alternative Gift Cards to Use for Online Casino Gambling
While iTunes gift cards are an emerging trend in the online casino payment realm, they're not the only gift card option available. There are several gift cards that can be utilised for online gaming. Let's dive into some of these alternatives:
Google Play Gift Cards: Similar to the iTunes gift card, Google Play gift cards are designed primarily for app and media purchases within the Google ecosystem. However, a growing number of online casinos are beginning to recognise its potential as a payment method, especially given the vast Android user base.
Amazon Gift Cards: While not as common, some casinos have begun accepting Amazon gift cards. These cards are easily accessible and can be used to fund casino accounts where accepted.
Prepaid Visa & MasterCard Gift Cards: These act as a middle ground between traditional credit cards and gift cards. They can be loaded with a specific amount of money and used at online casinos that accept Visa or MasterCard transactions.
Steam Gift Cards: For platforms that integrate casino games within the broader gaming ecosystem, Steam gift cards could be another payment avenue. These are popular among the PC gaming community.
Retail Gift Cards: Some platforms accept gift cards from specific retailers or brands. While this isn't widespread, it's always a good idea to check if your favourite online casino offers such options.
Gift cards offer a secure and flexible way to fund your online casino account. Whether you're an Apple aficionado or a dedicated Android user, there's likely a gift card payment method out there to suit your needs.
A Great Alternative
While the marriage between iTunes gift cards and online casinos might seem unexpected, it symbolises the dynamic nature of our digital age. This union promises users a more diverse, secure, and streamlined online gaming experience.
As both the payments and iGaming industries continue to evolve, who knows what other exciting integrations we might witness in the future?
ProgressPlay brings forward the future of casino management with revolutionary AI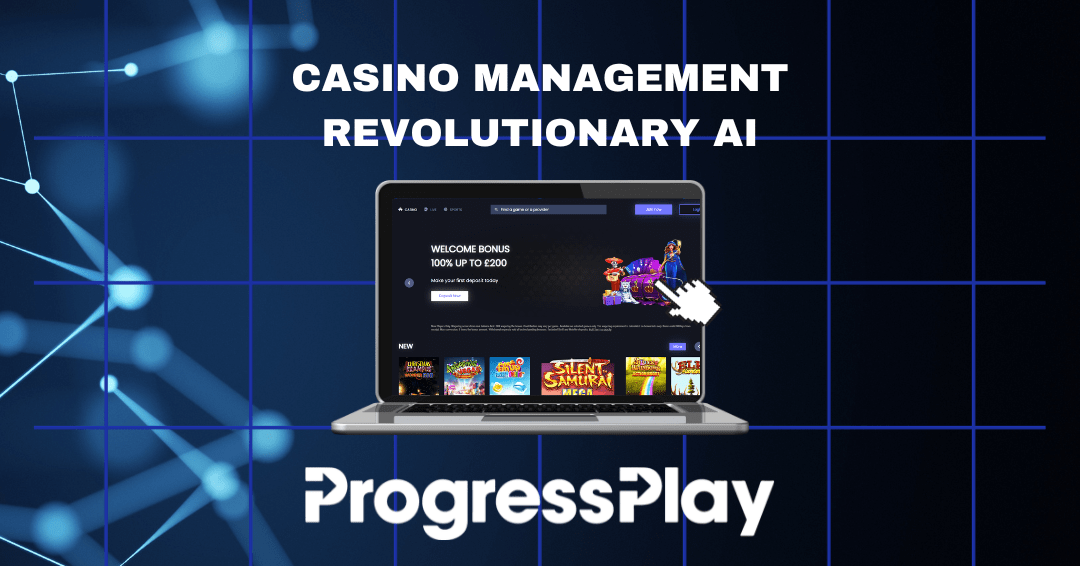 Reading Time:
2
minutes
Once again, casino and sports platform provider ProgressPlay are ahead of their time with a new wave of technology innovation that has helped the company to attend major shows during 2023 with soaring confidence based on pioneering proprietary technological advances that have featured strongly in annual awards shows.
The company's future-centred thinking and ambitious AI product development attracted a raft of operators and partners attending last week's SiGMA Europe in Malta. A raft of casino operators during the show had the opportunity to see firsthand ProgressPlay's new tech which offers a comprehensive gaming management solution across multiple channels and products.
ProgressPlay's enhanced iGaming platform provides operators with a powerful real-time AI-driven proprietary flow tool for optimising the performance of an online casino in a dynamic data ecosystem. Real-time player interaction provides compliance teams with the information to manage and interact with players.
Last year, ProgressPlay undertook an ambitious reframe of their technology with new proprietary Responsible Gambling automation and tools at its heart. ProgressPlay's new platform manages player accounts, payments, bonuses, loyalty programs, fraud prevention and games, using robust tools and analytics.
ProgressPlay Sales Manager Marina Nahhas said: "ProgressPlay's innovative Responsible Gambling software covers topics like KYC, player activity, affordability levels, and a transparent audit trail. These topics resonate heavily with operators and we were delighted with the level of engagement around this revenue-critical activity during the week we spent in Malta."
ProgressPlay's combo sportsbook and comprehensive turnkey solution, including casino platform, player management, payments module, and affiliate software are designed to boost operators seeking to effectively drive both revenue and efficiency with the latest cutting-edge technology.
Over 150 online casino brands have partnered with ProgressPlay covering a unique combination of casino games and sports-betting. ProgressPlay's sportsbook offers up to 40,000 live betting markets and services across 20 languages while the latest platform offers a slick AI-driven UI/UX, and extensive value-added services alongside thousands of casino games, including slots, online casino, live casino, poker, table games, and sportsbook, across all devices and currencies.
ProgressPlay CEO Itai Loewenstein said: "Commercial agreements are being driven by our breakthrough technology that enables deployment of our AI tools for greater efficiency and revenue-generation. SiGMA Europe has been the last stop in a busy year and we believe that since we first launched our new technology in London at the beginning of the year our sophisticated Responsible Gambling tool has quickly moved beyond the early-adopter stage."
SiGMA Europe 2023 in Malta: Slotegrator shares key insights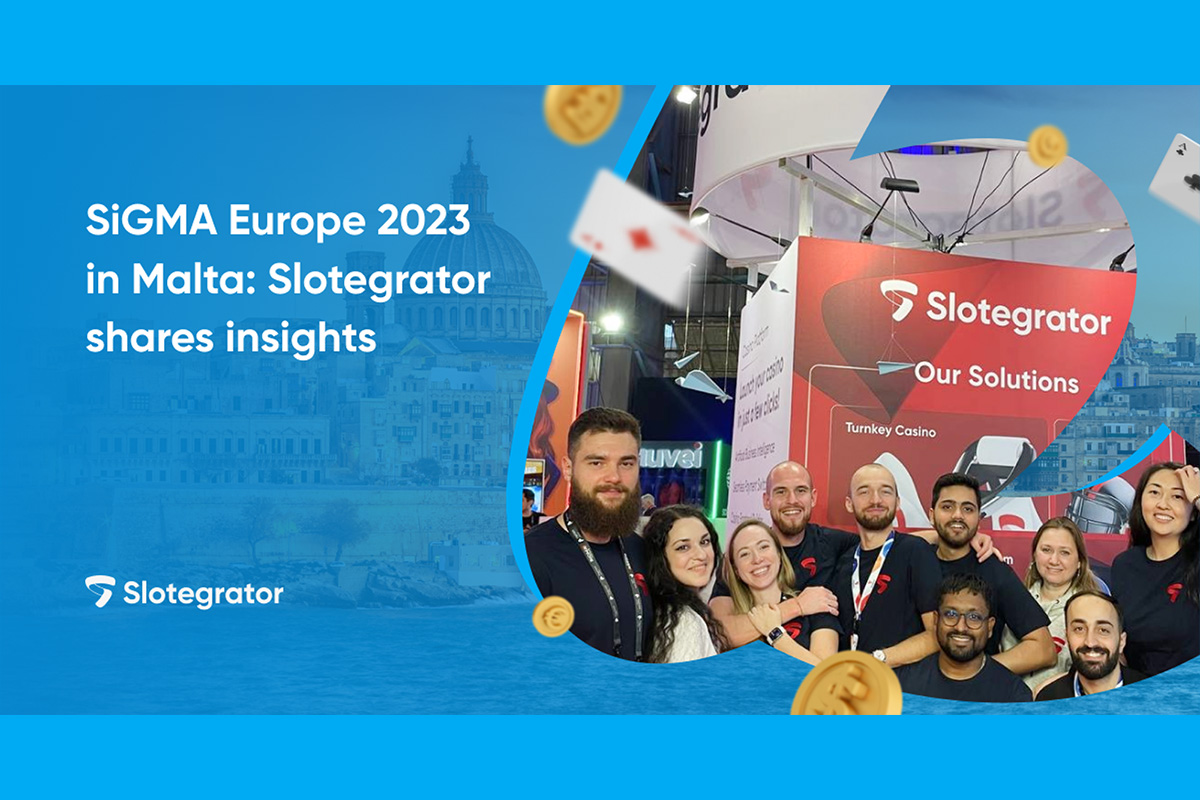 Reading Time:
3
minutes
Every year, SiGMA Europe gathers iGaming professionals together to connect, share insights, and sum up the year. This year, the event was visited by over 20,000 participants from over 100 countries. The Slotegrator team found the trip to be truly inspirational and is ready to share its insights.
SiGMA Europe was the best place to summarize the results of 2023. For Slotegrator, this year was dedicated to researching customers' requirements and desires, players' interests, and industry tendencies. Throughout the year, Slotegrator visited events in four huge iGaming markets – Africa, Asia, LatAm and Europe – to get a clear picture of what those markets are like.
At each of these events, the team gathered firsthand knowledge on how to improve Slotegrator's flagship products and provide even better service to the company's clients.
At SiGMA Europe 2023 in Malta, the Slotegrator team presented new features of its turnkey online casino platform and the phenomenal mobile solution – Telegram Casino – which was first presented by Slotegrator in 2017 and updated in 2022.
Slotegrator's top managers also had plenty of meetings with partners about the company's APIgrator solution – a unique solution for the fast and seamless integration of online casino games into gambling platforms. The solution incorporates more than 15,000 various slots, card games, live dealer games, and virtual sports from 100 world's leading developers. In 2024, Slotegrator will present to the market plenty of new partnerships with providers from different parts of the world.
"SiGMA Europe 2023 was a great event for our team, as usual. To gather in such a great place to meet partners, to summarize preliminary results of the year, to outline plans for the future – it was the right decision," says Yana Khaidukova, Managing Director at Slotegrator.
Slotegrator mentions that the composition of the iGaming world is changing: new companies have already appeared and will continue to appear not only for occuping a part of the existing market, but they form new niches, as they come with new spectacular offers and solutions. It is the reason why the competition increases many times, and it gives the industry new directions of development.
As for providers, their number is increasing very rapidly. Small companies are growing into large ones, which shows the success of their solutions, and new companies come with fresh ideas, games and experience that players like.
One trend that is only going to increase is the interest in crash games. Prominent studios are introducing new examples of fresh crash games. Leaders, who are already successful in this niche, such as Aviatrix, continue to modify their crash game and expand it into new markets and continue to win the hearts of new players by providing them with an amazing gaming experience.
According to the Slotegrator's observations, many Asian companies took part in SiGMA Europe 2023, which suggests that the Asian vector will be very popular next year.
Here are some additional key insights from SiGMA Europe that the company will carry into next year:
Responsible Gaming is growing more and more important to players, operators, and regulators.
It's essential to embrace innovation. New technologies can let operators offer players more choices and solve problems faster and more effectively.
Operators need to keep increasing their security and anti-fraud measures. Scammers are always on the lookout for new ways to defraud casinos, so operators need to try and stay a few steps ahead of them.
Players want to be a part of a community. Platform operators should create a welcoming atmosphere by offering features like multiplayer chats where players can connect with each other.
It's essential that online casinos show loyal players their appreciation. Better bonuses can keep players coming back, as well as referral programs where players earn rewards for bringing in new leads.
Cryptocurrencies, NFTs, and blockchain tech in general are here to stay. Finding ways to integrate them can help you offer your players a better, more modern experience.
Player behavior should be constantly analyzed in order to identify trends and enhance player retention strategies.
As for the last point, Slotegrator is set to release internal reports on the state of the industry that provide an analysis of player behavior and predictions for the development of the industry in 2024. To be one of the first to receive the reports, subscribe to Slotegrator's social media channel here.
ABOUT SLOTEGRATOR
Since 2012, Slotegrator has been one of the iGaming industry's leading software and business solution providers for online casino and sportsbook operators.
The company's main focus is software development and support for online casino platforms, as well as the integration of game content and payment systems.
The company works with licensed game developers and offers a vast portfolio of casino content: slots, live casino games, poker, virtual sports, table games, lotteries, casual games, and data feeds for betting.
Slotegrator also provides consulting services in gambling license acquisition and business incorporation.
More information: https://slotegrator.pro/
Oddschecker Media Group expands Italian presence with SuperScommesse acquisition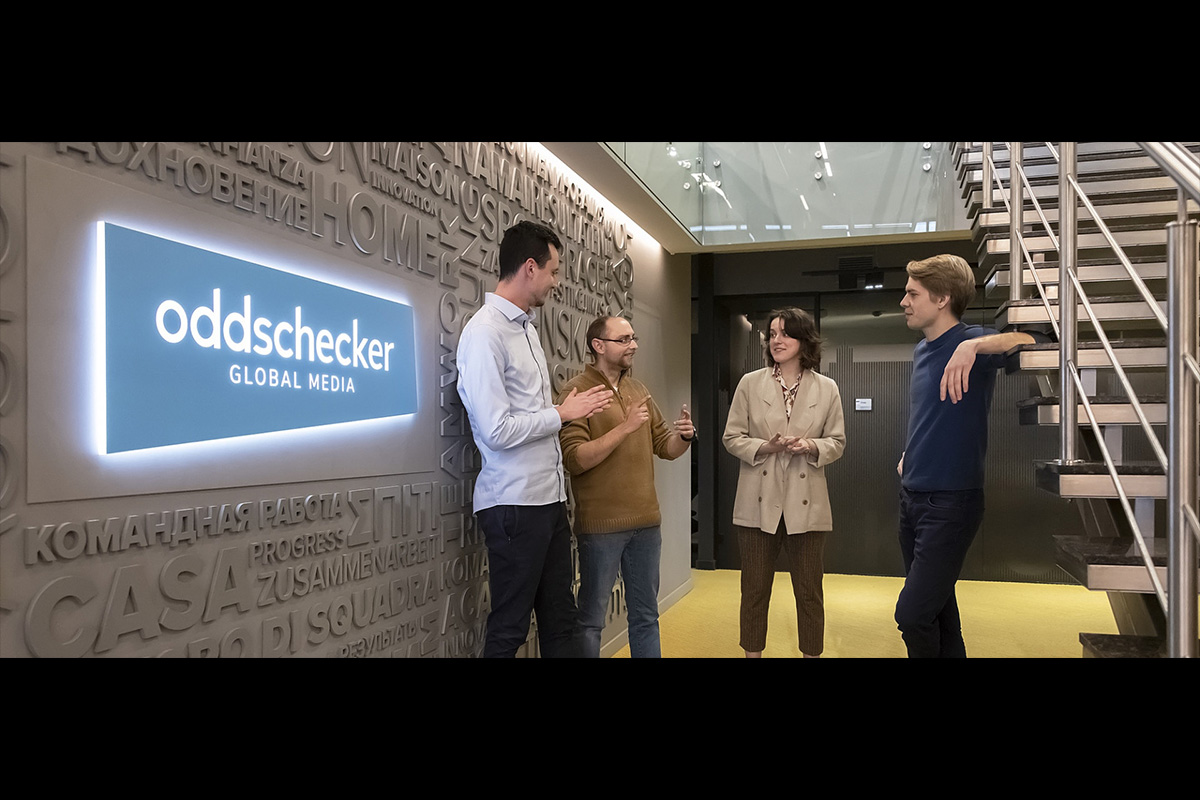 Reading Time:
2
minutes
Oddschecker Global Media (OGM), a global technology company that offers the world's leading odds comparison site and a betting destination for millions of users, has this week confirmed the acquisition of acclaimed Italian sports network SuperScommesse from Catena Media.
The deal sees OGM further expand into Europe's second-largest betting market to consolidate its position as the country's number-one sports betting advertising company, organically complementing its other media partnerships already operational with Gazzetta (La Gazzetta dello Sport) and DAZN, which leverage tens of millions of unique users and two popular TV shows between them.
SuperScommesse furnishes OGM with deep local expertise, featuring a team that has proven itself adept at driving sustained growth in the market, allied to a recognisable and trusted local-language brand. In addition, its tech stack and tools will deliver network efficiencies to the acquiring group's brands in other markets, while OGM's own technology will improve SuperScommesse's services and fan engagement across a loyal customer base.
Stuart Simms, CEO of Oddschecker Media Group, said of the acquisition: "As the growth of sports betting in this sports-mad market continues apace, we wanted to double down on our presence in this key territory. We see SuperScommesse as the ideal strategic complement to our strong Italian footprint.
"We're looking forward to servicing its customer base with an enhanced product that combines the Oddschecker DNA with its well-regarded brand name and local expertise in a market that still has huge growth potential as it builds out an online, cashless identity.
"This digital tide is only rolling one way, so the synergies are as obvious as they are natural: the Italian market allows for odds comparison as a consumer service, and we remain the pre-eminent odds comparison provider."
This latest acquisition will further bolster the effectiveness of the Confido Network, a cutting-edge affiliate partnership network – which covers over 1,000 deals from 200+ global operators – announced by OGM earlier in November 2023.