Salsa to showcase Brazil-ready iGaming solutions at SBC Summit Barcelona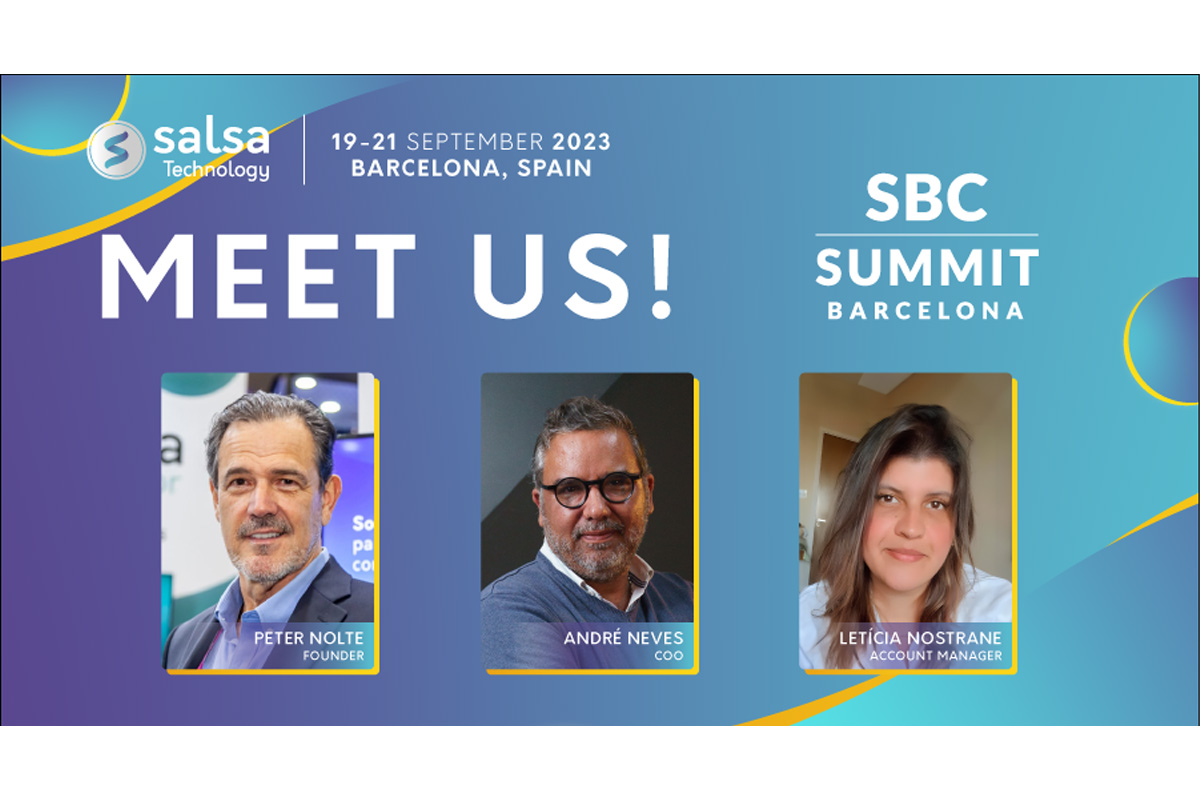 Reading Time:
< 1
minutes
Salsa Technology is gearing up for the iconic SBC Summit Barcelona event, September 19-21, 2023,  where it will showcase its Brazil-ready iGaming solutions. These solutions fully support operators  aiming to either enter or expand their presence in the upcoming regulated Brazilian market. Representing Salsa at Stand #CG470 at Fira Barcelona Montjuïc – will be Founder Peter Nolte, COO André Neves and Account Manager, Letícia Nostrane.
The Salsa contingent will be on hand to share the latest Salsa Omni iGaming platform developments which has been primed for the regulated Brazilian market. A key strength of the platform is its ability to support the ongoing state lotteries' bidding process that's closely related to sportsbook regulation. The team will also be showcasing its Salsa Gator which is enriched with an extensive portfolio of casino titles.  This catalogue of games has been meticulously curated to meet the demands of both Brazilian and LatAm players.
As discussions on Brazilian sports betting regulation continue, Salsa Technology's years' of experience in the region position it perfectly to share localised knowledge with operators exploring iGaming markets across the region.
Salsa's Founder, Peter Nolte, said, "SBC Summit Barcelona provides the perfect opportunity for us to showcase the full range of Salsa's offering as the iGaming industry continues to closely follow LatAm progress. Our localised expertise means we're the ideal partner for businesses looking to tap into the region's potential and we're on hand to share more about the best way to approach this exciting opportunity."
Go Big or Go Home: High Roller Casino Bonus Canada Explained
Within the dynamic landscape of Canadian online casinos, high roller bonuses exemplify the adage, "Go Big or Go Home." Crafted for players comfortable with substantial deposits, these bonuses elevate the gaming journey, offering the prospect of amplified winnings and an intensified online casino experience.
Understanding High Roller Casino Bonuses
High roller casino bonuses, often dubbed as 'VIP rewards,' are exclusive promotions tailored for players unafraid of wagering substantial amounts. These incentives, which can include extra cash or free spins, are directly linked to the magnitude of their deposits.
In the context of the Canadian online casino industry, the importance of these bonuses cannot be overstated. They wield immense influence in attracting and retaining high-value players, who significantly bolster the casino's bottom line. By extending high-roller bonuses, casinos effectively motivate these individuals to maintain their patronage, fuelling the sector's expansion and profitability.
From the player's perspective, these bonuses open the door to the prospect of amplified winnings and an enriched gaming adventure. Gamblers can relish extended gameplay, explore exclusive titles, and even relish personalized assistance. Consequently, high-roller bonuses are pivotal in shaping the dynamics of the Canadian online casino arena.
High-roller casino bonuses forge a symbiotic relationship between casinos and their most daring patrons. This synergy is not only financially rewarding for both parties but also elevates the overall gaming experience, affirming the significance of these bonuses in the Canadian online casino landscape.
Unlocking the World of High Roller Casino Bonuses
High roller bonuses, those coveted incentives within the realm of online casinos, come in an array of forms, each bestowing its unique set of benefits. Let's delve into the various types of these alluring bonuses that cater to the diverse tastes of high-stakes players.
This stands as the most prevalent form of high roller bonus. Casinos generously match a portion of the player's deposit, with percentages ranging from 50% to a staggering 200% or more. 
In the world of high stakes, resilience is key. Some casinos extend cashback bonuses to their esteemed high rollers. It translates to a percentage of the player's losses or deposits being thoughtfully returned to their coffers. As an example, consider a 20% cashback bonus. It graciously offers solace by refunding $200 to a player who may have faced a $1,000 loss.
High rollers with a penchant for spinning the slot machine reels are not left in the lurch. Free spins are often part and parcel of their bonus package. These free spins gift players the chance to revel in slot games without denting their pockets. It's akin to a risk-free opportunity to secure tangible winnings.
Loyalty begets rewards. Players who exhibit steadfast allegiance to a casino, whether through regular gameplay or substantial deposits, are accorded exclusive loyalty bonuses. The perks span the gamut from free spins and deposit boosts to exclusive tokens of appreciation and coveted invitations to premier events.
While relatively scarce, some casinos extend the olive branch to high rollers with enticing no-deposit bonuses. These bonuses grant players a treasure trove of free funds or spins upon mere registration, sans the need for an initial deposit.
Unlocking the Gateway to High Roller Casino Bonuses in Canada
Earning the coveted status of a high roller casino bonus Canada and unlocking the gateway to these exclusive casino bonuses entails satisfying specific casino criteria, a task that entails a blend of precision and perseverance:
High roller bonuses in Canada beckon to those ready to invest significantly. The requisite minimum deposit surpasses standard bonus thresholds, making it imperative to wield financial prowess.
Betting milestones stand as part of the journey. Canadian casinos stipulate players must wager a substantial sum before reaping high roller casino bonus Canada rewards. For high rollers, the road to reward demands extra dedication.
Ascending the ladder of Canadian casino loyalty bestows privileges. High roller bonuses in Canada often materialize exclusively for those who've attained coveted status through consistent gameplay and substantial deposits.
Hidden keys to high roller casino bonus Canada treasures, bonus codes unlock exclusive benefits. Prospective recipients must adeptly input these codes during the deposit process to access the rewards.
Not all Canadian games march towards bonus fulfilment. Players must navigate restrictions and choose eligible games wisely to meet wagering prerequisites.
Selecting the Optimal High Roller Bonus
Choosing the most suitable high roller bonus necessitates a methodical approach to ensure it aligns seamlessly with your gaming proclivities and objectives. Here are pivotal tips and factors for contemplation when making this consequential decision:
Initiate the selection process by thoroughly assessing the bonus proposition itself. Methodically examine the bonus quantum, percentage, and any supplementary advantages such as complimentary spins or cashback. Strive to strike a harmonious equilibrium between an enticing offer and manageable wagering prerequisites.
Immerse yourself in the intricacies of wagering prerequisites, a pivotal determinant. Elaborate bonuses often accompany more rigorous playthrough obligations. Ensure that these stipulations are realistically attainable within the confines of your gaming approach and financial means.
Distinct games contribute disparately to the fulfilment of wagering prerequisites. Ascertain whether your favoured games are considered eligible and discern their respective weightage. Certain bonuses may impose constraints on particular games or extend reduced contributions.
The bonus percentage may fluctuate contingent on the magnitude of your initial deposit. Calculate the sum you are comfortable committing to ascertain an efficient leverage of the bonus.
Gauge the synergy between your high roller status and the casino's loyalty program. Certain establishments furnish exclusive advantages and expedited reward progression for VIP participants.
Verify whether the bonus activation necessitates a specific code. Neglecting this imperative step may culminate in the forfeiture of the bonus.
Prudent consideration of the bonus's duration is imperative. Ensure an ample timeframe for the fulfilment of wagering requisites, circumventing any undue haste.
Delve into the casino's reputation and credibility. Peruse reviews, verify licensing credentials, and solicit insights from fellow players to substantiate the casino's standing.
Contemplate the quality of the casino's customer support. High roller status may occasionally necessitate prompt assistance; hence, a responsive support framework is indispensable.
Conclusively, align your selection with your distinctive gaming inclinations and proclivities. Opt for a bonus that harmonizes seamlessly with your preferred gaming genre and strategic approach.
Final Thoughts
The process of choosing the optimal high-roller bonus within the Canadian online casino landscape necessitates a systematic and informed approach. Key considerations encompass a comprehensive evaluation of bonus propositions, a meticulous comprehension of wagering prerequisites, contemplation of game eligibility, and an assessment of the synergy with loyalty programs. By carefully analysing these facets, high rollers can make judicious selections that not only elevate their gaming experience but also optimize their potential for substantial winnings.
PointsBet Canada Renews The Sweep 16 Bracket Challenge with Spotlight Sports Group Ahead of Second Annual PointsBet Invitational Curling Tournament
Spotlight Sports Group (SSG), a world-leading technology, content and media company specializing in sports betting and fantasy sports, announced that it has built a fully-managed bracket challenge for PointsBet Canada to support its second annual curling tournament.
This partnership follows a successful execution of The Sweep 16 bracket challenge last year, which was well received and saw thousands of participants. This year's platform has been updated to include new features such as allowing users to create private groups for additional play and enjoyment. This year's bracket challenge also debuts one-click buttons that promote community connectivity and allow users to share their bracket on any social media platform.
The bracket challenge is hosted on a stand-alone platform and was built with a direct connection to the PointsBet Canada sportsbook so bracket challenge participants can easily place bets on the PointsBet Invitational as well as other sports.
Like last year, participants are competing for a $1 million grand prize, should they create a perfect bracket. The bracket challenge provides a one-stop-shop connection to the men's and women's tournaments via an up-to-the-minute tournament tracker that showcases match results in real time.
Commenting on the continued partnership, the US B2B Partnerships Senior Vice-President for Spotlight Sports Group, Rick Wolf, said: "When you have great success in a collaboration like we did last year, it was obvious to expand with PointsBet Canada. The SSG SaaS Games Engine is unique in its ability to create this custom solution with the design and direction of PointsBet's team. The user experience is paramount and that is why we ensure participants can follow the tournament entirely on the platform and place bets with ease."
The Chief Commercial Officer for PointsBet Canada, Nic Sulsky, added: "Last year's inaugural PointsBet Invitational was a resounding success on the ice and The Sweep 16 bracket challenge brought the audience engagement to a new level. The top-notch SSG team manages everything from beginning to end, which allows us to focus on delivering the audience. Our combined success last year meant we could create a platform that mirrored our branding and provided a superior user experience again this year."
The PointsBet Invitational will run from September 27 through October 1 at the Sixteen Mile Sports Complex in Oakville, Ontario. The Sweep 16 bracket challenge can be filled out at any point before the tournament begins.
Play'n GO make a break for the piggy bank in Piggy Blitz
Reading Time:
2
minutes
First, Play'n GO established that pigs could fly in the classic Flying Pigs (2013), and now we've been shown that hogs may know a thing or two about coin collecting in the new online slot, Piggy Blitz.
Play'n GO's always championed iGaming diversity and player choice – offering up a wide variety of titles such as dynamic Table Games, gripping Grid Slots and of course, fun and easy to follow Animal Slots. Piggy Blitz is no different. Set atop a gameshow-style backdrop – this title boasts 4,096 payways and a x5,000 max win potential.
This slot sees oink-busting features where collecting every coin from the magical piggy bank is the name of the game.
Players must match three or more Pig, Dice, Letter, Diamond Chip, and Coin symbols to secure a standard victory. As gameplay progresses, players will encounter three powerful fixed jackpots and a Bonus Cash Collection symbol that harbours the power to collect more coins. Reminiscent of the mechanic present in Cash Pump (2019) – this feature is present in both the standard game as well as the latter game modes.
Players can trot into the Blitz Spinz Free Spins round if three Scatter symbols are secured. During Blitz Spinz, only Guaranteed Win Spins and Cash Collection symbols can be secured – meaning no matter where the Piggy Bank erupts, it's all high-value rewards across the board. Three Scatters unlocks five Free Spins, four unlocks ten and five unlocks 25. If a player secures six Scatters, they unlock a whopping 50 Free Spins – coupled with a major prize, Blitz Spinz make gameplay both immersive and rewarding.
Piggy Bank symbols can also be secured on multiple spots across the play table, further increasing prize potential. Alongside doubled Gold Coins, this title's gameplay maximises ways in which players can win.
Head of Game Retention at Play'n GO, George Olekszy said:
"Piggy Blitz is all about instant action."
"Having Guaranteed Win Spins, as well as regular Cash Collection symbols peppered throughout, make this title a lot of fun – we think fans will really enjoy it. Not to mention, x5,000-win potential and the cartoon, game show visuals are a delight too. Piggy Blitz is another classic for us, and it's another perfect addition to the Play'n GO slot portfolio."