Arctic7 Accelerates Growth With New Barcelona Studio and First Details of New Internally Developed Game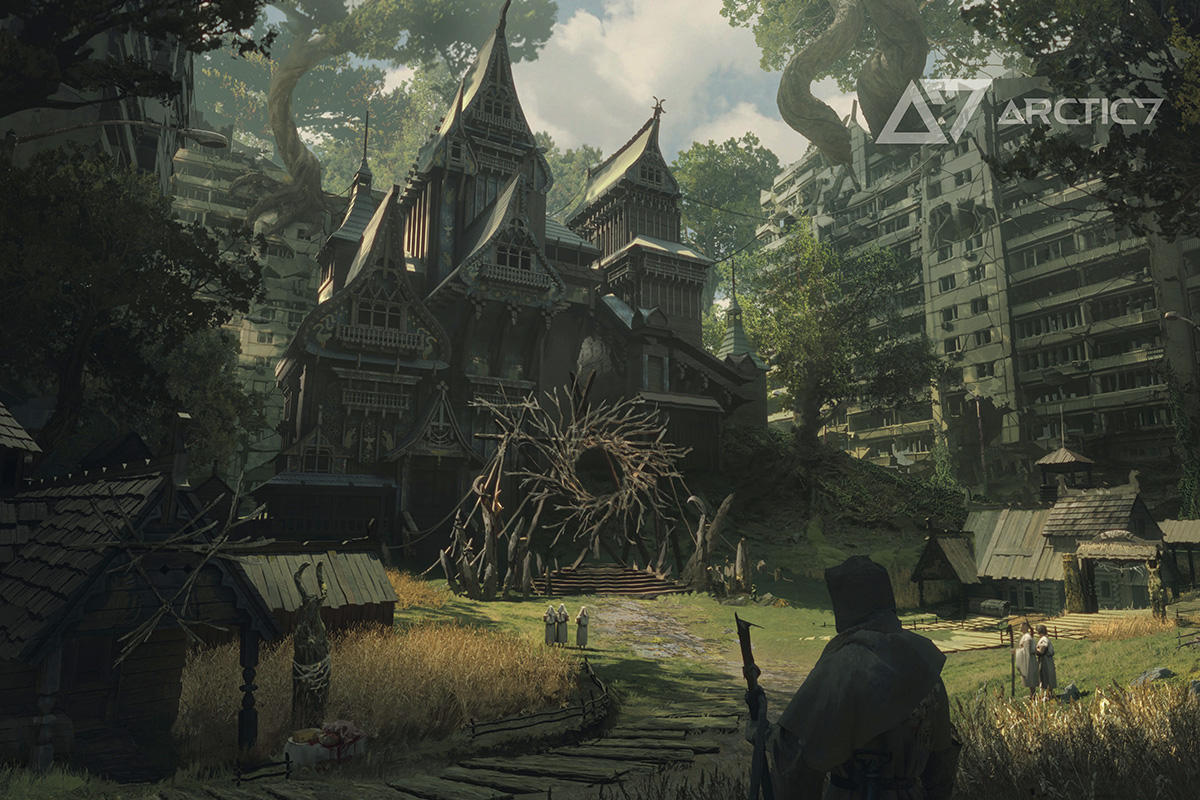 Reading Time:
2
minutes
Arctic7, which provides a robust suite of full-scale and co-development services in game development and virtual production services for the movie and TV industry, has today announced it will open a new facility in Barcelona, bolstering overall European presence alongside its existing studio in Montenegro.
The studio is scheduled to open in early 2024. Kedhrin Gonzalez will continue in his role as Studio Head of Arctic7 Montenegro and will add the Barcelona studio to his remit with the new studio significantly increasing development capacity available for full game and co-development work with partner projects and internal IP Arctic7 is developing, the first of which is also teased for the first time this week and presented to potential partners.
The as-yet unnamed title is a post-civilisation, third-person action-adventure title built using Unreal Engine 5. Humans thrive in the ruins of a world that fights off a new dark age thanks to the vestiges of technology but are faced with a growing challenge from the reawakening of ancient spiritual forces. Gameplay is built around deep exploration, emotional narrative and a sophisticated and evolving combat system.
Kedhrin Gonzalez, Arctic7 Europe Studio Head, said: "At Arctic7 Europe, while we continue to focus on building strong partnerships for our co-development work, we're always trying to think of ways to push forward our skills and fuel our passion for making great games for partners. This project is a direct result of that passion and draws on the teams' experience working on some of the world's leading games such as Halo, Rainbow Six series and more."
Arctic7 Chief Executive Officer Igor Efremov said: "Over the past year, we have significantly grown our full game, co-development and virtual production capabilities as we look to establish a leadership position in the space and all focused on delivering great entertainment experiences for our partners and players. We are proud to announce that we are continuing to grow Arctic7 in Barcelona, which will be an additional hub for both full game development and co-development projects. I believe the historic city of Barcelona will be a great steppingstone forwards, giving us access to a rich talent pool so that we can turn out even more entertainment experiences.''
The news follows a recent announcement that Arctic7 had appointed a new commercial team, featuring a variety of seasoned industry leaders to build exceptional partnerships and pursue an array of new business opportunities.
Established in 2022, Arctic7 is a fully independent collection of four studios, strategically situated in the US, Canada and Europe with capabilities across gaming and media industries. Each studio is an integral part of Arctic7's collective strength with more than 150 dedicated professionals working across internally developed IP, co-development projects and virtual production.
Niko Partners 'India Games Market' Report – India retains title as Asia's fastest-growing video games market in 2023
Reading Time:
< 1
minutes
The recently published
 "India Games Market Report 2023" report by Niko Partners
, states that India retained its title as the fastest-growing video games market in Asia. The total gamers in India are forecasted to have
 surged a remarkable 343% in the 10 years between 2017 and 2027, climbing to 641.2 million in 2027.
Video games revenue is also on the rise, forecast to increase 21% YoY in 2023 to $868 million. Factors such as higher disposable income, the growth of internet connectivity, and low-cost smartphones are propelling India's video games market forward.
Below are the key findings of the report:
 Meteoric rise in revenue: Niko Partners projects India video games revenue across all platforms to reach $868 million in 2023, up 21.2% YoY. India's video game market is the fastest growing by gamers and revenue, which is forecast to reach $1.6 billion by 2027, growing at a 5-year CAGR of 17.2%. The report excludes revenue generated from Real Money Games.
 Player base keeps on expanding: The number of gamers in India across all platforms is forecast to reach 444 million in 2023, up 12.1% YoY, and reach 641.2 million in 2027, growing at a 5-year CAGR of 10.1%.
Dominance of mobile gaming: India is a mobile-first market with 96.8% of total gamers playing on a smartphone or tablet.
Game-spending is on an upward trajectory: 31% of the 444.4 million gamers will spend on video games in 2023, with annual ARPPU reaching $6.38.
Esports continues to gain momentum: 71.8% of the total gamers have engaged with Esports by either playing an Esports game, watching or participating in an Esports tournament.
Encouraging factors in terms of revenue growth and brand investment: The return of BGMI and Free Fire are positive signs for the industry and foreign game companies looking to enter the market.
Get back to basics and win big in latest 'Powered by OneTouch' title Mo Mo Moolah
Reading Time:
< 1
minutes
Mo Mo Moolah, the latest 'Powered by OneTouch' release, serves up a classic casino experience with innovative modern features and huge win potential.
A one line game set across three reels, Mo Mo Moolah evokes a sense of nostalgia where simplicity reigns supreme, combining traditional elements with features such as rewarding respins and multipliers.
Players choose to play with one, two or three reels with all columns activated offering bigger prizes of up to 10,500x the bet.
A Respin feature can be triggered when two or more reels are active if either a 0 or 00 land, regardless of a winning or non-winning spin.
When all reels are in play, landing the Cash Stack symbol on the third column triggers a special Moolah Respin feature. This sees it lock in place while the first two reels will respin. If a Cash Stacks tile appear on both reels, the It's Raining Moolah round will be triggered.
One of seven different valued coins are available on reel one whilst the subsequent two contain multipliers of up to 10x.  The second reel will multiply the coin win on the first reel, whilst the third reel will multiply the new value for potentially massive 2,000x wins.
Madis Raus, Head of OneTouch, said: "The latest 'Powered by OneTouch' release, Mo Mo Moolah, embodies the perfect blend of classic charm with some added modern twists to keep things fresh.
"We invite players to enjoy the nostalgia of a traditional stepper game while spinning for thrilling wins in this captivating slot experience."
Gaming Corps' sizzling Super Hot Stacks slot brings Free Spins and Bonus Guarantees
Reading Time:
2
minutes
Gaming Corps is bringing back the beloved classic fruit theme with the launch of new slot game Super Hot Stacks.
Super Hot Stacks is a five-reel video slot with three symbols per reel and 15 paylines. The game gives players the chance to watch their wins multiply as the reels stack up with juicy fruits and exciting multiplier values.
The Super Hot Stacks feature can be triggered on any spin. When a symbol lands in every symbol position on a single reel, the multiplier increases by +1. This multiplier then applies to any winning combinations on that spin. The maximum multiplier in the main game is six, but can go up to 25 in the Free Spins feature where the multiplier is sticky!
The action-packed Free Spins feature will be awarded when players land three Scatter symbols; players will receive seven Free Spins and this can be re-triggered up to fifty Free Spins. If the player obtains less than 10x their total bet in the Free Spins feature, the Bonus Guarantee will be triggered, awarding additional Free Spins to continue the action.
Gaming Corps continues to cement its position as an up-and-coming games developer with this latest slot release, following a plethora of game launches this year, with successful titles such as Raging Zeus Mines, Wild Woof, Prospector's Plinko and Luke E. Chance and the Book of Luck.
Connor Blinman, Head of Games at Gaming Corps said: "The Gaming Corps development team have been hard at work of late focusing on several game releases, and we are delighted Super Hot Stacks is now ready for players to enjoy. It is a pleasure for us to take a classic theme that players love and put our own spin on it.
"This has been a momentous year for Gaming Corps already as we continue to grow as a developer, creating diverse content remains at the forefront of our strategy, and there are more releases in the pipeline which will give players even more memorable experiences."