Two Months Left to Nominate for the Prestigious Casino Guru Awards 2024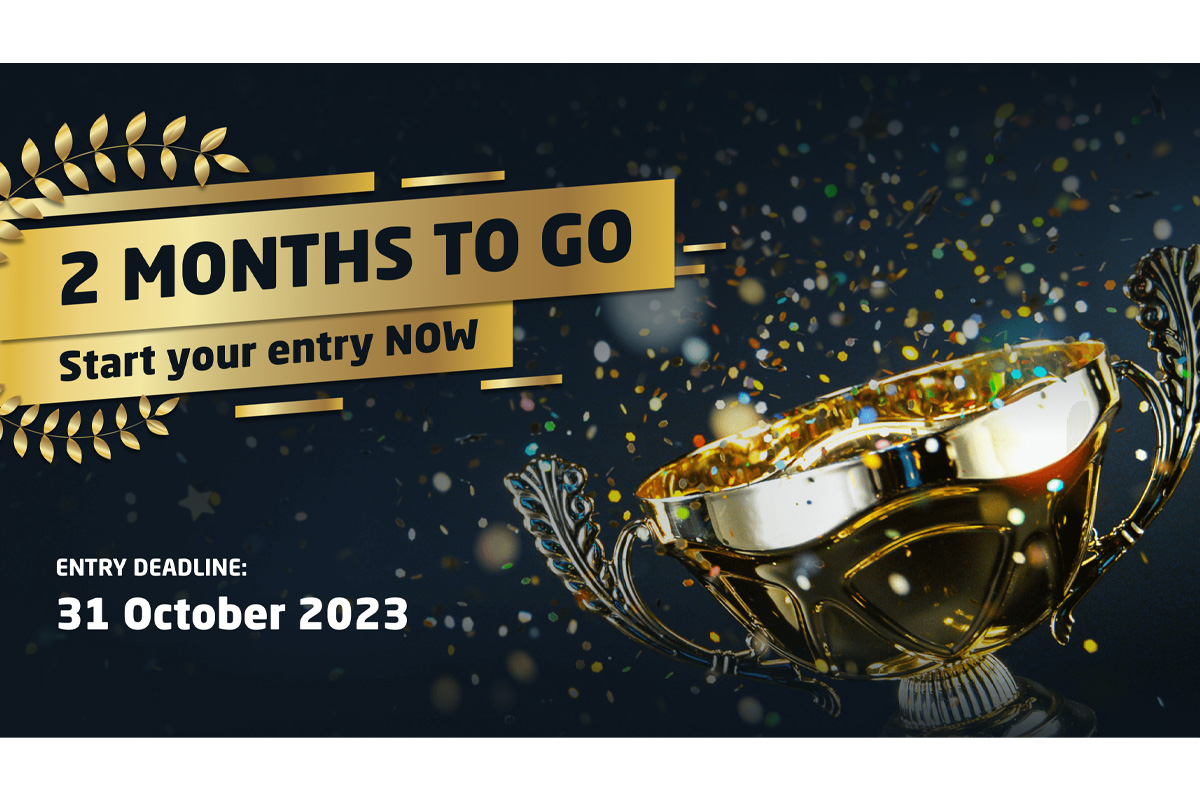 Reading Time:
2
minutes
The highly anticipated Casino Guru Awards are back for their second edition in 2024, celebrating excellence and innovation in the online gambling industry. With just two months left to submit nominations, industry enthusiasts are encouraged to participate in recognizing the best in the business. Nominations are open until the end of October, and the awards ceremony will take place in February.
The Casino Guru Awards have quickly become a hallmark of distinction within the iGaming landscape, honoring the most successful operators and industry professionals for their contributions to an ever-evolving industry. With a commitment to transparency, fairness, and expertise, these awards stand as a testament to the dedication and hard work put forth by the industry's finest.
"We are thrilled to once again recognize the outstanding achievements and contributions of the online gambling industry through the Casino Guru Awards. These awards not only celebrate excellence but also foster a culture of innovation and responsibility in the iGaming landscape," added Daniela Sliva Kianicova, project leader of Casino Guru Awards.
Categories Galore
This year, the Casino Guru Awards boast an extensive array of categories, ensuring that all facets of the online casino world are recognized. Categories include The Fairest Bonus Policy, The Fairest General T&Cs, The Most Impactful Social Responsibility Initiative, The Best Implementation of RG Tools, The Most Effective Handling of Complaints, and more. Each category is thoughtfully designed to encapsulate the wide range of talents and innovations present in the industry.
A Transparent Process
One of the key strengths of the Casino Guru Awards is its transparent nomination and selection process. Nominations are open to the public, allowing players, industry experts, and enthusiasts to put forward their favorites. A stringent evaluation process follows, led by a panel of independent esteemed judges, to ensure that only the most deserving nominees make it to the final round. This commitment to transparency ensures that the awards maintain their credibility and integrity.
Expert Judging Panel
The judging panel for the Casino Guru Awards is comprised of some of the most respected and knowledgeable figures in the industry. These experts bring years of experience and insights to the table, carefully evaluating each nominee based on a set of rigorous criteria. Their dedication to fairness and excellence is a driving force behind the integrity of the awards.
Nominate Today!
Time is of the essence, with just two months left to submit your nominations for the Casino Guru Awards 2024. If you know of a company with an exceptional contribution to the gambling industry, now is the time to make your voice heard. Visit the official Casino Guru Awards website to submit your nominations before the deadline.
The Esports Awards Reveals Pro & On-Air Talent Finalists
The Esports Awards, the most prestigious night in the esports calendar, is excited to unveil the finalists for this year's Pro, On-Air Talent, and Journalism categories which include the likes of Fnatic, Amjad "AngryBird" Al-Shalabi, and Yinsu Collins with voting now live. This year's Esports Awards, taking place across the 29th and 30th of November, will be hosted by the most innovative and technologically advanced nightclub in Las Vegas, Zouk.
The finalists were announced live across the Esports Awards broadcast platforms, including their Twitch.tv channel by American Esports Host Daniel "dGon" Gonzales, Rocket League Caster and Content Creator Elyse "Herculyse" Herrera, Esports Caster Phil "EEVisu" Visu, and Esports Hosting royalty James "Dash" Patterson.
The Esports Awards will also host PWR UP Las Vegas, held at the luxurious Resorts World Las Vegas. PWR UP Las Vegas is the ultimate esports, tech, and gaming conference. Headlining the event is the groundbreaking Esports Awards Open, a golf tournament blending networking and entertainment with top-tier industry executives and celebrities. PWR UP Las Vegas promises to be an electrifying event that defines the future of esports, tech and gaming, powering up passion within the industry.
The full Pro, On-Air Talent and Journalism finalists are as follows:
Pro
Esports Team of the Year
Team Vitality – CS:GO
Team Vitality – Rocket League
Fnatic – VALORANT
Evil Geniuses – VALORANT
New York Subliners – Call of Duty
JD Gaming – League of Legends
w7m Esports – Rainbow Six Siege
Echo – ML:BB
Gaimin Gladiators – DOTA
TSM – Apex Legends
Esports Organisation of the Year
Team Vitality
LOUD
Team Liquid
G2 Esports
Gen.G Esports
Karmine Corp
Moist Esports
100 Thieves
Optic Gaming
NAVI
NRG
Esports Coach of the Year
Danny "Zonic" Sørensen
Victor "Ferra" Francal
Christine "Potter" Chi
Ehsan "DREAL" Javed
Igor "igoorctg" Santos
Renzo "Renzo" Oemrawsingh
Jan "Swani" Müller
Aske "Cy-" Larsen
Yoon "Homme" Sung-young
Esports Breakthrough Player of the Year
Alexis "Zen" Bernier
Max "Demon1" Mazanov
Thomas "Scrappy" Ernst
Kim "D0NGHAK" Min-sung
Kim "Peyz" Su-hwan
Anders "Vejrgang" Vejrgang
Martin "Yike" Sundelin
Esports PC Player of the Year
Nikola "NiKo" Kovač
Cho "Maru" Seong-ju
Mathieu "ZywOo" Herbaut
Quinn "Quinn" Callahan
Nemanja "Hunter" Kovač
Zhuo "Knight" Ding
Emir "Alfajer" Beder
Max "Demon1" Mazanov
Phillip "ImperialHal" Dosen
Jung "Chovy" Ji-hun
Esports Controller Player of the Year
Alexis "Zen" Bernier
Paco "HyDra" Rusiewiez
Zain "Zain" Naghmi
Matthew "KiSMET" Tinsley
Mashita "acola" Hayato
Amjad "AngryBird" Al-Shalabi
Finlay "Rise" Ferguson
Jack "ApparentlyJack" Benton
Arslan "Arslan Ash" Siddique
Phillip "ImperialHal" Dosen
Esports Mobile Player of the Year
Mohamed "Mohamed Light" Tarek
Frederic "Bennyqt" Gonzales
Gaku "Gaku" Mukai
Erik "Joker" Granström
Burenbayar "TOP" Altangerel
Tensai "Tensai"
Peng "Fly" Yunfei
On-Air Talent
Esports Colour Caster of the Year
Marc "Caedrel" Robert Lamont
Dan "Gaskin" Gaskin
Josh "Sideshow" Wilkinson
John "JohnnyBoi_i" MacDonald
Mohan "Launders" Govindasamy
Thomas "Chance" Ashworth
Ioannis "Fogged" Loucas
Dominik "Lacoste" Stipić
Chad "Spunj" Burchill
Michael "Hypoc" Robins
Esports Desk Analyst of the Year
Mimi "aEvilCat" Wermcrantz
Tyler "Tbates" Bates
Barento "Raz" Mohammed
Alyssa "Allycxt" Parker
Anthony "NAMELESS" Wheeler
Mira "Ephey" Riad
Alex "Mauisnake" Ellenberg
Kale "Genome" Morton
Mathieu "Maniac" Quiquerez
Esports Host of the Year
Alex "GoldenBoy" Mendez
Eefje "Sjokz" Depoortere
Freya "Freya" Spiers
Sean "Stax" Stackhouse
Caleb "WavePunk" Simmons
Yinsu "Yinsu" Collins
Chris Puckett
Jorien "Sheever" van der Heijden
Lottie Van-Praag
Ana Xisdê
James "Dash" Patterson
Esports Play by Play Caster of the Year
Steven "Tasty Steve" Scott
Alex "Machine" Richardson
Brennon "Bren" Hook
Mark "Onset" Hatcher
Conner "Scrawny" Girvan
Brandon Smith
Callum "Shogun" Keir
Clayton "Captain Flowers" Raines
Mitch "Uber" Leslie
Bruno "BrunoClash" Veiga Lopes
Miles Ross
Lauren "Pansy" Scott
Esports Journalist of the Year
Richard Lewis
Dominic Sacco
Kevin Hitt
Alexander Lee
James Fudge
Mikhail Klimentov
Antonio Yuste
Cecilia D'Anastasio
Alejandro Gomis
"I'm continually awestruck by the incredible talent present in the esports industry. It's an absolute joy to gather everyone and create a space where we can acknowledge, celebrate, and foster growth. I'm eagerly anticipating the upcoming night of fun and camaraderie we'll share in Las Vegas this November." Michael Ashford, CEO, Esports Awards
The Esports Awards 2023 campaign key dates:
13th – 20th November: Turbo voting period–votes are worth double
20th November: Voting closes on all categories but 3
25th November: Voting closes for Esports PC Player, Esports Organisation and Esports Team of the Year
27th & 28th November: Inaugural Scholars
29th & 30th November: Esports Awards 2023
The 2023 Esports Awards is brought to you in partnership with Xfinity, Oakley, Amazon Music, Sizzle Creative, and 5GRV.
Horseshoe Casino Baltimore Player Wins $1,017,041.32 Mega Royal Flush Progressive Jackpot
On Monday, Sept. 12, a Caesars Rewards® member at Horseshoe Casino Baltimore hit the jackpot when he struck the $1,017,041.32 Mega Royal Flush Progressive Jackpot. The outstanding prize represents the largest progressive jackpot paid out at the casino so far this year. The fortunate guest secured the amazing win with a remarkable Royal Flush of 10-J-Q-K-A. With Envy Bonsues, two additional table guests also emerged as winners.
"We are thrilled to make one of our guests an instant millionaire! The table games progressives at Horseshoe Baltimore are very popular and for good reason after Monday's big win," said Horseshoe General Manager, Randy Conroy.
To be eligible for the Mega Jackpot, guests must try their luck on a progressive game including Four Card Poker, Ultimate Texas Hold'em, Mississippi Stud Poker, and Blazing 7's Progressive located in each casino's table games section.
For more information on Caesars Entertainment's Horseshoe Casino Baltimore, visit caesars. com/horseshoe-baltimore
Go Big or Go Home: High Roller Casino Bonus Canada Explained
Within the dynamic landscape of Canadian online casinos, high roller bonuses exemplify the adage, "Go Big or Go Home." Crafted for players comfortable with substantial deposits, these bonuses elevate the gaming journey, offering the prospect of amplified winnings and an intensified online casino experience.
Understanding High Roller Casino Bonuses
High roller casino bonuses, often dubbed as 'VIP rewards,' are exclusive promotions tailored for players unafraid of wagering substantial amounts. These incentives, which can include extra cash or free spins, are directly linked to the magnitude of their deposits.
In the context of the Canadian online casino industry, the importance of these bonuses cannot be overstated. They wield immense influence in attracting and retaining high-value players, who significantly bolster the casino's bottom line. By extending high-roller bonuses, casinos effectively motivate these individuals to maintain their patronage, fuelling the sector's expansion and profitability.
From the player's perspective, these bonuses open the door to the prospect of amplified winnings and an enriched gaming adventure. Gamblers can relish extended gameplay, explore exclusive titles, and even relish personalized assistance. Consequently, high-roller bonuses are pivotal in shaping the dynamics of the Canadian online casino arena.
High-roller casino bonuses forge a symbiotic relationship between casinos and their most daring patrons. This synergy is not only financially rewarding for both parties but also elevates the overall gaming experience, affirming the significance of these bonuses in the Canadian online casino landscape.
Unlocking the World of High Roller Casino Bonuses
High roller bonuses, those coveted incentives within the realm of online casinos, come in an array of forms, each bestowing its unique set of benefits. Let's delve into the various types of these alluring bonuses that cater to the diverse tastes of high-stakes players.
This stands as the most prevalent form of high roller bonus. Casinos generously match a portion of the player's deposit, with percentages ranging from 50% to a staggering 200% or more. 
In the world of high stakes, resilience is key. Some casinos extend cashback bonuses to their esteemed high rollers. It translates to a percentage of the player's losses or deposits being thoughtfully returned to their coffers. As an example, consider a 20% cashback bonus. It graciously offers solace by refunding $200 to a player who may have faced a $1,000 loss.
High rollers with a penchant for spinning the slot machine reels are not left in the lurch. Free spins are often part and parcel of their bonus package. These free spins gift players the chance to revel in slot games without denting their pockets. It's akin to a risk-free opportunity to secure tangible winnings.
Loyalty begets rewards. Players who exhibit steadfast allegiance to a casino, whether through regular gameplay or substantial deposits, are accorded exclusive loyalty bonuses. The perks span the gamut from free spins and deposit boosts to exclusive tokens of appreciation and coveted invitations to premier events.
While relatively scarce, some casinos extend the olive branch to high rollers with enticing no-deposit bonuses. These bonuses grant players a treasure trove of free funds or spins upon mere registration, sans the need for an initial deposit.
Unlocking the Gateway to High Roller Casino Bonuses in Canada
Earning the coveted status of a high roller casino bonus Canada and unlocking the gateway to these exclusive casino bonuses entails satisfying specific casino criteria, a task that entails a blend of precision and perseverance:
High roller bonuses in Canada beckon to those ready to invest significantly. The requisite minimum deposit surpasses standard bonus thresholds, making it imperative to wield financial prowess.
Betting milestones stand as part of the journey. Canadian casinos stipulate players must wager a substantial sum before reaping high roller casino bonus Canada rewards. For high rollers, the road to reward demands extra dedication.
Ascending the ladder of Canadian casino loyalty bestows privileges. High roller bonuses in Canada often materialize exclusively for those who've attained coveted status through consistent gameplay and substantial deposits.
Hidden keys to high roller casino bonus Canada treasures, bonus codes unlock exclusive benefits. Prospective recipients must adeptly input these codes during the deposit process to access the rewards.
Not all Canadian games march towards bonus fulfilment. Players must navigate restrictions and choose eligible games wisely to meet wagering prerequisites.
Selecting the Optimal High Roller Bonus
Choosing the most suitable high roller bonus necessitates a methodical approach to ensure it aligns seamlessly with your gaming proclivities and objectives. Here are pivotal tips and factors for contemplation when making this consequential decision:
Initiate the selection process by thoroughly assessing the bonus proposition itself. Methodically examine the bonus quantum, percentage, and any supplementary advantages such as complimentary spins or cashback. Strive to strike a harmonious equilibrium between an enticing offer and manageable wagering prerequisites.
Immerse yourself in the intricacies of wagering prerequisites, a pivotal determinant. Elaborate bonuses often accompany more rigorous playthrough obligations. Ensure that these stipulations are realistically attainable within the confines of your gaming approach and financial means.
Distinct games contribute disparately to the fulfilment of wagering prerequisites. Ascertain whether your favoured games are considered eligible and discern their respective weightage. Certain bonuses may impose constraints on particular games or extend reduced contributions.
The bonus percentage may fluctuate contingent on the magnitude of your initial deposit. Calculate the sum you are comfortable committing to ascertain an efficient leverage of the bonus.
Gauge the synergy between your high roller status and the casino's loyalty program. Certain establishments furnish exclusive advantages and expedited reward progression for VIP participants.
Verify whether the bonus activation necessitates a specific code. Neglecting this imperative step may culminate in the forfeiture of the bonus.
Prudent consideration of the bonus's duration is imperative. Ensure an ample timeframe for the fulfilment of wagering requisites, circumventing any undue haste.
Delve into the casino's reputation and credibility. Peruse reviews, verify licensing credentials, and solicit insights from fellow players to substantiate the casino's standing.
Contemplate the quality of the casino's customer support. High roller status may occasionally necessitate prompt assistance; hence, a responsive support framework is indispensable.
Conclusively, align your selection with your distinctive gaming inclinations and proclivities. Opt for a bonus that harmonizes seamlessly with your preferred gaming genre and strategic approach.
Final Thoughts
The process of choosing the optimal high-roller bonus within the Canadian online casino landscape necessitates a systematic and informed approach. Key considerations encompass a comprehensive evaluation of bonus propositions, a meticulous comprehension of wagering prerequisites, contemplation of game eligibility, and an assessment of the synergy with loyalty programs. By carefully analysing these facets, high rollers can make judicious selections that not only elevate their gaming experience but also optimize their potential for substantial winnings.