Pocket Gamer Connects branches out to partner with Games Forest Club to reinforce Sustainability Awareness
Reading Time:
3
minutes
The UK's biggest global games industry conference Pocket Gamer Connects hits London this January and has announced its green initiative with GamesForest.Club innovative non-profit organisation creating awareness about nature restoration within the games industry. This project is set to change the way the games industry values sustainability. This innovative project aims to help restore nature with the power of gaming, and shine a light on the importance of sustainable business travel.
Pocket Gamer Connects, the must- attend event, is kickstarting the new year to meet exciting global game makers, developers and publishers from top international games, as well as investors, tools, service providers and platforms. The event is known to bring together and connect the most influential thought leaders in the industry.
Based in Berlin, the founders of GamesForest.Club project bring a strong background in the gaming industry, from co-founding Phoenix Games to being head of games:net Berlin-Brandenburg the founding members of the initiative have worked in the gaming industry in the past and formed this project in 2021. Games Forest is on a mission to create awareness and make the gaming industry as climate-positive as possible, with reforestation and forest protection at the heart of its projects. 52 companies have already signed up for the initiative to invest in carbon absorption via planting and protecting forests. In a short period of time, Games Forest's community has successfully planted over 73 000 trees and protected 1.4 million square metres of forests.
To kickstart the year Jiri Kupiainen, CEO of Matchmade and ambassador of Games Forest Club launches the "10 weeks to save the games industry" social media challenge with Maria Wagner, Co-Founder of GamesForest.Club, where they will travel together around Europe to game shows and games hotspots by train to provide awareness around sustainable business travel and to find out how games industry thought leaders tackle the biggest opportunities and obstacles the industry faces today. Their trip aims to shine a light on the importance of making ethical travel choices that are sustainable and to find out what game companies are doing to be more environmentally friendly – showing that small can make a great positive impact on our environment. Pocket Gamer Connects will be the official media partner of this movement and the event will be one of their stops on this sustainable trip.
GamesForest.Club Co-Founder Maria Wagner has expressed her gratitude and hopes for what this partnership can achieve with more people on board: "We want to create a global community of leaders, who shape and benefit from a green future within the games industry. We are thrilled to be partnering with such a highly regarded company and are really looking forward to this partnership to create a bigger conversation within the games industry as to how we can all collectively make a change to restore and protect nature."
This partnership aims to bring more awareness to the gaming community on the importance of climate change and the action each individual needs to take to protect the future of our our planet. Pocket Gamer Connects London is taking to the stage next week on the 23rd and 24th of January and is expected to be the biggest one yet, with more than 2,000 attendees globally. PGC London 2023 will host more than 900 leading companies in technology and mobile games with names such as Meta, Google, Sony Pictures and Disney
Chris James, CEO of Steel Media, expressed his excitement about this partnership. "It's great to be involved in this project. We are really proud of being the conference that unites the international gaming community, and that does also come with a responsibility. We aim to support the environment and build an informed and supported community."
PG Connects has established an outstanding international reputation as a must-attend conference to meet the exciting global game makers, developers and publishers- as well as some of the world's top investors, tools providers and platforms. Bringing together the best-connected people in the industry, this event will host multiple panels and discussions, matchmaking activities for game makers, as well as networking opportunities and much more throughout the two full days.
You can register for the event and donate to the GamesForest.Club initiative. All of your contributions will help to protect forest in Peru and will be visualised in the Pocket Gamer Connects Forest.
Review of JeetWin Online by Tamim Rahman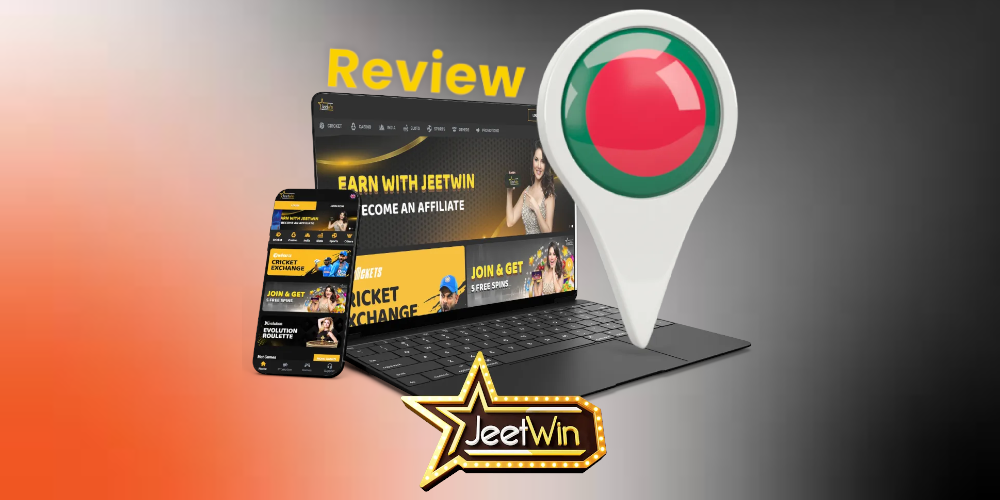 As a gaming enthusiast hailing from the heart of Bangladesh, my pursuit of a reliable and thrilling online platform has taken me across various sites. Yet, JeetWin https://jeetwinonline.com/ emerges as a clear frontrunner. It is not just an online gaming portal; it's a holistic experience, replete with diverse games, a robust sports betting segment, and an unparalleled user experience.
History and Background
Established several years ago, JeetWin, in a short span, has managed to carve a niche for itself in the crowded world of online gaming. Not just content being another platform, it stands out with its commitment to transparency, player welfare, and, of course, entertainment. The platform's licensing and stringent adherence to fair play protocols stand testimony to its reputation.
User Interface and Experience
Logging onto JeetWin is like entering a digital gaming paradise. Whether accessed through a desktop or its mobile app, the platform ensures fluidity. Intuitive designs, organized tabs, vibrant graphics, and smooth transitions make navigation a breeze, even for a newcomer. The mobile app, especially, impressed me with its clutter-free interface and the ability to mimic the desktop experience seamlessly.
Game and Sports Selection
JeetWin's library is a treasure trove for gaming aficionados. It's a blend of time-honored classics and contemporary favorites, ensuring that every user finds their niche.
Casino Games: The casino section is diverse and caters to various player preferences.

Table Games: Traditionalists will love the array of table games available. Whether you're a Poker pro, a Roulette enthusiast, or a Blackjack believer, there's a table waiting for you. Each game offers multiple variants, ensuring players never face monotony.

Slots: The slots section is expansive, featuring themes ranging from ancient civilizations to modern pop culture. Progressive jackpots, multi-line slots, and classic reel slots ensure hours of endless entertainment.

Live Casino: The live casino section captures the essence of a real casino. With live dealers, real-time gameplay, and interactive features, players can experience the thrill of a casino from their homes.

Sports Betting: JeetWin's sportsbook is comprehensive, reflecting the global appeal of sports.

Popular Sports: Cricket, the heart and soul of Bangladesh, finds ample representation. From international test matches to T20 leagues, there's a bet waiting for every cricket enthusiast. Football, the global sport, is also extensively covered, from the English Premier League to the FIFA World Cup.

Diverse Range: The platform also caters to fans of tennis, basketball, horse racing, and even e-sports, ensuring every sports lover finds their match.

Live Betting: One of the standout features is the live betting option. As matches unfold in real time, players can make bets, adding an adrenaline-pumping dynamic to the viewing experience.
How to Place a Bet – A Step-by-Step Guide
JeetWin's betting process is structured to ensure simplicity:
Choose your domain – casino or sports.

For sports, select your sport and then the specific event or match. For casino games, choose the game type and table or slot.

Understand the odds presented, especially in sports. The higher the odds, the higher the potential return.

Set your stake, confirm, and voila, your bet is placed!
Payment Methods and Transaction Efficiency
Ensuring smooth financial transactions is pivotal. JeetWin shines in this domain.
Table: Payment Options
| | | | |
| --- | --- | --- | --- |
| Method | Deposit Time | Withdrawal Time | Fee |
| Bank Transfer | Instant | 1-3 Days | Minimal |
| e-Wallet (Skrill, Neteller) | Instant | Within 24 hours | None |
| Card (Visa, MasterCard) | Instant | 1-5 Days | Minimal |
| Local Mobile Banking | Instant | 1-3 Days | None |
Promotions, Bonuses, and Loyalty Programs
JeetWin goes above and beyond when it comes to rewarding its players, ensuring they always have a reason to return.
Welcome Bonuses: New to the platform? JeetWin greets its newcomers with generous welcome bonuses. This can range from deposit matches, where your initial deposits are matched by a certain percentage, to free spins in the slots section.

Game-Specific Promotions: Whether you're a sports bettor or a casino game enthusiast, JeetWin regularly rolls out promotions tailored for you. These could be in the form of cashbacks, increased odds, or even tournaments with substantial prize pools.

Loyalty Program: JeetWin's loyalty program is a testament to its commitment to its players. It's structured in tiers, and as players ascend these levels, the rewards become more enticing.

Tiered Benefits: Starting from the Bronze level and culminating in the elite Kohinoor level, every tier offers its own set of benefits. These can range from faster withdrawal times, and higher betting limits, to exclusive game access.

Exclusive Rewards: Higher tiers also enjoy personalized customer service, birthday bonuses, and even invitations to real-world events and trips.
With such a vast array of games and a plethora of promotions, it's evident that JeetWin not only values entertainment but also cherishes its community of players.
My conclusions on JeetWin
In the digital realm of online gaming and sports betting, JeetWin emerges as a beacon of excellence. From its extensive gaming library to its customer-centric approach, it's evident that this platform has been crafted with the player in mind. My journey through JeetWin has been nothing short of exhilarating, a sentiment I believe many of you will echo once you embark on your own.
And if you're still on the fence, let me offer a little nudge – the platform's impressive first deposit bonus. It's not just a bonus; it's JeetWin's way of welcoming you into a world of unparalleled entertainment and potential rewards. So, why wait? Register now, claim that enticing first deposit bonus, and dive into a gaming experience like no other. The world of JeetWin awaits!
Game Development World Championship 2023 Summer Season Winners Announced!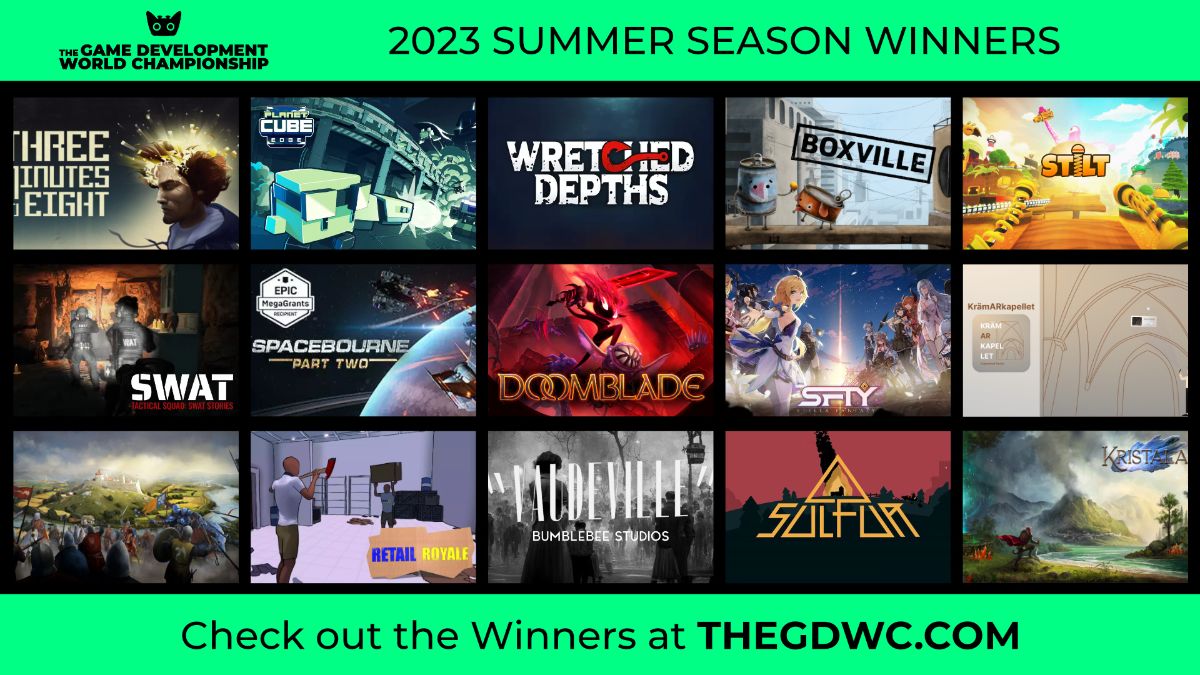 Reading Time:
< 1
minutes
The Game Development World Championship (GDWC) celebrated the 2023 Summer Season with an Awards Stream on Thursday, September 21st. At the event, GDWC announced winners in 11 categories for the Summer Season.
Watch the Award Stream recording on the GDWC youtube channel.
Indie Award Winner: Three Minutes To Eight by Chaosmonger Studio.
Studio Award Winner: Planet Cube: Edge by Sunna Entertainment
Hobby Award Winner: Wretched Depths by Wretched Devs
Mobile Award Winner: Boxville by Triomatica Games
Best Web3 Game Award Winner: Stella Fantasy by Ring Games
AR & VR Award Winner: Stilt by Rekt Games
Immersal SDK Award Winner: KramARkapellet by darteq
Made-with-Houdini Award Winner: Kristala by Astral Clocktower Studios
Procedural Award Winner: SULFUR by Perfect Random
Action Award Winners:
1st Place: Tactical Squad: SWAT Stories by Red Mountain Games
2nd Place: SpaceBourne2 by Dbk Games
3rd Place: DOOMBLADE by Muro Studios
Gcore Cloud Award Winners:
1st Place: Feudums by Kalamona Studios
2nd Place: Vaudeville by Bumblebee Studios
3rd Place: Retail Royale by DarxDev
All the Winning games of the Season can be found on the GDWC website, here: https://thegdwc.com/awards/
GDWC sends congratulations to all the winners and huge thanks to all developers who participated in the championship, and to all the sponsors and partners that made the GDWC 2023 Summer Season possible.
The GDWC 2023 Winter Season is currently open for submissions with the biggest prize pool in GDWC history, totalling over $660,000 in value. Prizes are spread across 12 award categories and range from swag & software licences to cash prizes, publishing deals and marketing & User Acquisition funding.
GDWC is free to participate and open to everyone from hobbyist & student developers to professional studios from all over the world. Games on all digital platforms – PC, Consoles, Mobile, VR & AR, Web & Browsers, are accepted. Developers can participate with a game they are currently working on, or with a game they have released, as long as it was released after August 1st 2022.
Saint Seiya Awakening's 4th Anniversary: Pick a side between good and evil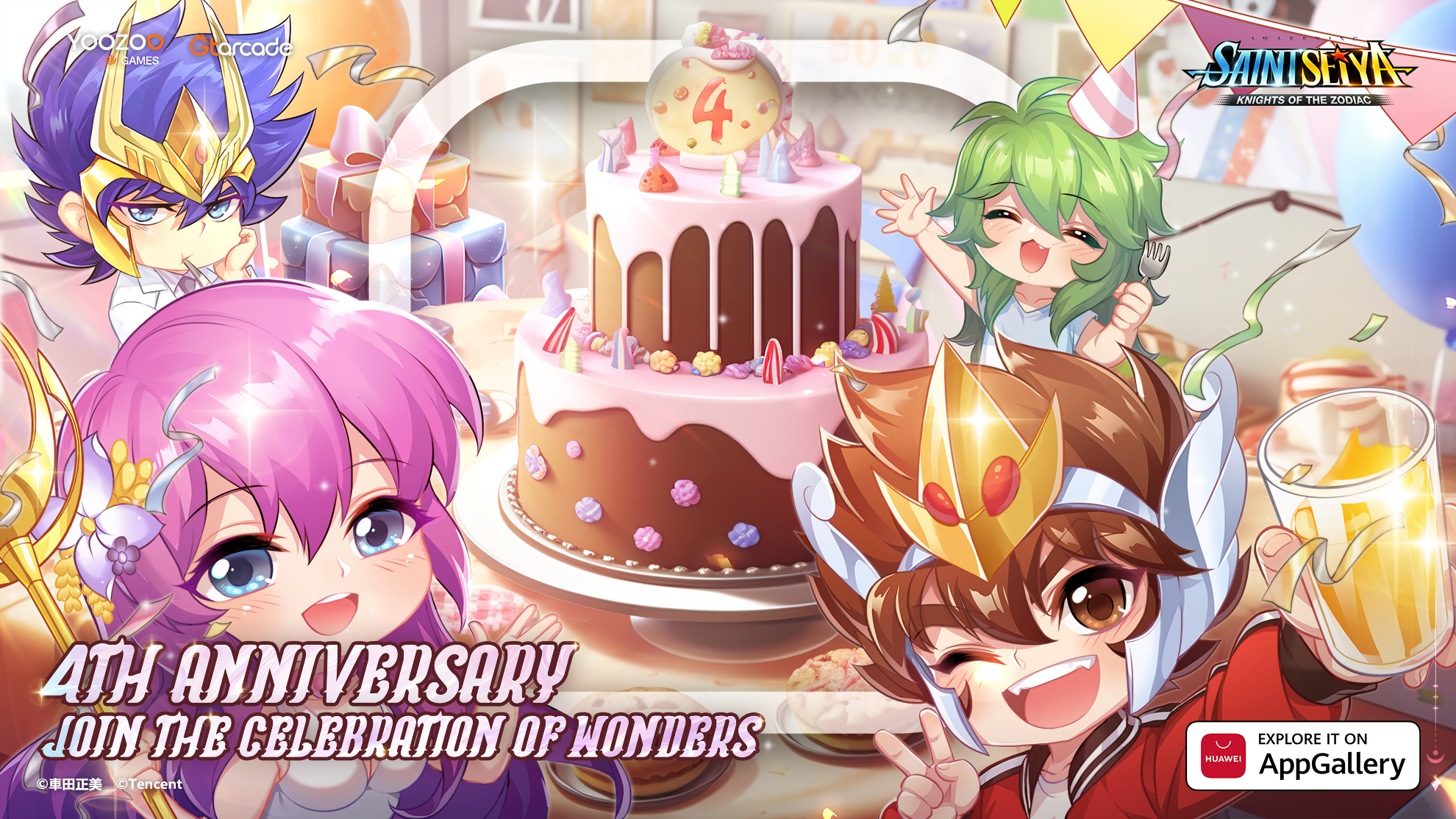 Reading Time:
3
minutes
In celebration of Saint Seiya Awakening's 4th Anniversary, AppGallery has teamed up with GTarcade and LDPlayer to introduce exciting offers, gameplay, and tournaments. The game takes players into the world of author, Masami Kurumada's original characters. Players can form their ideal team of Saints to take on different opponents and uncover the mysteries of the Sanctuary.
To celebrate this occasion, AppGallery is offering exclusive discounts of up to 25% for all users. It includes a 15% return on points for all in-game purchases made between 13 to 26 September and another 10% return on points for all purchases made with Huawei points in September. To add to all that excitement, there will also be an ongoing monthly reward system that allows users to collect a ROSE for every 10 € spent in the game. Players can redeem coupons in exchange for their ROSES which will entitle them to discounts on their next purchase. Discover more here and here.
Fight for your camp for exciting rewards
As part of Saint Seiya Awakening's 4th Anniversary, it introduces a new event that allows players to choose if they would like to join forces with the Goddess Camp, champions of justice and order, or stand with the formidable Underworld Camp. As part of the selected camp, complete daily dungeons that will put the skills and teamwork of a player to the test as they tackle different missions and overcome strategic obstacles. Each completed dungeon will earn points for the respective player's camp that tip the balance of power in their favour.
The camp that amasses the most points will be declared the victor at the end of the anniversary event. With victory comes the spoils, which will include exclusive game items, unique character skins and more exciting bonuses that will surely elevate the overall gaming experience of players. Additionally, players who invite returning friends back to join in the fun, stand a chance to receive rewards. By sharing the event link with friends, you stand to win up to 400 free prize draws during the event that players can use to unlock S tier Saints. This unprecedented number of free draws has a value of $500 in the game. This reward system aligns seamlessly with the introduction of the new hero, Hades Alone, which fans of the manga will undoubtedly recognise.
Jamir Galactic Championship 2023
Another exciting part of Saint Seiya Awakening's Anniversary celebration is the Jamir Galactic Championship 2023, hosted by GTarcade. Compete against other players within the region to earn the title of champion as well as exclusive in-game packs sponsored by AppGallery and LDPlayer.
Jamir Galactic Championship 2023 Schedule:
Server E Time (UTC+1): 17:00 on Sept 23rd and 24th
Server A Time (UTC-5): 11:00 on Sept 23rd and 24th
The championship will see two different modes. Supreme Champion is a PvP mode that pits players against each other as they use a combination of skilled characters, equipment, and tactics to defend their opponents. Tactic Master on the other hand is a balanced mode that puts the strategic composition of a player's line-up to the test. For more information on the championship, please visit the Jamir Galactic Championship handbook or the official site.
The finals will see the top 8 players from each region engage in a fierce battle with only 1 victor emerging. With 8 professional commentators live streaming the matches concurrently on Facebook and YouTube, providing commentary in English, French, Spanish and Portuguese, fans all around the world can tune in to enjoy this exhilarating time of competition. During the streams, players tuning in can also take part in the ongoing roulette lucky draw event to win up to $4000. Make sure not to miss out on this exciting opportunity to cheer for your favourite players.
Mark your calendars and prepare for an extraordinary time of rewards and tournaments as we celebrate the 4th Anniversary of Saint Seiya Awakening!