Top Brazilian influencer Luva de Pedreiro collaborates with RubyPlay on bespoke Immortal Ways title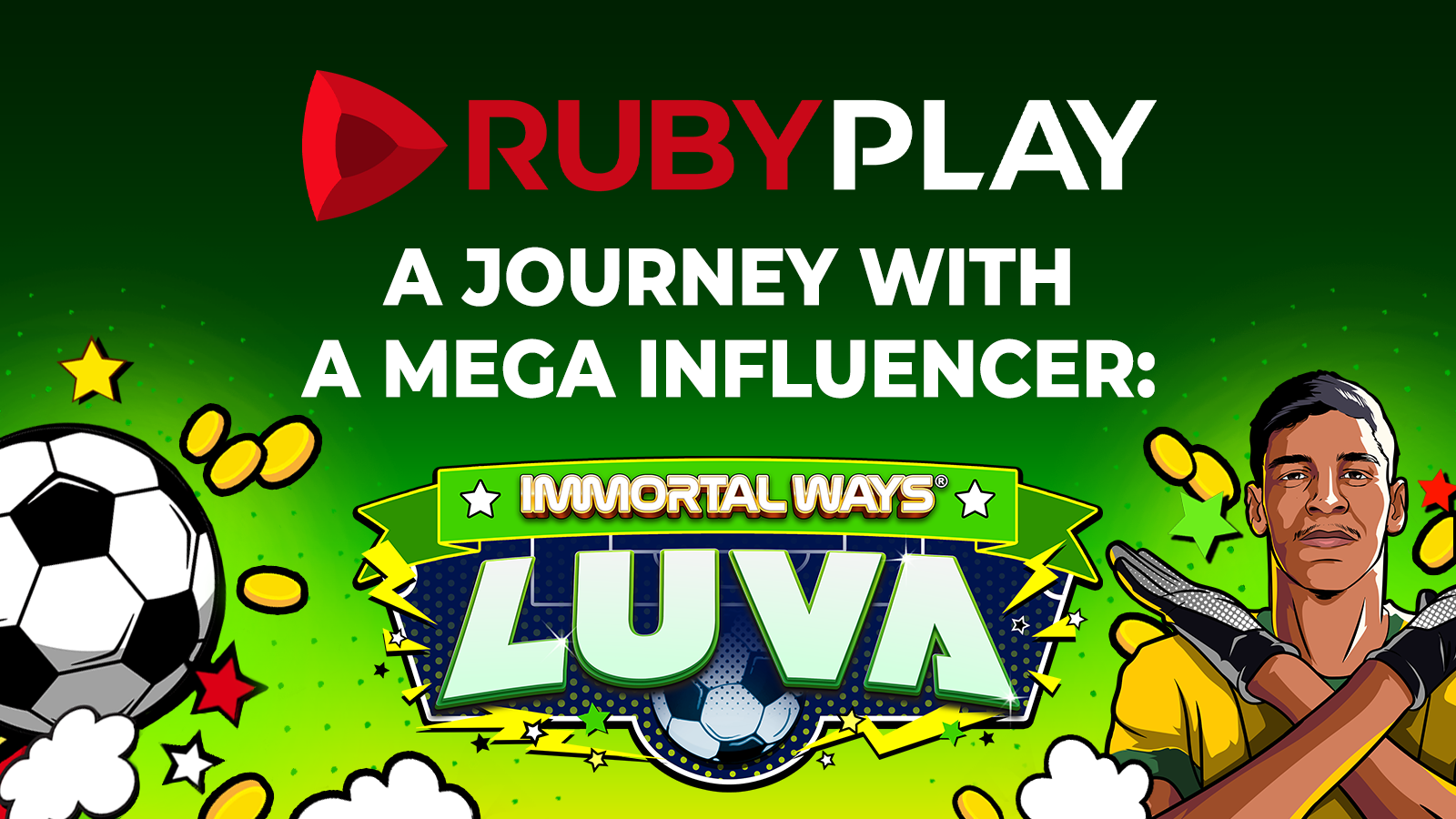 RubyPlay, an innovative B2B iGaming development studio, has partnered with popular Brazilian football influencer Luva de Pedreiro to develop a bespoke version of its Immortal Ways game series for the Luva Bet brand. Pedriero has amassed a social media following of over 50 million people across Instagram, TikTok, and YouTube.
Working closely with the influencer during the creation of Immortal Ways Luva, RubyPlay's team had the opportunity to tell Luva's inspiring life story, from humble beginnings to stardom, from anonymity to a massive following.
Launching soon on Luva Bet, Pedreiro's new iGaming venture, the gameplay presents players with 10,000 ways to win, along with two Immortal Arrays across the second, third, fourth and fifth reels. Gold coins can land in these Arrays and hold for three further spins, or until they completely fill an Array and pay out their combined value.
Landing a Coin Wheel symbol will trigger the bonus feature to the side of the game's grid, with chances to win extra cash prizes, multipliers or one of four Jackpots. Immortal Ways: Luva sees the Grand Jackpot doubled, offering 1,000x the player's base bet.
Immortal Ways is a fitting mechanic, with the large immersive reels acting as a canvas to feature Luva's story. The influencer becomes an entrepreneur in his own right with this collaboration, with RubyPlay's state-of-the-art technology and support for operators being a welcome advantage for Luva and his team.
With Pedreiro's involvement, the release also boasts an enhanced volatility model, giving players more chances to win or trigger bonus features with an increased RTP of 97%.
Immortal Ways: Luva continues RubyPlay's rollout of its cutting-edge mechanic, previously featured in Immortal Ways: Diamonds. The franchise's debut has been extremely well-received in numerous jurisdictions, breaking the provider's previous records for both total bets and player retention rates.
Luva de Pedreiro's involvement is expected to drive this impressive performance further, with the influencer holding a vast audience reach spanning over 21 million followers on Instagram alone.
Dr. Eyal Loz, CPO of RubyPlay, said: "We're thrilled to be collaborating with Luva de Pedreiro on our latest Immortal Ways title. Luva's inspiring life story motivated our team to deliver something truly unique that we are all very proud of.
"We've seen some fantastic success since debuting the Immortal Ways mechanic, and we can't wait to see players jump in and discover Luva's origin story with boosted RTP rates, bigger prizes and a pioneering gameplay experience. Get ready for kick-off!"